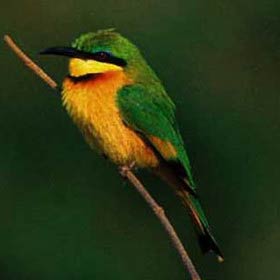 Little bee-eaters hawk for insects from a perch
Birdwatching in Africa
Even avid big-game enthusiasts eventually become captivated by Africa's birds, as well as the hard core of dedicated bird-watchers who plan their travels with specific birds in mind. You'll find interesting species across the continent, although some areas stand out for their sheer avian diversity.

Birdwatching in the Seychelles
Many islands in the Seychelles offer protected habitats for endemic and endangered species of land-based – as well as some particularly spectacular colonies of sea-birds. On land, the paradise flycatchers in La Digue's Veuve Reserve, and the magpie-robins of
Frégate Island
being highlights. However, by far the best place is Bird Island, a small island on the north side of the Seychelles, which offers one of the most spectacular opportunities to observe birds that we have encountered. Sea, shore and land birds fish from, and breed on, the island in tremendous numbers. With no natural predators, they display little fear of humans, allowing incredibly close contact. It's captivating for anyone from die-hard ornithologists to curious children. (
Read more about Bird Island here…
)
Birdwatching holidays to Botswana
With vast expanses of largely undisturbed wilderness, plenty of wildlife and a great diversity of habitats – Botswana is a great destination for bird-watching.
The Okavango Delta stands out as not only a top area for game, but also perhaps Africa's ultimate birding destination. Its mosaic of dry and watery environments is home to a huge range of birds, from raptors of dry Kalahari thorn-scrub, to waders on the floodplains and colourful kingfishers above the deeper channels. Enthusiasts may come in search of the slaty egret, Bradfield's hornbill, lesser jacana and pink-throated longclaw, but everyone else will enjoy the iridescent colours and wide variety of spectacular birdlife. (
Read our top tips for the best birdwatching in Botswana…
)
The Central Kalahari and Makgadikgadi Pans areas haven't got quite the same variety, although if the pans fill with water during the rains (between November and March) then many waders are attracted, and it is sometimes used by breeding flocks of flamingos. (Read more about the
Central Kalahari
and the
Makgadikgadi Pans
here…)
Birdwatching breaks in Zambia
If birds are your prime focus, then head for Zambia's
Bangweulu Wetlands
. This vast wilderness has a tremendous variety of water birds, although it is famed as home to the very rare shoebill stork – which is probably easiest to see here from about April to June.
For a more general trip, including some excellent birding, the choice is wider. Around September, the beautiful and gregarious carmine bee-eaters arrive for their annual breeding season, staying for three or four months. Their busy colonies can be found in vertical sandbanks throughout southern Africa, but prime places include
South Luangwa National Park
.
The
Lower Zambezi
makes a great venue for spectacular water birds like goliath herons, whilst the north of the
Kafue National Park
has an equally impressive avian array. For an outpost destination with fabulous birdlife,
Liuwa Plain
, in Western Zambia, offers opportunities to see large numbers of crowned and wattled cranes, pelicans, storks, herons and many other water birds, along with terrific raptor activity. (
See our top places for bird-watching in Zambia…
)
Birdwatching in Tanzania
Tanzania offers some fine birding opportunities with the miombo woodlands and dambos around the Rufiji River in
Selous Game Reserve
being of particular note. Equally,
Ruaha National Park
is home to many East African species that aren't found any further south.
Avid twitchers might make a special trip to the
Udzungwa Mountains
, where there are many forest birds typical of the Eastern Arc forests, as well as two very restricted endemics: the rufus-winged sunbird and the Udzungwa partridge. (The latter was only discovered as recently as 1991.)
Tarangire National Park
and
Lake Manyara National Park
have particularly diverse ranges of vegetation – and the latter has almost 400 different bird species. You'll usually find flamingos and pelicans on the lake itself, with waders of many species in the shallows. For a complete contrast, the evergreen groundwater forests harbour raucous groups of spectacular silvery-cheeked hornbills.
Even Tanzania's Indian Ocean islands have their birding interest. For example,
Pemba Island
has four endemic species including the Pemba green pigeon and the Pemba scops owl. (
See our top Tanzania lodges and camps for birdwatching…
)
Birdwatching holidays in Namibia
Unlike Zambia and Tanzania, Namibia isn't generally disrupted very much by its rains, and so when it rains here (See
Namibia's climate
) is the best time for bird-watching. The amazing reserve of
Sandwich Harbour
(visit on a day-trip) shouldn't be missed whilst, further north, flamingos breed in
Etosha
when the pans fill and great flocks of graceful blue cranes descend upon the park. Namibia's best area for birds is certainly the
Caprivi Strip
, where you'll find many species usually associated with Botswana's Okavango Delta. (
See our top tips for Namibia's best lodges and camps for bird-watching…
)
Birdwatching in

Tanzania
Ideas for birdwatching in Tanzania
Birdwatching in

Zambia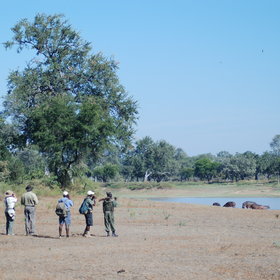 Ideas for birdwatching in Zambia
Birdwatching in

Zimbabwe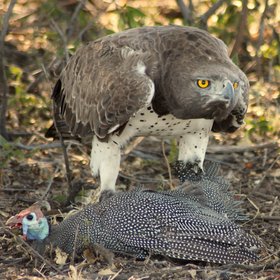 Ideas for birdwatching in Zimbabwe