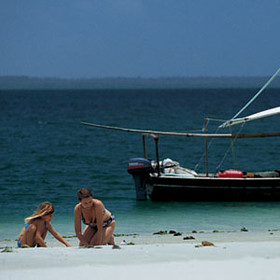 From big game to beaches
Family holidays in Africa
Africa has a lot to offer families, but it's important to visit places that actively welcome children, rather than simply accept them. Africa isn't ideal for babies or very small children, who should avoid areas with malaria. However for interested children, who are old enough to understand what they see, Africa can be an amazing and inspiring place.

Private houses and villas can be ideal for families. In recent years, we've seen more families travelling together, and a rise in small groups of like-minded friends sharing a trip. Both work best when they have their own space and flexibility in their meals and activities. Often a private villa can be an ideal solution, and many of these come with their own private chef and even a private safari guide.

Family holidays in South Africa's Cape
South Africa's Cape is free of malaria and the obvious choice for families with small children – so many, many places welcome children. What's more, self-drive trips here (and in Namibia) enable you to travel at your own pace and stop where you like to explore – so the Cape is the first Africa stop for many families.
Picking the best family options is difficult because of the vast choice, but a few stand out. In Cape Town the
Vineyard Hotel
is very comfortable, and has all the facilities for children that you'd expect in a large hotel like cots available and a child-minding service, plus large gardens in which to play, a great swimming pool, etc.
On the Cape's southern coast,
Grootbos Private Nature Reserve
is an outstanding option for families because of its dedicated activities for younger visitors – which vary from early-morning pony-feeding, to petting sessions with small farm animals, pony- and horse-riding, and guided beachcombing and bug-collecting.
Further east,
Hog Hollow
is a great-value option for families, with a friendly team; fun, funky family rooms; and it's close to some lovely self-guided walking trails around the forests and beaches of Tsitsikamma National Park.
In the game parks of the Eastern Cape, the fairly economic
Elephant House
makes a comfortable base for self-drive trips including Addo Elephant Park – it's close to the gate and very family-friendly. For guided game-viewing experience, Ecca Lodge welcomes children and is a good choice, whilst its sister-camps on
Kwandwe Private Game Reserve
, Uplands Homestead or Melton Manor, are usually booked for exclusive occupancy – ideal if you're looking for the flexibility of a private villa, and don't mind a fairly high price tag.
(
See more of our top places for family holidays in the Cape…
)
Family trips to Namibia
In Namibia, many smaller guest farms and lodges welcome children. New Bushmen playmates at
Nhoma
can be wonderful, whilst active children will relish the hands-on approach at
Mundulea
. Sand-boarding and kayaking near
Swakopmund
are tremendous fun and
Sossusvlei
is perhaps the world's largest sandpit! Meanwhile, the national park restcamps in
Etosha
have four-bed bungalows suitable for self-driving families – and many of the countries lodges have 'family rooms' where parents and children have adjoining bedroom, sharing a bathroom.
For great privacy and flexibility, both
Okonjima
and
Mushara
have excellent private villas, whilst
Wolwedans
also has a 'private camp' that can be booked by small parties.
(
Read more about the best spots for family holidays in Namibia…
)
Family holidays in Zambia
Many of Zambia's safari camps are small and run directly by their owner – some of whom will have children, or at least have brought up their own children there. Because of this, these can be very welcoming to families. This would include smaller, family-owned camps, like
Tafika
,
Chiawa Camp
and
Chongwe River Camp
.
Across Africa, there are relatively few lodges in big game areas which are really family-friendly, but Zambia's 'safari houses' are. They run with their own guide, activities and chef and they stand out for offering not only great safaris for small groups of adults, but also for opening up some of Africa's wilder areas to families. There is nothing 'toy' or 'cut-down' about these safaris; they offer great areas, top guides and excellent game, but with the high degree of flexibility that families need.
First among these,
Robin's House
was designed for four guests. More recently, the imaginative new
Luangwa Safari House
and
Chongwe River House
are both designed for up to eight people. The old Manor House at
Shiwa Ng'andu
feels like a private stately home and
Tangala House
, near Livingstone, is the private house of the owner of the nearby
Tongabezi Lodge
!
(
Read more about family-friendly lodges in Zambia…
)
Family trips to Botswana
In Botswana, there are a handful of camps which cater well for children – although most will insist that each family staying books its own private guide and vehicle. This means your activities are very flexible. Many camps, including
DumaTau
,
Chitabe Lediba
,
Jao
,
Savuti
,
Seba Camp
and
Vumbura Plains
all have large family rooms – with inter-connecting bedrooms. This is surprisingly important, as families don't want to have walk outside to go between bedrooms at night if there are wild animals around.
At many of Botswana safari camps some we can also, for a further cost, arrange a specialist children's guide for you whilst you stay. Some camps go further:
Sandibe
and
Nxabega
are generally very child-friendly, even publishing their own fun quiz books for children; whilst
Edo's Camp
and
Footsteps
operate a 'Young Explorers' safari especially for families – which aims to introduce the children to fun activities in the bush.
For families or small groups who want effectively their own private safari camp, there isn't a great choice in Botswana – unless you're willing to book out one of the many smaller (16-bed) camps. However, one obvious choice would be the
Villa Okavango
near Abu Camp, but talk to us for more information about staying in exclusive small camps here.
(
See more of Botswana's top lodges for family holidays…
)
The privately-guided safaris in our Wild about Africa brochure also work brilliantly: private mobile trips based partly at
Santantadibe Reserve
have usually been a huge success with families – they operate entirely to your schedule. (
Read more about privately-guided family safaris in Botswana…
)
Family trips to Tanzania and Zanzibar
In northern Tanzania, our private-guided safaris can work very well for families with older children – and the 'per person' costs usually reduces as more people join a trip. We don't usually recommend these for younger children though, and the drives can be long and dusty.
In southern Tanzania, several camps welcome older children including
Impala Camp
,
Ruaha River Lodge
and
Mwagusi Camp
.
Tanzania's more family-friendly beach locations include
Breezes Beach Club
on Zanzibar and
Chumbe Island
, which is geared towards informing as well as entertaining. Meanwhile in the Mafia Archipelago, both
Chole Mjini Lodge
and
Pole Pole
are understanding towards the needs of children and
Kinasi Lodge
has a lovely family room.
Part of
Sand Rivers
, Kiba Point is a private family-sized camp which will take a group of up to eight, staying in four neighbouring cottages. Identical in size, the
Lukula Selous Camp
offers an amazing amount of flexibility in a vast private area. Zanzibar's highly original
Kikadini Villas
combine the seclusion of several funky private houses with the facilities of a small hotel.
(See more of our top places for
family holidays in Tanzania
and
family holidays in Zanzibar
)
Family holidays in Mozambique
Mozambique's
Indigo Bay
caters well to families, including supervised games in a children's club. As an alternative Indian Ocean retreat,
Bazaruto Lodge
has its own two-bedroom villa.
(
See more of our top places for family holidays in Mozambique…
)
Family holidays in the Seychelles
Further east, the malaria-free Seychelles offer super seaside family holidays – and with no malaria on the islands, they're generally ideal for family holidays. A few places that stand out include the Turtle Club at
Lémuria Resort
, which has a very professional and well-equipped children's club; all the beach-side villas on
North Island
, where their own lounge/office easily becomes a sumptuous bedroom for two; and on a much simpler level, the self-catering villas at
Les Villas d'Or
offer flexibility and great value. Other family-friendly self-catering places include the value-conscious
Côte d'Or Chalets
and the more luxurious
Banyan Tree
.
(
Read more about our best lodges for family holidays in the Seychelles…
)
Family holidays with Wild about Africa
If you'd like to take your kids on a family-friendly camping safari joining a small group of like-minded travellers, or if you prefer an exclusive family holiday to Namibia or Botswana, click on the following link and see
Wild about Africa's
suggestions for
family-friendly safari holidays
.
Family holidays in

Zanzibar
Ideas for family holidays in Zanzibar