The Stanley
Rooms
217 rooms
Children
Fine for all ages.
Open
All year
Heralding itself as the first luxury hotel in Nairobi, the Stanley has been open for well over a century. It's a well-known landmark on the Nairobi map, having accommodated the likes of Ernest Hemingway and Barbara Streisand over the years. Whilst it hasn't changed much on the outside in the last half-century, recent refurbishments have brought the inside into the 21st century with modern facilities and efficient services – all the while keeping the hotel's history and heritage alive.
Our view of The Stanley
Overall, our views on the Stanley are a little mixed. It's certainly a hotel with a lot of history, and they have tried hard to make the most of this in the central areas. That said, it's very large, and in a fairly inconvenient location for the majority of travellers who are really in transit to or from the airport. If you're willing to accept that the rooms and décor have a slightly old-fashioned quality about them, you might enjoy its quirky colonial charm, but those wanting something a little more personal should look elsewhere.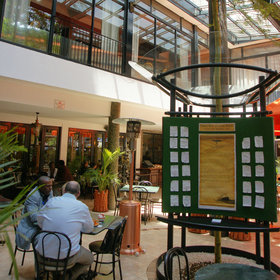 The Stanley's Thorn Tree Café was Nairobi's essential notice board until the 1990s.