Little Tubu
Rooms
3 tented chalets
Children
Best for aged 13+
Open
All year
Little Tubu will open on 1 June 2013, overlooking a grassy floodplain from Hunda Island deep in the heart of the private Jao Concession (NG25). A member of the Expert Africa team will be out to visit this brand new camp once it's up and running. But in the meantime we popped in to see its building progress in April 2013, whilst on a recent stay at neighbouring camp - Tubu Tree. So this is what we know about it so far.
Our view of Little Tubu
We're very excited about this new offering from the same team that runs Little Tubu's sister camp, Tubu Tree. We've always been really impressed with Tubu Tree Camp, which offers a similar vantage point and activities. Until a member of the Expert Africa team has visited the lodge in person, after it has officially opened, please don't hesitate to give us a call for a progress update or to ask any specific questions about the lodge or area around Little Tubu.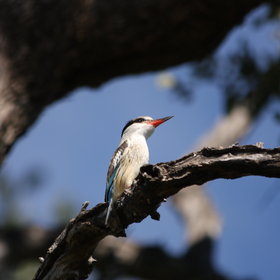 The Okavango Delta is renowned as a world-class wilderness of lagoons and waterways ...