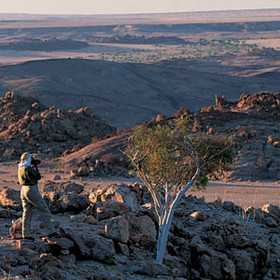 Ever changing moods
Photographic in Africa
Many of our African destinations are very photogenic and so this section is less about where to go, and more about how and when to travel. The Expert Africa team are proud to have taken virtually all the photographs on this website, so we're very aware of when and where you're likely to get the best shots.

Firstly, note that professional photographers will wait for weeks just to get a particular shot. Whilst few of us have this luxury, the lesson is clear: you need time and space to take good photographs. Hence our self-drive trips in the Cape and particularly Namibia are perhaps the obvious ways to do this. With a self-drive you can set your own schedule; if you want to wait beside a waterhole in Etosha for eight hours – you can!

(There's a particularly clear example of a typical trip for one of our travellers detailed here. It was a 2005 trip – but the principles remain exactly the same.)

Activities at safari camps tend to be organised around a handful of guests. You'll get some great photographic opportunities, but setting entirely your own schedule will be difficult. One way around this is to hire a private guide and vehicle for your safari – it's the ultimate way to travel, but usually costs around £100-200 per vehicle per day extra, and isn't always possible.

The light is best in the early-morning or late-afternoon, so ensure that you are able to make the most of this. Camps that offer night drives have the advantage, because you can then take your time returning to camp after sunset.

Photographic trips to Tanzania
Having said the above, Tanzania contrasts with most of the areas we cover. In Northern Tanzania it is easy to travel with a private vehicle and driver, allowing photographers to enjoy the spectacular drive from Lake Manyara up to the Ngorongoro Crater and down onto the great Serengeti Plain at their own pace – with complete flexibility to stop and photograph the wildlife for almost as long as they wish.

(See our top tips for the best lodge as and camps for photographers in Tanzania…)

Photographic trips to Botswana
You'll generally get better pictures of game on 4WD safaris than on foot but, better still, spend some time in a game hide. In Botswana you'll find photographic hides at Meno A Kwena, Chitabe (& Chitabe Lediba) and at Duma Tau in the Linyanti Reserve. The wood-pile hide at Savuti Camp is amazing, and can be great for photography, if a little nerve-wracking at times!

Zarafa Camp in Botswana's game-rich Selinda Reserve has gone one step further than many. Owned by famous photographers, Dereck and Beverly Joubert, the camp is getting a 4WD designed specially for photographers, with camera mounts and other aids already installed. Here each room is supplied with its own top-end camera, and your pics can be downloaded for you onto a CD before you leave.

(See more of our top places for photographic trips to Botswana…)

Photographic trips to Zambia
In Zambia,
Kaingo Camp
has several ingenious game hides, including one high above an elephant crossing and another floating beside a colony of carmine bee-eaters. These hides can also be visited whilst at
Mwamba Bush Camp
, which even has its own photographic hide right next to camp!
For those waiting for the great shot in the Lower Zambezi, then the boats on the river can often get very close to game on the bank – and the comfortable platform hide at
Chiawa Camp
overlooks a popular drinking spot for much game.
(
See our recommendations for the best safari camps for photographers in Zambia…
)
Photography holidays with Wild about Africa
Would you like to combine a photographic holiday with a simple or luxury camping safari, whilst travelling in a small group of fellow adventurers? Then see
Wild about Africa's
ideas for
photography holidays in Namibia and Botswana
.