Useful links featuring Melia Zanzibar
Useful links...
We want you to understand more about Melia Zanzibar. We're not shy to direct you to their own website as we're confident that a trip there with us will cost you the same or less than booking it any other way, even directly. So follow the links below for more information.
Melia Zanzibar's homepage
Click here for more Melia Zanzibar's page on the Melia website, with information and pictures.
Melia Zanzibar is often combined with:
Sort by:
Name


|
% of trips


|
Traveller's rating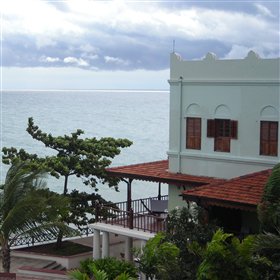 Serena Inn
|
100%
|

The Serena Inn in Stone Town is part of the internationally renowned Serena chain, which has hotels all over East Africa. The buildings which make up the Serena Inn were once used as the residence for a Chinese doctor but it has been a hotel for the past 12 years and has ...
Read more about Serena Inn
Gibb's Farm
|
100%
|

Gibb's Farm, originally built by German settlers in 1929, is one of Northern Tanzania's oldest guesthouses. Its location half way between Lake Manyara and the Ngorongoro Crater make this a great base for exploring both of these areas. It's a lovely relaxing spot - surrounded ...
Read more about Gibbs Farm
Ngorongoro Serena Safari Lodge
|
100%
|


The Ngorongoro Serena Lodge is a large, fairly dated 75-roomed hotel set on the western rim of Ngorongoro Crater, only 8km from the descent road. There are stunning views from all of the bedrooms and most of the public areas. On a clear day, looking through the lodge telescope ...
Read more about Serena Safari Lodge
Olakira Mara - Ndutu Camp
|
100%
|


Olakira Camp, sometimes known as either Olakira Mara, or Olakira Ndutu depending on where it's located, is the sister camp to Olakira Lamai, Ubuntu, Dunia and Sayari Camp and it is a semi-permanent tented camp that moves twice a year to a new location. Through the months ...
Read more about Olakira Camp
Oyster Bay
|
100%
|

Owned by the team who run the top-end Beho Beho Camp , in the Selous Game Reserve, The Oyster Bay Hotel is in the 'Oyster Bay' district of Dar es Salaam. It was renovated extensively between 2006 and November 2007, and we first visited the hotel in November 2007, just ...
Read more about Oyster Bay