Campi ya Kanzi
Children
Best for 8+
Open
All year
Campi ya Kanzi first opened in 1996 as a luxury home stay operated by an Italian couple who were deeply committed to the environment and their local Maasai community. It has since evolved into an expansive, 16-bed tented camp set on the hillsides around the family's former home, now the main dining and lounge area.
Continue reading our full report on Campi ya Kanzi
Our view of Campi ya Kanzi
Overall, we think this is one of the most impressive camps in Kenya - not just for the large and very comfortable tents and excellent Italian hospitality, but as a model of sustainability in a challenging environment and for its serious commitment to the Maasai community of Kuku Group Ranch. On the ranch itself, the game-viewing, Maasai range lands and bush savannah of the lower altitudes contrast strikingly with the magnificent, high-altitude cloud forest we visited up among the peaks of the Chyulus. The contact with the community and the cloud forest together make this one of our most unforgettable stays of recent years.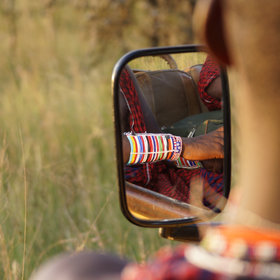 Campi ya Kanzi's success is a result of the close ties between the lodge and the Maasai.