Useful links featuring Kicheche Bush Camp

Download a PDF...
To read what we say in our brochure, click on the link to download the brochure section including Kicheche Bush Camp. To save a copy onto your computer, right-click on the link and select 'Save Target as...'.
Useful links...
We want you to understand more about Kicheche Bush Camp. We're not shy to direct you to their own website as we're confident that a trip there with us will cost you the same or less than booking it any other way, even directly. So follow the links below for more information.
Kicheche Bush Camp is often combined with:
Sort by:
Name


|
% of trips


|
Traveller's rating


Mikhael's Hotel
|
100%

Privately owned by the Khoury family who have been in Brazzaville for over 50 years, Mikhael's Hotel opened in August 2010 and is located in the heart of the city. The hotel is still run by its owners, who were originally in the construction industry, though it's very much ...
Read more about Mikhaels Hotel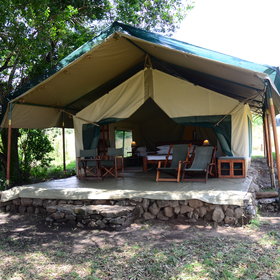 Kicheche Mara
|
50%
|


Kicheche Mara is a relatively small, well-designed and very well run bushcamp in Acacia Valley, stretched out above the Olare Orok stream in Mara North Conservancy. It has just eight tents, with a real bush feel and no fence separating it from the surrounding wildlife. ...
Read more about Kicheche Mara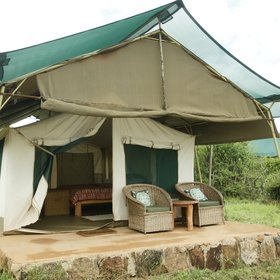 Laikipia Wilderness
|
50%

Laikipia Wilderness opened in 2012 on the Ol Doinyo Lemboro Ranch about 2 hours drive north of Nanyuki. The camp has five spacious tents, and is supported by a small team of excellent staff. It specialises in game walks as much as game drives and has two easily observed ...
Read more about Laikipia Wilderness
Saruni Samburu
|
50%

Saruni Samburu is a luxury lodge that sits atop a vast red rock in the private Kalama Conservancy, north of the Samburu National Reserve. It's the sister lodge of co-owned Saruni Mara.In easy reach for game drives and with spectacular views overlooking this famous wildlife ...
Read more about Saruni Samburu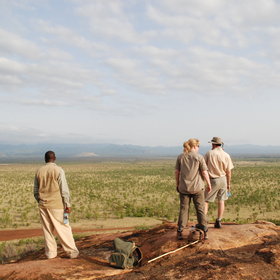 Elsas Kopje
|
50%

Named after Elsa, the lioness raised by George and Joy Adamson and made famous by the story of Born Free, Elsa's Kopje sits high on Mughwango Hill above George Adamson's original campsite. The camp is colonial in style, and has spectacular views over the plains of Meru National Park...
Read more about Elsa's Kopje
Sirikoi
|
50%
Sirikoi is a luxury safari camp and lodge, located by a game-rich watering hole in a private area of the 250km² Lewa Wildlife Conservancy, in south-eastern Laikipia. With only a small number of tents it aims to offer a high-quality, personal experience. Sirikoi was ...
Read more about Sirikoi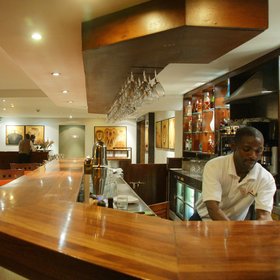 Ole-Sereni
|
50%
|


Opened in 2009, the Ole-Sereni is the closest Nairobi has to an airport hotel, though its brand-new neighbour, the Eka Hotel, seems likely to challenge it. The building, which formerly housed the US Embassy, borders the fence that runs along the north side of Nairobi National ...
Read more about Ole-Sereni
Lango Camp
|
50%
Nestled on the edge of a bai, with forest behind and open wetlands in front, Lango Camp is a luxurious permanent camp in Odzala National Park. It is visited as the second stop, in a set six-night itinerary, with three nights spent here after three at its sister camp Ngaga ...
Read more about Lango Camp
Ngaga Camp
|
50%

Ngaga Camp is the first stop on a set six-night trip into Odzala National Park and its surrounding areas where people come to experience a unique rainforest environment and see the very rare lowland gorillas. Based on the local architecture of the Baka people, the camp ...
Read more about Ngaga Camp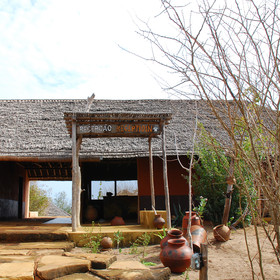 Nuarro Mozambique
|
50%
|

Just north of Nacala and set within a marine reserve, Nuarro Mozambique is a new lodge with a strong focus on responsible and eco-tourism. Opened in June 2009 with just one restaurant-bar area and six chalets, it has since grown to incorporate a total of 12 chalets, a beach ...
Read more about Nuarro Mozambique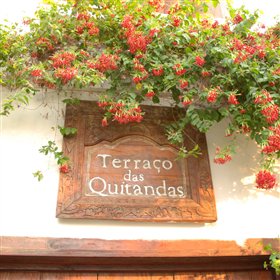 Terraco das Quitandas
|
50%
|


The house of Terraço das Quitandas is a stunning old building located in the heart of Ilha do Moçambique's stone town. Over 300 years old, it has been home to many different merchants and traders, and during the last few decades of Portuguese rule, was the staff house for ...
Read more about Terraco das Quitandas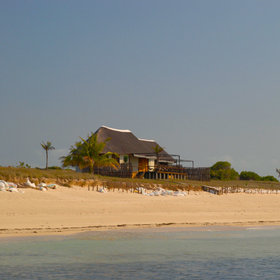 Coral Lodge 15.41
|
50%
|


Coral Lodge 15.41 (the numbers indicating the lodge's Latitude and Longitude co-ordinates) is a relatively new property which opened in June 2010 on the central Mozambican coastline, just south of Nacala. With only ten villas it is small, with smart and modern touches, ...
Read more about Coral Lodge 15.41