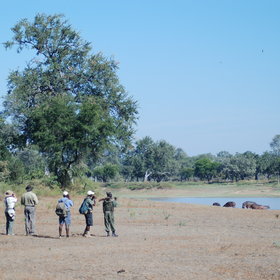 Stepping out in Zambia is always an adventure.
Flights to Zambia
We arrange the flights to Zambia for most of our travellers, and have excellent flights rates. However, if you would prefer to arrange your own flights, or book with air-miles or the like, then feel free to do so. If you organise the flights, we are happy to just make your ground arrangements.
Starting from London
The easiest and most direct flights from London are to fly to Lusaka with
British Airways
. These flights
depart from Heathrow on Monday, Wednesday and Friday evenings
, arriving in Lusaka the following morning. Most of our Zambia trips use these outbound flights.
Leaving Zambia for London
, … you have a choice:
1) Fly from Lusaka direct
You can fly with BA's direct flights back to London Heathrow, which depart early on Tuesday, Thursday and Saturday mornings, arriving in Heathrow later that day. To catch such an early flight, you need to sleep for your last evening either in or near Lusaka, in the
Lower Zambezi
, near an airstrip in the
Kafue
, or in the Mfuwe area of
South Luangwa
.
2) Fly from Lusaka via Johannesburg
You can fly from Lusaka to Johannesburg, and then travel back overnight on BA's flight from Jo'burg to London. This route is more costly than the direct service from Lusaka, but can be more convenient – as these flights operate on most days of the week. We can easily swap these around on your particular trip, so let us know which flights you'd prefer to use for your return journey.
3) Fly from Livingstone via Johannesburg
Leaving Zambia from Livingstone at the end of your trip, it's usually best to fly via Johannesburg, and then travel overnight back to London. For example the
Duiker safari
uses these flights.
----------------------------------------------------------------------------------
Starting from the USA
, … your options for how flights are a little more complicated. In broad terms, your two options for the flight arrangements are:
1)You arrange
your return flights
USA -> London
and
London -> USA
for yourself.
Expert Africa arranges
the
London -> Zambia
and
Zambia -> London
flights for you.
This makes a lot of sense as we have great rates on the zambia flights. However, you need to make sure that you have enough turn-around time between planes in London. This allows us to utilise some great add-on rates internal flights within Africa, which we can buy for your trip linked to you international ticket.
2)You arrange
your own flights
USA -> Zambia
and
Zambia -> USA
, either via London or on any other route, and advise us of the flight times and carriers.
Expert Africa arranges
your arrangements in Zambia for you, including any smaller flights within Zambia.
This makes more sense if you are flying direct from the US – eg on the service linking Atlanta with Jo'burg. If you choose to organise your own intercontinental flights, then we prefer you to also book any connecting flights at the same time. Eg: links between from Jo'burg and Livingstone or Lusaka.