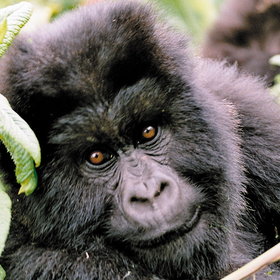 Take a look into the eyes of Rwanda.
Latest Akagera National Park safari reviews
Akagera Game Lodge review
27-Aug to 8-Sep 08
Good

A good intro to Rwanda and time to relax
7-Sep to 20-Sep 07
Good

Akagera National Park
Bordering Tanzania, Akagera National Park covers about 900km² of fairly low-lying grasslands and woodlands, similar in feel to the 'traditional' safari areas of East Africa. To the west of these plains is an adjacent range of mountains, whilst to the east the Akagera River feeds into a series of lakes, marshes and papyrus swamps. So for a fairly small park, there is a wide variety of habitats and some lovely scenery.
The game includes most of the usual plains species. Impala and topi (known as tsessebe in Southern Africa) seem to be dominant, with eland, oribi, Masai giraffe, Defassa waterbuck, reedbuck, bushbuck, sable and roan antelope also present. Burchall's zebra, buffalo, hippo and crocodile are commonly seen whilst game viewing; elephant are more restricted. A rare sighting would be lion and sitatunga which are present but restricted to more inaccessible areas. Birding is especially good with savannah birds and raptors being prevelant and several endemic species such as the red-faced barbet are often seen. Short boat trips are available which will give you the opportunity to get close to the plentiful waterbirds including numerous African fish eagles, marabou stork, crowned cranes, open-billed stork, cormorants, herons and egrets. If you are lucky you may even get to see the elusive shoebill stork. Game densities aren't high, but you'll see plenty in a day or two, and pleasantly few other visitors, so it's worth the drive from Kigali to get here.
Akagera can be visited on a day trip, but now it's better to spend a night at the new
Akagera Game Lodge
. Rebuilt at the end of 2004, this has 60 modern en-suite rooms, and spectacular views over Lake Ihéma.