Useful links featuring Hotel L'Archipel

Download a PDF...
To read what we say in our brochure, click on the link to download the brochure section including Hotel L'Archipel. To save a copy onto your computer, right-click on the link and select 'Save Target as...'.
Useful links...
We want you to understand more about Hotel L'Archipel. We're not shy to direct you to their own website as we're confident that a trip there with us will cost you the same or less than booking it any other way, even directly. So follow the links below for more information.
Homepage of Hotel L'Archipel
Please click through to the hotel's own website for further information and pictures.
Places which are most often combined with the Hotel L'Archipel
Sort by:
Name


|
% of trips


|
Traveller's rating


Bliss Hotel
|
25%
|

Situated in the north of Mahe at the Glacis end of Beau Vallon Beach, lies the charming Bliss Hotel. The hotel has two sides which stand on opposite sides of the road; there are 8 seaside rooms overlooking the ...
Read more about Bliss Hotel
Hotel L'Ocean
|
25%
|


On La Digue's northern headland, Hotel L'Ocean is a funky little establishment filled with all sorts of curiosities. Fabulous marine mosaic murals adorn the walls (including a particularly spectacular lionfish), ...
Read more about Hotel L'Ocean
Anse Soleil Beachcomber
|
25%
|


In southwest Mahé, Anse Soleil Beachcomber is located at the foot of a steep, winding road, flanked on either side by massive bamboo clumps and exotic palms. A laid-back hideaway with a picture-perfect crescent ...
Read more about Anse Soleil
Le Meridien Fishermans Cove
|
25%
|


On the southern stretch of Beau Vallon bay in Mahé's famed north-west, Le Méridien Fisherman's Cove was one of the first hotels in the Seychelles, when it opened in 1943. Undergoing a major refurbishment a few ...
Read more about Le Meridien Fish' Cove
Le Sans Souci
|
25%
|


Reached via a mountain road which winds through the tropical vegetation, Le Sans Souci Guest House stands high on the mountain slopes overlooking Victoria port and the neighbouring islands of St Anne Marine National Park...
Read more about Le Sans Souci
La Digue Island Lodge
|
25%
|


The expansive resort of La Digue Island Lodge is strung along a beautiful sandy stretch of Anse Reunion beach, on the western coast of La Digue. Set in manicured tropical gardens, the range of accommodation options ...
Read more about La Digue Island Lodge
Le Domaine d'Orangeraie
|
25%
|

Set to be La Digue's most stylish accommodation, Le Domaine de l'Orangeraie is an Eastern-influenced hotel just north of the tiny La Passe harbour. Set in immaculate tropical gardens, dotted with stone Buddhas ...
Read more about Le Domaine d'Orangeraie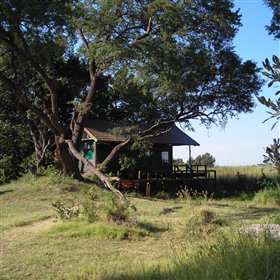 Shinde Camp
|
25%
|


Shinde, meaning 'tree squirrel' in Setswana, is situated on the edge of an area of deep water and lagoons in the heart of the Okavango Delta, and is notable for its lushness and first-rate game. It's a well-established ...
Read more about Shinde Camp
Kanana
|
25%
|


Situated in the heart of Botswana's Okavango Delta, adjacent to Moremi Game Reserve, Kanana Camp nestles among towering jackalberry (ebony) trees, knobthorn acacias and sausage trees on the edge of a permanent stretch of channel...
Read more about Kanana
Victoria Falls Hotel
|
25%
|

The elegant Victoria Falls Hotel is located within walking distance of the Victoria Falls with views over the famous Victoria Falls Bridge spanning the Batoka Gorge. The hotel (originally built in 1904 to house ...
Read more about Victoria Falls Hotel
Chobe Under Canvas
|
25%
|


The concept behind Chobe Under Canvas is to combine the advantages of a mobile camping safari with the luxuries of a semi-permanent tented camp. Always based in the Chobe Riverfront area of the Chobe National Park, ...
Read more about Chobe Under Canvas