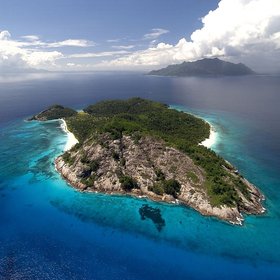 North Island is a private island - an amazing spot for the ultimate beach honeymoon or holiday.
North Island
Larger than Monte Carlo and holding the same stylish appeal, North Island Seychelles seems to receive a constant flow of accolades and awards. Voted number one in the 'Worldwide - Best of the Best' category by
Conde Nast Traveller
, listed in The ROBB Report's – '100 Best Places to Stay', cited by
Forbes Magazine
in its 'Top 10 Travel Destinations for 2007', the list is endless. Be it an award for the Best New Sensation, the Best Designed Hotel, the Best Room or the Best Hotel on Earth – we would have to concur. North Island is simply sensational!
Here, the lodge's standards really do match the stunning surroundings and the hype – and it's certainly the ultimate location for a Seychelles honeymoon.
Since its opening in 2003, the media, design-conscious celebrities and affluent travellers from all over the globe, have vied to stay in one of North Island's 11 hand-crafted guest villas. And yet, in spite of its success, North Island Seychelles remains a blissfully understated affair: sanctuary, not stardom, sets the tone here.
North Island is the ultimate all-inclusive luxury resort. Purchased in 1997 by
Wilderness Safaris
, as an uninhabited, former fruit and spice plantation, the last decade has witnessed the creation of one of the most ambitious rehabilitation, conservation and tourism development projects in the Indian Ocean.
The decision to return North Island to its natural state has resulted in a complex, costly and ongoing commitment to eradicate the feral animals and alien vegetation, and to reintroduce endangered species endemic to the Seychelles. This momentous task continues daily under the hands-on direction of a resident ecologist, who is a fountain of knowledge for interested guests.
Read more:
accommodation on North Island
.
Stretching along the island's east beach, the villas and main piazza were designed by a South African architectural team, Silvo Rech and Lesley Carstens. Their remarkable structures and interiors combining traditional styles from mainland Africa, Zanzibar and Bali, with the clean lines and space reminiscent of contemporary design.
Intricate, hand-cut floor and door carvings meet concertina glass walls; shaggy, woven thatching covers a sunken marble bath; coral rock curtains contrast with super-soft cotton bed linen – every intricacy is tasteful and thoughtful. Absolutely every detail has been carefully considered, and it shows!
Each large, sea-facing
air-conditioned villa
boasts its own ocean-view plunge pool, open-sided dining room, kitchenette, room attendant and golf buggy (for getting around when you don't want to walk, and sunset rides to the fabulously funky cocktail bar on west beach!). There is also a spa and small gym above the central piazza, a palm-shaded swimming pool hewn into the granitic boulders, a cool library (the venue for pre-dinner drinks and nightly island talks), and a naturally well-equipped, activities centre.
Each
villa
also has a separate lounge, with its own stylish en suite bathroom, which can easily be converted into a large second bedroom for a family travelling together.
For those who can drag themselves away from their gorgeous villas, island activities are wholly flexible and range from mountain biking to guided walks; snorkelling to scuba diving; fishing to body-boarding and kayaking. The extensive daily menu is merely a suggestion, with virtually all meals being prepared on request, whilst the wine cellar is always open and offers a wide and quite eclectic selection of champagnes and fine wines from around the world to complete your choice. Dining is flexible in time and location – though the private beach barbeques take some beating!
On every level, North Island strives to exceed expectations and deliver a truly stupendous experience. It has a price tag to match its very high standards, though it's difficult to argue that it doesn't offer value for money… after all, what price for a private paradise?