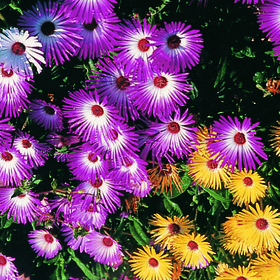 Namaqualand is famous for its flower season from late August until early September.
Latest Namaqualand trip reviews
Annie's Cottage is delightful
3-Sep to 3-Oct 13
Excellent

Annie's Cottage review
8-Sep to 23-Sep 13
Average

Very comfortable with an excellent breakfast
24-May to 8-Jun 13
Good

Mountain View Guest House review
20-May to 7-Jun 13
Average

Farmhouse Hotel review
6-Feb to 27-Feb 13
Average

Namaqualand
Driving north from Cape Town, the traffic dwindles as the tar road meanders between hills and into rugged mountains. Whilst it's pleasant for most of the year, during the famous flower season (late August and early September) the hills and heath-lands of Namaqualand burst into flower, with vibrant oranges, purples and yellows carpeting the ground.
Hotels and lodges in and around Clanwilliam
Inland, barely two hours' drive from Cape Town, you will reach Clanwilliam – a tiny settlement of whitewashed wooden houses on leafy streets, surrounded by extensive orchards. Nearby, the Cedarberg Wilderness Area protects one of the Cape's last remaining stands of mountain fynbos vegetation, so bring your hiking boots and explore for a few days. Places to stay include:
Ndedema Lodge
In the heart of Clanwilliam, Ndedema is an elegant, owner-run Victorian house with three individually decorated bedrooms, a separate garden cottage, as well as a swimming pool and fruit trees in its garden. The owner, Wilma, is always very helpful with advice on the local area. (
Read more about Ndedema Lodge…
)
Bushmans Kloof Wilderness Reserve & Retreat
East of Clanwilliam, over the dizzy heights of the Pakhuis Pass, stands the luxurious Bushmans Kloof. It has 16 spacious, country-style rooms, set in indigenous, beautifully manicured gardens, with spectacular views. For exclusive use only, a stunningly converted farmhouse,
Koro Lodge
, boasts a dedicated guide and chef, and accommodation for a family of up to ten! (
Read more about Bushmans Kloof…
)
Hotels and guesthouses in Springbok
Over the years, we've seen the town of Springbok, in the heart of Namaqualand, change from a rural backwater into a bustling little town. In the flower season, visitors flock here. There is even a local 'flower hotline' to find the day's best blooms – so at this time of year you must book trips well in advance. Our suggestions for staying here are:
Mountain View Guest House
Mountain View Guest House stands high on a hill overlooking Springbok, and has 13 tastefully decorated rooms – most have their own private patio and entrance. Outside, you'll find a small swimming pool, set in a beautiful garden with indigenous plants. (
Read more about Mountain View…
)
Annie's Cottage
Not far from the town centre, Annie's Cottage is a restored manor house with 11 individually designed rooms, each decorated in an ornate colonial style with a different colour scheme. There's also a shady veranda, manicured gardens and a small pool. (
Read more about Annie's Cottage…
)
Old Mill Lodge
Close to the local shops, in the centre of Springbok, Old Mill Lodge has 11 comfortable rooms. It's a simple, but friendly and familiar place, where you help yourself to coffee or tea, before relaxing on the lodge's veranda. (
Read more about Old Mill Lodge…
)
Where to stay in Langebaan
Detour slightly west, to the coast, and you'll reach Langebaan, gateway to the West Coast National Park. This has a fantastic population of sea birds and is a major attraction during the flower season. Places to stay here include:
Farmhouse Hotel
The Farmhouse hotel is a charming place to stay; it sits on a hill with wonderful views of the Langebaan Lagoon. The renovated farmstead has 16 comfortable rooms, from simple to luxurious, a pool and a spa, and the restaurant serves traditional Cape cuisine. (
Read more about the Farmhouse Hotel…
)