Kinondo Kwetu
Rooms
16
Children
Good for all ages.
Open
July to April
Far to the south of Diani beach proper, Kinondo Kwetu ('Our Home at Kinondo' in Swahili) is a Swedish-owned, luxury boutique hotel, set among shady baobabs and palm trees, right on the beach.
Our view of Kinondo Kwetu
Having stayed here a couple of times we think this is one of the very best small hotels on the coast. The blend of chic, Scandinavian design with rustic, tropical Kenyan warmth makes for an irresistible combination. The food is excellent, the service gently enveloping without being overbearing, and the hosts charming and genuine. There's plenty to do here if you get tired of doing nothing, but you need to be aware that there are no local services in the shape of restaurants or bars.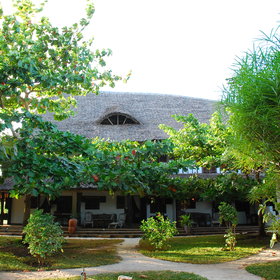 Kinondo Kwetu is a delightful beach lodge on Kenya's coast.