Peponi
Rooms
29 rooms
Children
Good for all ages.
Open
All year
One of the oldest lodgings on the island, Peponi is a stylish, beachfront hotel in the prime spot in Shela village overlooking the mouth of the creek and start of Lamu beach. Owned and managed by the Korschen family, it dates from the 1960s and has been successively expanded, modified and refurbished over the years.
Our view of Peponi
As a beach hotel and Lamu institution, Peponi ticks every box. Its wonderful location, excellent facilities and superb food make it a very reliable base for a beach holiday. If only our brief stay in December 2013 could have been longer…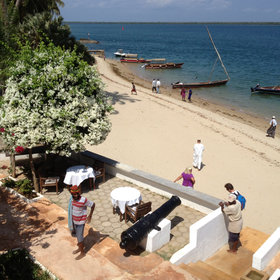 Peponi is in the heart of Shela village, but is only a short dhow ride from Lamu town.