Useful links featuring Giraffe Manor

Download a PDF...
To read what we say in our brochure, click on the link to download the brochure section including Giraffe Manor. To save a copy onto your computer, right-click on the link and select 'Save Target as...'.
Useful links...
We want you to understand more about Giraffe Manor. We're not shy to direct you to their own website as we're confident that a trip there with us will cost you the same or less than booking it any other way, even directly. So follow the links below for more information.
Giraffe Manor
Giraffe Manor's own website has a good range of information and photos.
Giraffe Manor virtual tour
If your computer has Flash installed, the virtual tour on this page is well worth exploring.
Giraffe Manor in the media
We often arrange African trips for top journalists and a few of the resultant articles are online. Pieces written about Giraffe Manor include:
Kenya by Design
by Richard Trillo
Published in Travel Kenya, Travel Africa Magazine, p.8-21 on 1 May 2013
See our articles page for more pieces about our trips and safaris
Giraffe Manor is often combined with:
Sort by:
Name


|
% of trips


|
Traveller's rating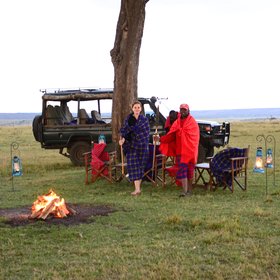 Offbeat Mara
|
50%
|

Located in the quiet Mara North Conservancy, Offbeat Mara sits near the Olare Orok River and is nestled into the bush so discreetly that you can barely see it once you are outside of camp. It's small, comfortable and unfenced: an authentic tented camp. Sister camp to ...
Read more about Offbeat Mara
Offbeat Meru
|
50%
|


Located in Bisanadi National Reserve, right next to the main Meru National Park, Offbeat Meru is a traditional tented camp, looking across a small river. The camp has all the basic comforts, but very little in the way of permanent structures, so is likely to appeal to safari ...
Read more about Offbeat Meru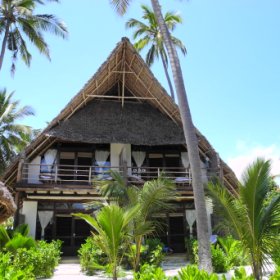 Sunshine Hotel
|
50%
|


Opened in June 2010, the sunny Sunshine Hotel is a new addition to the beachside accommodation in Matemwe, on Zanzibar's east coast. Located on a lovely white stretch of beach, it's a colourful, bright and vibrant place to stay, popular with young couples and honeymooners...
Read more about Sunshine Hotel
Mdonya Old River Camp
|
50%
|


Set in acacia woodland in the heart of Ruaha National Park, Mdonya Old River Camp was designed with a conscious desire to remain simple, and in keeping with their surroundings. It makes no apologies for sticking to safari basics – in fact it rather revels in the idea – ...
Read more about Mdonya Old River Camp
Selous Impala Camp
|
50%
|

Selous Impala Camp is situated on a wooded stretch of the stunning Rufiji River within the Selous Game Reserve. Simply though stylishly designed, it offers varied safaris and combines well with its sister camp in Ruaha National Park, the rather more spartan Mdonya Old River Camp...
Read more about Impala Camp