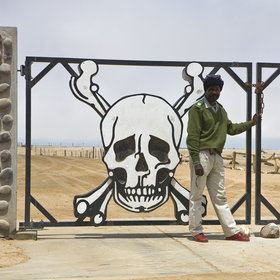 Skeleton Coast, so named from the bleached bones of stranded whales, sailors and ships.
Hoanib Skeleton Coast Camp: Our full report
Hoanib Skeleton Coast Camp is an exciting new camp being planned in the Hoanib River Valley, in northern Damaraland. It is surrounded by gravel plains, mountains and large yellow sand dunes. Although it's not actually on the Skeleton Coast, the camp is situated in a private concession (similar to a reserve) area which straddles the Palmwag area and Skeleton Coast National Park. Consequently this camp is being viewed by name as a successor to the Skeleton Coast Camp, which is now closed.

In a location where a camp used to exist, plans are for construction to be completed in 2014. It will be a comfortable camp, with eight rooms (7 twin/double rooms and one family unit) of simple classic design, with the main focus being on the experience rather that the camp itself. Hoanib Skeleton Coast will only be accessible by light aircraft transfer at the present time.

The scenery in this area is stunning – stark, rugged beauty traversed by a linear oasis that is the ephemeral Hoanib River. Normally a sand river, it flows only when heavy rains hit its catchment area. However there is always subterranean water, plus some springs, which ensure vegetation grows along the river course. This water and food supply, in turn, attracts the desert animals that live in this region. These include a relatively large number of desert adapted elephant, plus black rhino, lion, giraffe, and plains game such as Hartmann's mountain zebra, gemsbok and springbok. Hence Hoanib Camp should offer a really special wildlife experience in this harsh environment of the Namib desert.

It's proximity to the Skeleton Coast National Park will also afford it great access to this remote and inhospitable part of Namibia. Very few people get to this area and its pretty unique – vast dunes fields, gravel plains with delicate lichen fields, 'clay castles', wind-swept beaches, cape fur seals and shipwrecks – there is nowhere else like it. Hoanib Skeleton Coast Camp will be a perfect base to explore this region.

Activities from Hoanib Skeleton Coast Camp will probably include some, if not all, of the following - with specifics still to be determined. A full day excursion, including a picnic lunch, taking a scenic flight into the Skeleton Coast and then on to Terrace Bay to explore the dunes, coast and surrounding area; 4WD game drives; trips to Mudarob spring (a great spot to view elephant!) and nature walks. Also trips into the previously restricted area of the Hoanib floodplains (within the Skeleton Coast National Park) make this a special place to stay. Note however that coastal activities from camp will only be guaranteed on a three night stay.

With such clear skies in Namibia, Hoanib Camp is a super place to star-gaze, have dinner al fresco in the dunes and have sleep outs too. Another possible excursion would be to visit a Himba village to learn more about their culture and seemingly unchanged way of life.


Our view
This camp won't be for the budget conscious. But what you will get is superb experience in a very remote location. Tracking desert-adapted elephant and spending time in the Skeleton Coast National Park will be amongst the highlights here.
Watch this space for further information.
Geographics
Location: Skeleton Coast & Kaokoland, Namibia
Ideal length of stay: Two to three nights
Key personnel
Owner: Wilderness Safaris
Food & drink
Usual board basis: Full Board
Infrastructure
Health & safety
Dangerous animals: High Risk
Extras
Laundry facilities: 0