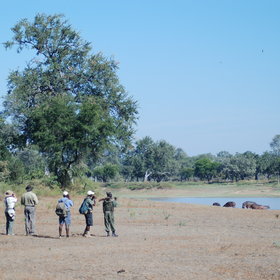 Stepping out in Zambia is always an adventure.
Latest Lusaka area trip reviews
A good last night
17-Mar to 30-Mar 13
Excellent

Pioneer Camp review
22-Mar to 30-Mar 13
Average

Ideal for an easy transfer to the airport
25-Feb to 9-Mar 13
Excellent

Very handy for an early flight from Lusaka.
25-Feb to 9-Mar 13
Excellent

True Pioneer style.
9-Feb to 23-Feb 13
Excellent

Lusaka area
Some visitors pass rapidly through central Zambia, bypassing Lusaka's chaotic traffic and sprawling suburbs; others overnight here. It is not a bad city, and many are surprised when they enjoy its tree-lined boulevards and vibrant street life.
If you want to fly directly from Zambia to the UK,
British Airways
flights leave early in the morning, usually between 8.45am and 9.15am. This may mean that it's most convenient for you to spend your last night in Lusaka. If you want a hotel in town, then we recommend the
Taj Pamodzi Hotel
.
Alternatively, a few spend an evening at
Chaminuka
, which is a beautiful lodge about 45 minutes drive outside Lusaka, and a little closer to the airport.