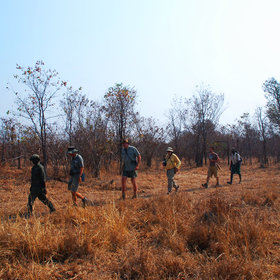 North Luangwa is a great wilderness area for walking safaris.
Latest North Luangwa National Park safari reviews
our favourite bushcamp in Luangwa
20-Sep to 5-Oct 13
Excellent

Buffalo delayed all our Mwaleshi walks
14-Sep to 30-Sep 13
Excellent

Mwaleshi Camp review
24-Jul to 9-Aug 13
Excellent

To wade across the Mwaleshi river ..........
14-Jul to 27-Jul 13
Excellent

Mwaleshi Camp review
30-Sep to 14-Oct 12
Excellent

North Luangwa National Park
North and South Luangwa national parks are part of the same rift valley, sharing the same geology, soil types, vegetation and landscapes.
The ecosystems and the game in the two parks are virtually identical, though North Luangwa is slightly better for seeing eland and, especially, Cookson's wildebeest. Endemic to the Valley, these particular animals are abundant in the North park yet rarely seen in South Luangwa.
The 'north park' is partly a wilderness area, set aside for walkers. It has few access tracks and no game-drive loops. The few bushcamps here are set along the perennial but shallow Mwaleshi River and getting to them is an adventure in itself, requiring a six-hour drive across rough terrain or (more usually) a small hop by plane.
Of the few camps there, we generally recommend one of the two best. Both are
Mwaleshi
and
Kutandala
are tiny camps, each taking just six people, set beside the clear Mwaleshi River.