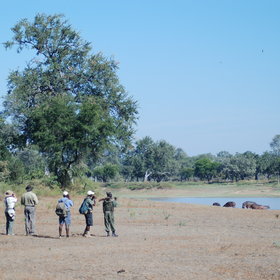 Stepping out in Zambia is always an adventure.
Nchila Reserve: Our full report
Nchila Reserve is tucked away in the far northwest of Zambia, and is best reached by flying from Lusaka or northern Kafue. Dr Walter Fisher founded a mission here in 1889, and the estate (known as Hillwood Farm) is still run by his descendents. It's an amazing place, including an orphanage, a school, a farm, and the reserve.

Looking at Nchla on a map, you'll realise that it's close to the rainforests of the Congo Basin. Hence ornithologists know it as a place to spot numerous birds which are either rare in, or absent from, the rest of southern and East Africa. Enthusiasts can find black-collared bulbuls, Angola larks, blue-breasted kingfishers, blue-headed and green-throated sunbirds, Forbe's plovers, red-bellied paradise flycatchers, white-cheeked bee-eaters, white-spotted flufftails and many other rare species.

Aside from the birds, the reserve is one of Africa's best places to see roan and large, relaxed herds of eland and sable antelope (including the rare Angolan giant sable). You'll also find Kafue lechwe, Lichtenstein's Hartebeest, Oribi, some very relaxed sitatungas, and a variety of other more common antelope.

Accommodation is in one of three beautiful thatched chalets - stylish and comfortable. Come for three nights to explore; it's an unusual place to visit, but well worth the trip.

Getting to Nchila usually requires us to charter a private plane from Lusaka, or at least northern Kafue. Hence getting there is costly. It's a destination for those who are serious about their birds, and we recommend that if you visit, then you stay for at least 3-4 days.
Geographics
Location: Northern Zambia, Zambia
Key personnel
Owner: Independent / Owner Run
Food & drink
Usual board basis: Full Board
Dining style: Group Meals
Dining locations: Indoor and Outdoor Dining
Special interests
Birdwatching: An amazing place for bird-watchers with dozens of species that are found here and in the equatorial forests - but rarely elsewhere
See more ideas for
Birdwatching in Zambia
Walking safaris: With lovely landscape, and little really dangerous game, Nchila is a great place to walk and explore - take a good pair of binoculars and a bird book
See more ideas for
Walking safaris in Zambia
Wildlife safaris: Nchila's moist evergreen forests are fascinating, whilst its plains have a wide range of fairly unusual anilas, including roan and sable antelope (including Angolan giant sable), eland, oribi and unusualy bold sitatunga!
See more ideas for
Wildlife safaris in Zambia
Health & safety
Malarial area: Yes
Dangerous animals: Low Risk
Extras
Disabled access: Not Possible