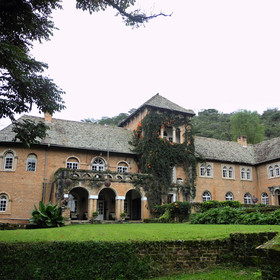 Shiwa Ng'andu is a unique manor house …
Shiwa Ng'andu: Our full report
Rooms
Five bedrooms – four are ensuite
Traveller's rating

(98%) From
9 reviews
Children
Suitable for ages 10 years +
Open
All year
Although Shiwa Ng'andu Manor House has become more well-known through the best-selling book, The Africa House, we've been organising trips here for many years. It's an English manor house, on the Shiwa Ng'andu Estate, complete with redbrick gatehouse, clay-tiled roofed workers' cottages, a long approach avenue, formal gardens, and it even has its own chapel adjacent to the house. It's dotted with historic memorabilia relating to its founder, Sir Stewart Gore-Browne.

The Manor House was originally built in 1925 by Sir Stewart Gore-Brown, following his extensive travels through Africa. After his death in 1967 the running of the estate was taken over by his daughter Lorna and her husband John Harvey. After their untimely death in 1992, and due to the lack of funds, the house and estate fell into disrepair until it was taken over in 1999 but Lorna and John's son Charlie and his wife Jo. Together they have lovingly restored the house, as well as the estate, to its former grandeur.

Charlie and Jo have opened the house and estate to visitors, however it is still a working farm and Charlie is up at dawn every morning tending to the farm.

The Manor house has five bedrooms, four of them en-suite. They are comfortable but in need of some updating. (On our last visit in April 2011, one of the rooms was being enlarged and updated, and we were told that the other rooms would be done over a period of time, as and when there were sufficient funds to do so.) The rooms are all decorated with old furniture, some of which date back to when Sir Stewart lived in the house. Each has a fireplace which is lit on cold evenings.

The wooden-beamed lounge has comfy sofas and armchairs arranged around a white painted brick fireplace with bookshelves, filled with books, on either side. The sofas and chairs are replicas of the originals which were too ruined to be reused.

The stone floors are covered in large Persian rugs, and the walls are covered with original paintings of various Gore-Brown relatives dating back to the early 1800's. Various family antiques are dotted around the room. On a large wooden side table tea and coffee is available in the morning and afternoon, and freshly baked cake is laid out each afternoon. On our last visit in April 2011, on our first afternoon we had a delicious lemon cake and on the second afternoon there was lovely warm banana bread. We were told that if anything needed refilling to just go to the kitchen and ask. A sign from Jo to make ones self at home!

On one side of the lounge double doors lead out onto a covered veranda, flanked by two large arched windows. On the opposite wall are three smaller arched windows looking out to the enclosed courtyard.

Most meals are taken in the dining room which is dominated by a large 10 seater table. At the far end of the room is a white painted fireplace where a fire is lit on cold winter evenings, creating a warm and sociable ambience. Meals are laid out on a long sideboard for guests to help themselves. To the side of this is a built-in cupboard with small square windows displaying the family crockery. Three large arched windows with floor to ceiling red curtains look out onto the garden, making this a very bright room. The red painted cement floors are covered in large Persian rugs. On warm summer days lunch may also be served in the garden.

Up the stone staircase is the library with polished wood floors covered by rugs. Three walls are lined with bookshelves housing a large collection of books collected by Sir Stewart as well as others collected by the family over the years. There are a couple of sofas where one can relax and do some reading. Doors lead out onto a stone balcony with views over the garden and down a terraced pathway to the old gatehouse.

Next door to the library is Sir Stewarts study which now houses the archives which have been researched and painstakingly put together by Jo Harvey (Jo is a trained archaeologist).

The gardens at Shiwa are beautifully maintained with clipped alwns and a long terraced grass avenue leading from the house down to the original gatehouse, complete with a clock tower, and the lake in the distance. Brightly coloured bougainvillea, jacaranda and frangipani make this a real oasis in the African bush.

All visitors to Shiwa Ng'andu have complete access to the estate, from the wildlife reserve to the lake, the extensive archives in the house as well as the day to day workings on the farm.

Activities here vary from walks around the estate with Jo, visiting the vast chicken sheds for egg production, the cattle and pigs that are reared for their milk and meat, as well as an historical tour of the house including a look at the archives. There is also a short 20 minute walk up to the family graves at the top of a hill offering lovely views over the lake, and a longer walk up Nachipala Hill. This walk can be a bit steep in places and takes about three hours. There are also forest walks along sandy tracks which can be taken unguided – you will be given a map of the various routes available.

Game drives are available on the reserve. It's possible to see small herds of zebra, sitatunga and blue duiker and the bird life here is prolific with over 375 different species ranging from toraco, longclaw, green headed sunbirds, barbets, vultures and many more. Boat trips on the lake are guided by Charlie and allow you to see the many resident crocodiles and birdlife as well as amazing sunsets over the hills.

Shiwa has its own stables allowing horse-rides of a maximum of one and a half hours for those riders with limited riding experience. The cost of these are included for guests staying at the manor house. Longer rides for more experienced riders, are available from the stables located at Impandala House but these must be booked in advance and cost about U$20 per person per day.

Charlie and Jo Harvey have contributed much to the local community offering jobs and homes for local people, both on the estate and in the surrounding area. They have rebuilt hospitals and schools and recreated employment for thousands of people living in the area who rely on these services. It's possible for guests at Shiwa to visit some of these community projects which include the local school, church and clinic.

Our view
Charlie and Jo are wonderful hosts and have done a fantastic job in restoring the manor house at Shiwa Ng'andu, as well as some of the old buildings on the estate. They have opened up their home to visitors and have a way of making their guests feel very welcome and at home, and yet still manage to continue their day to day routine of running the estate. Shiwa Ng'andu can easily be visited as a side-trip before or after a safari with any of the camps in the the
South Luangwa National Park
. It also combines well with the camps in the
Kasanka National Park
,
Wasa Lodge
,
Luwombwa Lodge
as well as
Shoebill Island Camp
in the
Bangweulu Wetlands
.
Geographics
Location: Northern Zambia, Zambia
Ideal length of stay: Three nights is ideal as there is a lot to do and see on the estate.
Directions: There are scheduled flights with Proflight twice a week to Kasama. A road transfer from Kasama takes two hours. Shiwa has its own airstrip which can be reached by charter plane.
Key personnel
Owner: Charlie and Jo Harvey
Food & drink
Usual board basis: Full Board
Food quality: When Expert Africa visited Shiwa in April 2011 we found the food to be good home-style cooking. For breakfast there was a choice of fresh baked rolls, a selection of cereals, yoghurts and fresh fruit juice, followed by a cooked breakfast of eggs, bacon and sausages.

Lunch was a selection of cold meats, green salad, potato salad, egg salad, coleslaw and egg salad as well as pureed sweetcorn. All of the vegetables are from Shiwa's own gardens.

Dinner was a very sociable occasion with a starter of celery soup and croutons, followed by roast lamb, baby carrots, gem squash, roast potatoes and sweetcorn. For desert we had crispy pancakes with cream and orange sauce.
Dining style: Group Meals
Dining locations: Indoor and Outdoor Dining
Cost of meal e.g. lunch: Included
Drinks included: Drinks are included except for premium wines, spirits and champagne.
Special interests
Riding: Shiwa has two stables on the estate. The stables at the main house are for less experienced riders who wish to do short rides up to an hour and a half. (novices are dissuaded unless they have prior riding experience). The stables at Impandala House are operated separately are ideal for more experienced riders who wish to go out for longer day rides.
See more ideas for
Riding in Zambia
Traditional Cultures: Charlie and Jo have contributed a lot for the local community and it is possible to visit the local school, a clinic and the church whilst staying here.
See more ideas for
Traditional Cultures in Zambia
Children
Attitude towards children: Children of 10 years and older are welcome at the manor house. There are lots of old antiques about, as well as unprotected staircases and uneven floors.
Equipment: None
Generally recommended for children: Yes – over the age of 10
Notes: Shiwa suits older children better than small infants
Central communications
Power supply: Solar Power
Communications: There is cell-phone reception outside the house and internet access available in the office for emergencies
TV & radio: None
Health & safety
Malarial area: Yes
Medical care: The nearest doctor is near Mpika at the Chilonga Mission Hospital, which is two hours drive away. There is a clinic on the estate for minor ailments. Shiwa has its own airstrip for emergency medical evacuation.
Dangerous animals: Moderate Risk
Security measures: There are dogs on the property which act as watchdogs.
Fire safety: There is a fire extinguisher in the kitchen
Extras
Disabled access: Not Possible
Laundry facilities: There is full laundry service which is included in the cost.
Money: It is not possible to exchange money at Shiwa Ng'andu.