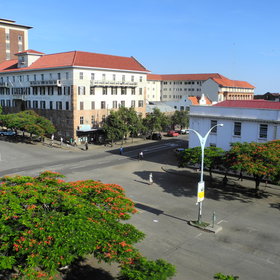 Bulawayo is Zimbabwe's historic second city...
Latest Bulawayo trip reviews
Very unique hotel
1-Apr to 10-Apr 14
Good

A step back in history
27-Oct to 10-Nov 13
Good

Charming old building and friendly staff
23-Sep to 5-Oct 13
Excellent

Bulawayo Club - a time capsule
3-Aug to 18-Aug 13
Good

Bulawayo Club review
1-Aug to 12-Aug 13
Good

Bulawayo
Home to over a million inhabitants,
Bulawayo
is Zimbabwe's second-largest city and the capital of Matabeleland. Once an industrial centre, it has lost some of its wealth but is still a vibrant city with an atmosphere of shabby gentility. So come for a day or two to explore museums, lovely parks, arts and crafts shops and reserves in the immediate vicinity.
Bulawayo has a key location on Zimbabwe's road network, and good (if little known) air links to Johannesburg. Thus travellers usually pass though Bulawayo when travelling between Matobo Hills National Park and Victoria Falls, Harare or Hwange National Park.
Where to stay in Bulawayo: hotels and guesthouses
Visitors can choose from a range of accommodation in Bulawayo. There are many hotels here. Many of the little hotels in Bulawayo feel steeped in history, like the Nesbitt Castle which resembles an enchanted, medieval fortress. Its romantic, historic ambience appeals to couples, families and honeymooners alike.
What to do and see: activities in Bulawayo
Bulawayo's broad, tree-lined boulevards are bordered by slowly fading colonial buildings of an early Victorian architecture, whose verandas are alive with the hustle and bustle of urban Africa. Soak up the atmosphere whilst strolling through the streets, wander through the botanical gardens or one of the beautifully laid-out parks, and try restaurants known for excellent steaks! You can even go swimming; next to the botanic garden is Bulawayo's outdoor swimming pool, whose brightly coloured changing cubicles have the charm of a 1920s movie.
There's also plenty of opportunity for
shopping
. Just out of town along the Old Falls Road, the Mzilikazi Arts and Crafts Centre offers a range of locally crafted souvenirs such as sculptures, basketry, pottery, beadwork and woodwork. Ivory Kraal is another curio shop to browse through, with a good stock of curios, too, e.g. carvings from wood and cow horn, statuettes, jewelry, paintings and pottery. For relatively Western-style shopping, head for the Bulawayo Centre.
Museums in Bulawayo
Bulawayo is home to a couple of interesting museums, some of which are of national importance. Below is a short list of the most popular museums among visitors to Bulawayo:
The city is home to the Natural History Museum of Zimbabwe, which was opened in 1964. It illustrates the country's history, mineral wealth and wildlife. You'll also find the world's second largest mounted elephant here.
Bulawayo's National Gallery is based in the attractive two-storey Douslin House on Main Street, which dates back to the turn of the century. It's a branch of the National Gallery of Zimbabwe.
Travellers who are interested in historical railways might like to visit the Bulawayo Railway Museum, next to the city's railway station. It displays objects from 1897 onwards, including the personal railway coach of colonial ruler Cecil Rhodes.
Nearby: game parks and reserves around Bulawayo
If you're tired of urban life and would like to indulge into nature, consider one of the nature reserves and game parks near Bulawayo:
Formerly called Rhodes Matopos National Park, the Matobo Hills National Park is less than an hour's drive from Bulawayo. Leaving the city to the south, more and more increasingly big granite outcrops come into sight, until you enter the dramatic, rugged scenery of the Matobo.
Just 22km west of Bulawayo lies an UNESCO World heritage site: the Khami Ruins dating from the late iron age. The surrounding area is protected by the Mazwi Nature Reserve, where you can go on walks and drives.
Only a thirty-minute drive from Bulawayo, Chipangali Wildlife Orphanage and Research Centre is home to orphaned and sick animals such as lion, cheetah, leopard, black rhino, different antelope species and a variety of birds.
Geography of Bulawayo
Bulawayo is located on a plain in the south-west of Zimbabwe, near the watershed between the Zambezi and the Limpopo drainage basins. Bulawayo slopes gently down to the north and north-west, whereas the south of the city is hillier, merging into the Matobo Hills. At an altitude of 1,350m above the sea level and mostly cooled by a south-eastern airflow, Bulawayo enjoys a very agreeable subtropical climate.
History of Bulawayo
Bulawayo's historical importance lies mainly in its early days. It was founded in 1870 by the last king of the Lobengula and originally named koBulawayo. This name isn't really in use anymore - understandably as it means 'Place of Slaughter' and refers to the bloody tribal wars fought here during the creation of a Ndebele nation.
Due to its mineral resources, the Ndebele weren't the only people interested in the land. Great Britain sent the armed forces of the BSAC (British South Africa Company) led by Cecil John Rhodes to chase away the Lobengula king during the First Matabele War in 1893.
Thereafter, under the rule of the BSAC, Bulawayo became a flourishing town of traders, prospectors and European settlers, whilst the Ndebele were increasingly exploited and discriminated against. This, along with a long draught and a plague of cattle disease, led to a brief, bloody uprising in 1896, which is known as the Second Matabele War.
The Ndebele were outnumbered by Rhodes' forces and had to retreat into the Matobo Hills. However, their guerrilla resistance from the hills forced Rhodes to make concessions when he eventually negotiated peace. Nevertheless, only one year later the nation was officially named 'Rhodesia' after its colonial ruler, and a white-minority government attracted more and more European settlers.
In the in the war of liberation, in the 1970s, Bulawayo was closely associated with the ZAPU forces, led by Joshua Nkomo.
However, after Zimbabwe's independence in 1980, ZAPU, Joshua Nkomo and indeed Bulawayo were all effectively side-lined by Robert Mugabe and his more powerful ZANU PF party – who count Harare as their home city. Thus Bulawayo remains very much less important in the government's eyes to its capital, Harare.
Economical development of Bulawayo
Due to its railway connections to Zambia, Botswana and South Africa, Bulawayo used to be an important hub of Zimbabwe's transport and economy. It was home to many big concerns and industries like metal engineering and textiles.
However, the breakdown of the railway and many companies consequently moving operations to Harare deprived Bulawayo of its economic importance. This resulted in deterioration of wide parts of the infrastructure and a decline in service delivery. Fuelled by the economical crisis, unemployment rates have been rising, and many people have returned to farming, mining and the black market to survive. Other, longer-existing factors such as the lack of a reliable water source in the area and the discrimination against the Ndebele people have added to these problems.
In spite of that, Bulawayo still holds most of Zimbabwe's remaining heavy industry and capability of food processing.