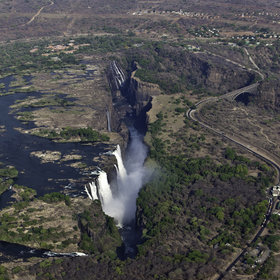 The Victoria Falls can be easily added to any safari in Zimbabwe, Botswana or Zambia
Latest Victoria Falls safari reviews
A Great Place to End Our Trip
7-Nov to 29-Nov 14
Excellent

Great for visiting Victoria Falls.
5-Nov to 26-Nov 14
Excellent

Ilala Lodge review
30-Oct to 25-Nov 14
Excellent

excellent stay at Victoria falls hotel
5-Nov to 17-Nov 14
Excellent

Recently renovated old school colonial hotel
31-Oct to 9-Nov 14
Excellent

Victoria Falls
'Scenes so lovely must have been gazed upon by Angels in their flight'
was the often-quoted note that David Livingstone made when he first saw this breathtaking waterfall. Victoria Falls was formed where the Zambezi drops 100m into a narrow gorge. During the wet season over 5 million cubic metres of water cascade over the falls every minute. From the road, you can hear the roar and see the spray of this immense waterfall rising up towards the sky as you approach.
A small town on the southern side of the falls, just across the river from the Zambian town of Livingstone, Victoria Falls is a crossroads for travellers who can participate in the many adventurous activities on offer, besides marvelling at the waterfall. These include enchanting sightseeing flights over the falls, called
'The Flight of Angels'
, which can be done by helicopter, microlight or ultralight. Those seeking further excitement can bungee-jump over the mighty Zambezi, gorge-swing across its vast width, canoe amongst its hippos and crocodiles, or raft down it on one of the world's toughest stretches of white water.
Where to stay in Victoria Falls
There are several places to stay in Victoria Falls, although their numbers have dwindled over the last decade as Zimbabwe's tourism has declined. Many visitors to the waterfall now stay across the water, in nearby Livingstone. However, tourists have gradually been returning to the town over the last couple of years and a few places still stand out. What's more, they are starting to make a come back…
Ilala Lodge
Our favourite has always been a small, friendly, privately-owned hotel with one of the best locations in town. It's five minutes' walk from both the Falls themselves and Victoria Falls Town. Ilala Lodge has 32 rooms, all with en suite toilet. The lodge also possesses a pool, a restaurant, a comfortable lounge and a very pleasant atmosphere. Its service and food are attentive, and it's good value for money. (
Read more about Ilala Lodge...
)
Victoria Falls Hotel
Located close to Victoria Falls town, as well as the falls themselves, the classic old colonial Victoria Falls Hotel offers a wide range of facilities and activities as well as an elegant travel experience. The hotel has a commanding position overlooking Victoria Falls Bridge, built by Cecil John Rhodes, and the spray from the Falls themselves. The hotel has a range of rooms – from standard rooms and suites to executive suites and even a royal suite. There are three restaurants each with a very different feel. (
Read more about Victoria Falls Safari Lodge…
)
Victoria Falls Safari Lodge
Overlooking a waterhole on the edge of the Zambezi National Park, Victoria Falls Safari Lodge has 72 rooms varying from standard rooms to deluxe suites. The lodge has its own restaurant and bar, where you can sit watching the game gathering at the waterhole. There is a free shuttle service transporting guests to the Victoria Falls and the town centre throughout the day. (
Read more about Victoria Falls Safari Lodge…
)
The Elephant Camp
One of the newest lodges in Victoria Falls, The Elephant Camp is just 10 minutes from Town and the Falls but situated on a private concession within the Victoria Falls National Park. There are 9 luxurious tented-chalets all enjoying views over the adjacent waterhole and onwards towards the Falls themselves and each with its own plunge pool. A shuttle service running between the camp and town and the Falls offers access throughout the day. (
Read more about The Elephant Camp…
)