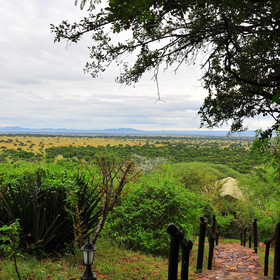 Kirawira Camp is part of the Serena chain of hotels and lodges.
Kirawira Tent
Each of the 25 tented rooms at Kirawira are set on raised on wooden platforms. A number of stairs climb up to the platform and your shaded veranda where there are a pair of director's chairs.

Inside the tent is a large four-poster bed, draped in mosquito netting. There is also antique style writing desk, and hanging space for clothes. The rooms have an antique style, though they do feel a little tired and dated. (The rooms are being updated one by one and so are beginning to look much fresher.)

Each room has a hairdryer, a phone from which you can make international calls, 24-hour electricity and a standing fan for hot nights.

At the back of the tent is the en-suite bathroom, which is relatively small yet quite smart. Dark polished wood and marble make up the surfaces of the bathroom. The newer bathrooms have twin sinks whilst the original bathrooms each have a single sink. White bathrobes are provided for each guest and toiletries are included. Behind one door is a proper flush toilet, and then behind a curtain is a white-and-navy-tiled shower with hot-and-cold water.