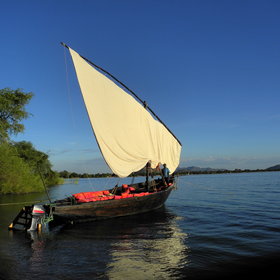 Malawi is dominated by its spectacular lake...
Advice for Lesbian, Gay, Bisexual and Transgender (LGBT) Travellers in Malawi
We are occasionally asked "Is Malawi gay-friendly?", and here we'll cover what we know.
We've been organising trips to Malawi for our travellers since about 1998 and in that time we've booked many trips to sub-Saharan Africa for gay travellers. We have never heard of any issues experienced by our travellers due to their sexuality.
In more general terms there remain some laws in Malawi against homosexuality, although these are rarely enforced and we aren't aware of them ever having been applied to tourists on holiday in Malawi.
As a visitor, your sexual preferences and gender identity are, of course, your private business. If you don't identify as a heterosexual person, that should not be of any interest to anybody. It is only if your behaviour is deemed unacceptable that you might face reproach, which could also apply to heterosexual couples behaving inappropriately.
The legal background for LGBT travellers in Malawi
The official government view on homosexuality is ambiguous. There are still laws in force – dating back many years – against same-sex sexual activity (male and female), however this seems to be changing. In July 2014 the Malawi Government announced a moratorium on its LGBT laws and the police have been instructed not to arrest anyone for homosexual behaviour.
In September 2015 the President of Malawi, Peter Mutharika, reportedly stated that Malawians will be able to decide, through a referendum, on whether to legalise same-sex relationships. However, as far as we are aware, this referendum has yet to take place.
So things seem to be changing; however travellers still need to be mindful of local customs and behaviour.
LGBT travellers in Malawi
As witnessed in many other African countries, many Malawians consider non-heterosexual behaviour (lesbian, gay, bisexual and transgender) as taboo. All over the world, people in traditional, rural communities tend to have more conservative attitudes than the residents of more cosmopolitan cities. The people of Malawi are no exception to this.
In most areas of Malawi, public displays of affection or overtly sexual behaviour between any couples, whether heterosexual or LGBT, are generally frowned upon – as would any clear indication of an LGBT relationship. So we advise all our travellers, gay or straight, to avoid overt displays of affection or sexual behaviour, as these could offend people.
There's one local practice of traditional life which we should mention here, so visitors aren't misled. In many areas it's perfectly acceptable for same-sex friends to wander around hand-in-hand, without a second thought. However, such behaviour has no sexual or relationship connotations: it's just a sign of friendship.
When visiting Malawi it is important to realise that a large part of the population still live in rural area and tend to take a traditional view on this subject.
In Malawi's larger towns and cities, you'll still find strands of this conservative thinking, but many people are also becoming increasingly tolerant, with more liberal views – and in cities like Lilongwe and Blantyre, you may well see openly gay people getting on with their lives.
In the tourism industry, and especially in Malawi's more remote camps, lodges and hotels, staff have been dealing with a wide variety of guests, all with different backgrounds, for years. It's notable that rooms are almost universally configured with double or single beds, as requested, without any fuss.
It is almost unheard of to learn of a staff member who isn't tolerant and relaxed in their outlook, even if some may have personal views that are relatively conservative.
So, in conclusion, we'd advise all our travellers, gay or straight, to avoid overt displays of affection or sexual behaviour, as these could offend people. Other than that, a 'don't ask, don't tell' approach is a good passport to a trouble-free trip to Malawi for our LGBT travellers. But do feel free to call us to discuss any concerns if you're thinking of travelling with us to Malawi.
Sources of advice and information for LGBT Travellers to Malawi are
The UK foreign & Commonwealth office (FCO) provides general LGBT foreign travel advice for all countries.


The FCO also has a useful, if brief, page on Malawi's local laws and customs.


Human Dignity Trust - is a legal charity that supports those who want to challenge anti-gay laws around the world.


The International Lesbian, Gay, Bisexual, Trans and Intersex Association (ILGA) provides information on the laws of countries worldwide, focused around a series of summary maps.