Wildlife in Zimbabwe
Top-quality guiding, real diversity in its national parks, and strong numbers of many big game species mean that Zimbabwe invariably delivers a fantastic safari experience.
---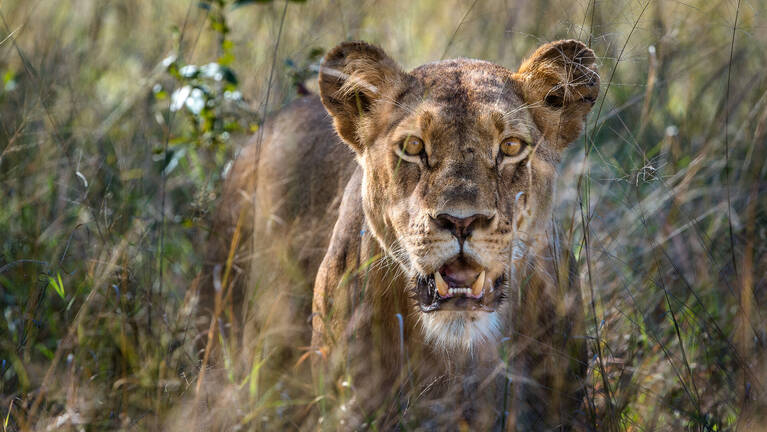 Wildlife has long been vital to Zimbabwe. Currently over a quarter of the country is protected by parks and private wildlife reserves.

The wildlife here has been studied for decades, a wealth of knowledge which has helped Zimbabwe to develop Africa's toughest system of training and exams for its wildlife guides. The quality of the guiding here is always assured.

Zimbabwe's highlights include the rich, tropical woodlands of Mana Pools – where legendary guides crawl up to wild dogs at eye-level and sit at the feet of individual bull elephants as they feed.

Zimbabwe's largest national park, Hwange, protects a massive tract of dry Kalahari bushveld harbouring large numbers of birds and animals, including perhaps Africa's largest concentration of elephants.

In contrast, the granite kopjies of Matobo National Park provide perfect cover for leopard and a stunning population of spectacular black eagles, whilst its plains host a high density of rhino (black and white).
Great wildlife safaris to Zimbabwe
Our ideas for amazing holidays focussed on Zimababwe's wildlife
---
Zimbabwe's top camps for wildlife safaris
Click on the dots on the map to show the sightings from that lodges or camps for the species selected. It's based on 1791 reports by 269 groups of our our travellers since May 2018.
---
What makes Zimbabwe's wildlife safaris
Some of Africa's best guides bring the bush to life, helping you to make the most of Zimbabwe's wildlife.
---
It's all about the guiding
The big game is here – lion, leopard, cheetah, elephant, buffalo, giraffe and a multitude of other animal and bird species – but what makes the experience of wildlife in Zimbabwe really stand out is its guides.

These guides are really interpreters: wildlife experts who will bring the tracks, sounds and smells of the bush to life. They'll spin the wheel of your 4WD to divert towards a distant guineafowl alarm call – and so find a leopard, the cause of the upset.

They'll follow ox-peckers to a herd of buffalo, before positioning your vehicle perfectly to observe the lion hunt which unfolds. They'll pilot your canoe safely down the mighty Zambezi River, anticipating the movements of the hippo pods and crocodiles, whilst pausing beside tiny, iridescent malachite kingfishers.

These guides will walk you in and out of the bush – tracking everything from lion to rhino on foot. They're the reason that often elevates your wildlife experience in Zimbabwe to result in some of Africa's most memorable safaris.


Other top destinations for wildlife
To understand more about the the wildlife in our other key destinations in Africa, click on the countries below.
---