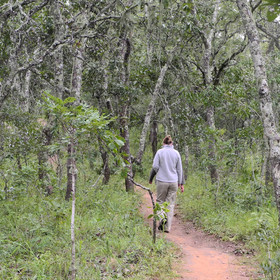 We can suggest walking routes to suit your preferences…
Walking in Africa
Walking in Africa can offer an unrivalled sense of freedom as you venture into some of the most extraordinary landscapes on the planet. Without a doubt, there is no better way to experience Africa's wilderness than on foot; and walking can really put you at the heart of where you choose to travel.

Throughout the countries we feature there are some fantastic walking trails. Each country has its specialities, from self-guided nature trails to more serious overnight hiking. Much of the walking in Africa will be guided, as there may be dangerous wildlife nearby. We have found guided walks to be an excellent way to learn more about the local flora and fauna whilst getting about on foot.

With a range of options – guided or self-guided, leisurely or vigorous, short or extensive – we can help advise you on the best walking routes on your African holiday. If you are looking to find big game on foot, take a look at some of our excellent African walking safaris.

Walking holidays with Wild about Africa
Wild about Africa
offers both simple and luxury camping safaris in Botswana, Namibia, Tanzania and Zambia. These are designed for small groups, and some options include some superb walking. Click on the following link to see ideas for
small group walking holidays
.
Walking in
Zambia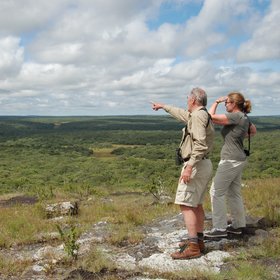 With expertly trained guides and high concentrations of wildlife, Zambia is one of Africa's best destinations for walking safaris. Explore the great parks of South Luangwa and enjoy walking trails leading through verdant woodland, across clear rivers and past magical waterfalls. If you're interested in exploring big game on foot, and in face to face encounters with Africa's wild predators, see our suggestions for walking safaris in Zambia.
Ideas for walking in Zambia
Walking in
Zimbabwe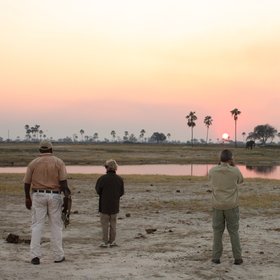 Take a walk on the wild side and explore Zimbabwe and its stunning scenery on foot. There are great opportunities for walking among granite hills and rugged mountains in Matobo Hills National Park, or lush riverine forests in Mana Pools National Park to name but a couple. Walking safaris focus less on the big cats and mammals and more on Zimbabwe's botanical and avian attractions, as well as the smaller insects and mammals that one often misses on a game drive.
Ideas for walking in Zimbabwe