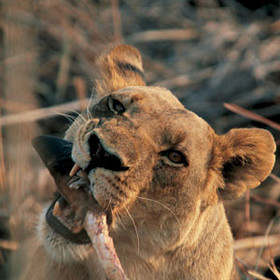 Nature, red in tooth and claw - a lioness in Selinda Reserve, Botswana
Wildlife safaris in Africa
Spotting a magnificent black-maned lion on a Kalahari dune, relaxing to watch elephants mud-bathing in the midday sun, or following a pack of wild dogs at high speed as they hunt – all have figured amongst our travellers' best wildlife safaris in Africa.

However, there is such a variety of options – about 90% of our trips are wildlife safaris – that making blanket recommendations for what we think are "the best wildlife safaris" would be foolish. The truth is that choosing the wildlife safari which is best for your trip to Africa depends enormously on you: what you want to see, how you like to travel and what kind of experiences you want. Make your first step towards this: a call to discuss your ideas with one of our experts.

Meanwhile we hope that the ideas below will offer inspiration. We've tried to highlight the strengths of the various countries; click below for our recommendations on some of the best camps and lodges for great wildlife experiences. These lists are far from exhaustive; many excellent camps aren't included here – but you will find the crème de la crème of places which offer outstanding wildlife experiences, as well as some which excel for very specific species or activities.

Whether you want to witness the Serengeti's Great Migration, track rhino on foot or gently approach some of the world's last mountain gorillas, use our expertise to find the best wildlife safaris in Africa for you.