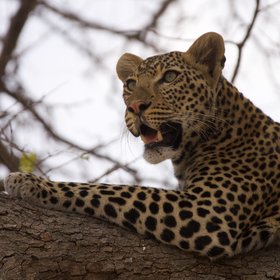 Ruaha is Tanzania's largest national park.
Latest Ruaha National Park safari reviews
Kichaka Expeditions review
4-Feb to 15-Feb 20
Good

A great camp but not the most prolific area
1-Feb to 15-Feb 20
Good

Jongomero Camp review
18-Dec to 1-Jan 20
Excellent

Luxurious with a great view - but one downsid
6-Dec to 15-Dec 19
Good

Our Third Stay
13-Nov to 1-Dec 19
Good

Ruaha National Park
In 2008 the Usangu Game reserve merged its borders with Ruaha transforming it into Tanzania's largest national park; it now covers more than 20,000km². Despite the size of the park there are still only a handful of camps found here, which has built Ruaha's reputation as Tanzania's best kept game viewing secret. Ruaha's wild and untrammelled feel is what sets it apart from other reserves, making it a popular choice for regular east African safarigoers.
Click here for a sketch
map of Ruaha National Park
, or a much more detailed
interactive Google map of Ruaha
, where you can see camp locations plotted precisely on satellite maps of the area.
Introduction to a Ruaha Safari
Ruaha is well known for its varied dramatic scenery, which includes rolling hills; large open plains; groves of skeletal baobabs and along its southern border, the Great Ruaha River, from which the park gets its name. This is by far the most dominant geographical feature of the national park and, for the wildlife it is the most important. Ruaha has a hot, dry climate which means the animals don't tend to stray too far from dependable water sources. This makes predicating game movements far easier particularly in the dry season.
The best game viewing in this national park is generally from May to November, but the bush is greener and prettier from January to June, and birding peaks during the European winter months of December to April.
Access to Ruaha National Park
Ruaha is relatively far from Dar, which is part of the reason why so few visitors come here, having said that it is still reasonably accessible. It is served by daily flights with Coastal Aviation and Safari Airlink from Dar es Salaam. These usually cost around US$380 per person. When you land at the local airstrip in Ruaha you will be collected and transferred by a representative from the lodge where you are staying.
History of Ruaha National Park
Ruaha does not have an extensive history like other areas in Tanzania. It is thought that early permanent settlers were dissuaded by the semi-arid climate and the high concentrations of tsetse fly. (Conservation efforts have recently reduced the levels of tsetse fly making visiting here a more comfortable experience today!) The transformation of this vast area into a national park was first proposed by George Rushby (a Senior Game Ranger) in 1949. Two years later all the residents were forced out of this protected area and in 1964 Britain elevated Ruaha to full national park status. In 2008 the Usangu Wildlife Management Area was incorporated into the park creating the 20,000Km² Ruaha National Park that we know today.
The weather in Ruaha
The climate in Ruaha works slightly differently to what you might expect. Ruaha is located to the west of the Udzungwa Mountains, which run roughly north-south through central Tanzania. This geographic divide results in Ruaha having one long rainy season rather than the typical long rains and short rains found in Tanzania's more famous safari areas. The rains in Ruaha usually start around November or early December, becoming heavier in January and February, and then start to dwindle towards the end of March. Do bear in mind that climate change has been altering the typical weather patterns for some years, so forecasting the weather you will have on your trip can be extremely difficult. However, it's fair to say that Ruaha can often be a surprisingly good destination in the so-called low season of April and May, with clear blue skies and the park appearing lush and green. With plentiful food after the rains, the animals are likely to be in great condition and this is when many species will be breeding and birthing. There are only a handful of camps open at this time so do ask us for the details.
Camps and Lodges in Ruaha
There are only a few safari lodges in Ruaha National Park; they all offer drives and some offer guided walks as well as fly camping. Each lodge differs considerably, so please speak to one of our Tanzania specialists who can advise you from their personal experience. You can also visit our
where to stay page
for more information.
Ruaha's wildlife
In some ways ecosystems in the Ruaha National Park represent a transition zone between the miombo woodlands common in
Zambia
, and the more open savannah biomes, typical of northern Tanzania and
Kenya
. This is evident in the park's vegetation, which is thick in some areas and yet wide open in others. The floral variety of Ruaha is mirrored by the variety of wildlife likely to be seen over the course of a few days on safari here.
Animals in Ruaha National Park
Ruaha's prolific
game
reflects this transition. There is a real mix between species more commonly associated with southern areas of Africa, and species which are widespread in the south such as; buffalo, zebra, Defassa waterbuck, impala, bushbuck, giraffe, Lichtenstein's hartebeest, greater kudu (some of the most handsomely horned males you'll come across anywhere in Africa) also the more elusive roan and sable antelope. Grant's gazelle and lesser kudu are also found here and are good examples of game that is more typically associated with areas further north. (It's also one of the few places where you can see both greater and lesser kudu in the same area.)
Ruaha National Park
is also home to the largest elephant population found in of any Tanzanian national parks, with some 12,000 elephants migrating through the greater Ruaha ecosystem each year.
It is also an excellent park for
predators
. Lions are not only numerous and very habituated to vehicles, but the prides tend to be unusually large, often numbering more than 20 individuals. Cheetah can often be seen hunting on the open plains; and the park has a particularly good reputation for leopard sightings. It is one of the last major strongholds for African wild dog populations with more than 100 found here. Black-backed jackal and spotted hyena are both very common and easily seen, and the rarer striped hyena, though seldom observed, also lives here.
The Birdlife of Ruaha National park
Ruaha's birdlife is extraordinary, with over 580 species sighted in the park once again with an interesting mix of southern and northern species. Of particular note are substantial and visible populations of black-collared lovebird and ashy starlings, this is perhaps the only savanna reserve in East Africa where the crested barbet replaces the red-and-yellow barbet.
Along the rivers expect to find
water birds
like goliath herons, saddle-billed storks, white-headed plovers and the white-backed night heron. There are six species of both vultures and hornbills including the recently described Tanzanian red-billed hornbill.
Raptors
are also well represented; with bateleur and fish eagle probably the most visible large birds of prey, and the localised Eleanora's falcon quite common in December and January.
Keen bird-watchers visit Ruaha National Park from mid-November to March, when migrant birds swell the numbers. Then a variety of waders appear along the riverbanks, together with flocks of white and Abdim's storks. The sooty falcon arrives from the Sahara Desert, and the rare Eleonora's falcon from the Mediterranean.