Wildlife in Namibia
World-class big game and a fascinating variety of endemic species mean that Namibia has more than just stunning landscapes; it is also a superb destination for wildlife enthusiasts.
---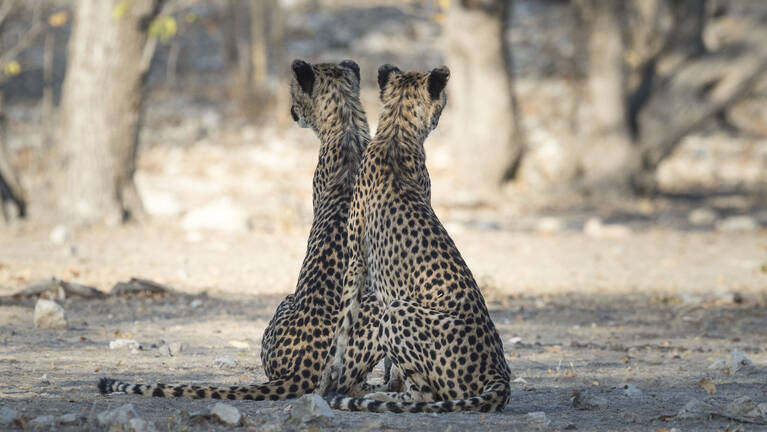 Many imagine Namibia as a limitless sea of rolling dunes atop desert plains. This is the Namib Desert, a narrow strip of land bordering the coast. However, the Namib is only one of Namibia's vast array of environments.

Inland, occasional rains fall on the vast, mountainous landscapes of Damaraland. Here stony plains are dotted with huge euphorbia bushes that provide sustenance for Africa's last free-roaming black rhino.

Further east, dust-devils play on the silvery-white salt pan at the heart of Etosha, one of Africa's top wildlife parks. Perennial springs and pumped waterholes attract dense herds of plains game and their attendant predators.

Elephants are here in force, but give way to the black rhino's swaggering confidence. Lions are Namibia's apex predator, but they're outnumbered: 25% of the world's cheetah population live here.

With one of the world's lowest human population densities and a diverse range of ecosystems, Namibia's wildlife is full of surprises. It is a natural choice for a wildlife safari.


Great wildlife safaris to Namibia
Here are some of our ideas for great holidays focussed on wildlife in Namibia.
---
Namibia's top camps for wildlife safaris
Click on the dots on the map to show the sightings from that lodges or camps for the species selected. It's based on 6184 reports by 1331 groups of our our travellers since Apr 2018.
---
Some Namibian wildlife highlights
Namibia's wildlife is as diverse as its many different environments.
---
Desert-adapted species
After millennia of roaming Damaraland's valleys, elephants have adapted to the parched desert landscape. Long legs help them climb mountains and large feet stop them from sinking in the soft sand.

Across Namibia adaptations to inhospitable conditions are common. Desert lions have learnt to hunt giraffe, desert rhinos graze at night to avoid the intense heat of the day, and elusive brown hyenas cover staggering distances as they scavenge for food, often preying on brown fur-seal pups.

Even in the seemingly lifeless desert, golden moles swim through the sand in search of prey, Namaqua chameleons patrol the dunes for beetles and gangs of meerkats forage for their next meal.

As well as the obvious big game, Namibia stands out for its range of habitats and smaller, often-endemic species which help to make it one of Africa's most fascinating wildlife destinations.


Other top destinations for wildlife
To understand more about the the wildlife in our other key destinations in Africa, click on the countries below.
---