Meerkats in Africa
With their endearing appearance and comical antics, meerkats are a firm favourite with safari goers. They are highly sociable little mammals and can be found throughout the desert regions of Botswana, Namibia and South Africa.
---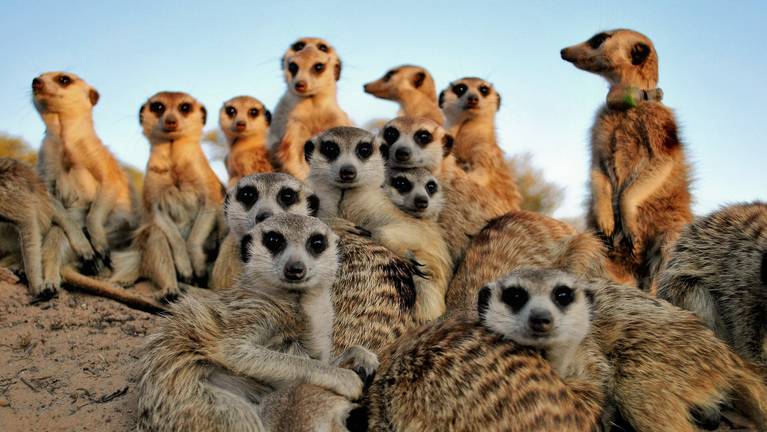 Quick facts about Meerkat
| | | | |
| --- | --- | --- | --- |
| Scientific name: | Suricata suricatta | Habitat: | Semi-arid desert |
| IUCN Status: | Least Concern | Weight: | 650g |
This small species of mongoose lives in large family groups – known as clans –sometimes numbering more than 40 individuals, presided over by a dominant female. Meerkat clans are highly cooperative: the whole family helps to babysit, feed and raise the young.

This cooperation is also seen on foraging expeditions, during which individuals take turns on sentry duty, climbing vantage points to stand in their characteristic pose, watching for danger, while the rest of the clan scour the landscape for insects and other small animals.

Despite their small size, meerkats are surprisingly resilient to venomous bites and stings, including stings from scorpions, which form a staple part of their diet.
Africa's top camps for seeing meerkats
Based on 81 reports by our travellers since Jun 2018, the camps below have the best chances of sighting meerkats. Simply follow the key below.
---
Where to see meerkats in Africa
Meerkats are diurnal, but can be hard to spot. Maximise your chances in the wild by understanding their routines, or heading to a few hotspots where sightings of habituated clans are virtually guaranteed.
---
Top tips for viewing meerkats
Meerkats can be seen throughout the day but are most easily observed at dawn and dusk. Wait beside a burrow in the morning for the clan to emerge. Before heading off to forage, they relax and sun themselves in the golden glow of morning light, a time that offers perfect conditions for photography.

If you find a clan foraging, look for adults standing tall on guard. Keep calm and quiet: meerkats are easily spooked.

For the best chance of seeing wild meerkats, spend time in South Africa's Kgalagadi Transfrontier Park or Botswana's Central Kalahari. Alternatively, head to the Botswana's Makgadigadi Pans where Jack's Camp, San Camp and Camp Kalahari have habituated groups of meerkats.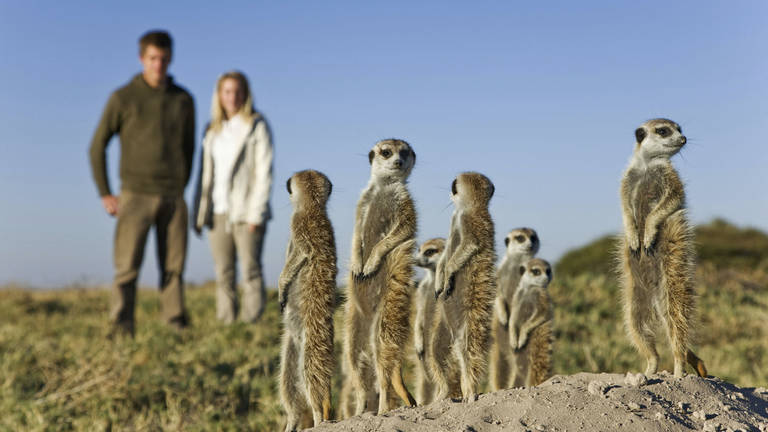 Holiday ideas to see meerkats
Based on our travellers experiences, these are the holidays which will give you the best chances of good meerkat sightings
---
Our top destinations for meerkats
Click below for detailed information about meerkats in these countries, including our latest sightings data from the camps and lodges there.
---