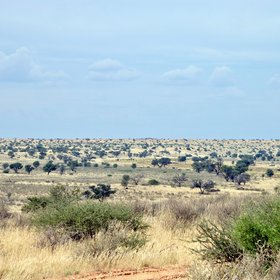 The Kgalagadi is a barren and beautiful landscape...
Latest Kgalagadi Transfrontier Park safari reviews
Ta Shebube Polentswa review
5-Apr to 22-Apr 19
Good

Where the BBC cannot get, there Rooiputs
8-Jul to 17-Jul 18
Excellent

Very nice room at Mata Mata
15-Jun to 9-Jul 18
Good

New comfortable cabins and desert beauty
31-May to 26-Jun 18
Excellent

Wonderful, in depth safari
4-Jun to 13-Jun 18
Excellent

Kgalagadi Transfrontier Park
In the north of the Cape, sandwiched between Namibia and Botswana, is a magical corner of wilderness for serious safaris. Here, Botswana and South Africa have joined forces to protect the wildlife on opposite sides of their border, forming the world's first Transfrontier Park: the Kgalagadi Transfrontier Park. This consists of about 38,000km² of the Kalahari and was previously split between South Africa's Kalahari Gemsbok National Park and Botswana's Gemsbok National Park.
Being away from most major routes, the park gets few visitors, making it ideal for dedicated game-viewers. Springbok, blue wildebeest, gemsbok, red hartebeest and eland abound, while meerkats, leopards, and black-maned lions add to the entertainment. This is also one of Africa's best safari parks for cheetah, which thrive by hunting in its fossil river valleys and the surrounding Kalahari dunes. The Kgalagadi is also a haven for birders, especially those interested in birds of prey.
Original restcamps of the Kgalagadi Transfrontier Park
Originally, the SA National Parks Board ran only three 'restcamps' in this park. These were designed for self-driving visitors, with simple self-catering accommodation dotted around village-like compounds, which include a shop, a small fuel station, a pool and sometimes even a restaurant.
Twee Rivieren
Of these restcamps, Twee Rivieren is the largest and most developed, and the only one with a restaurant. Other facilities include a well-stocked shop and a family-size swimming pool. It's usually the first stop within Kgalagadi Transfrontier Park, near the southern entrance. (
Read more about Twee Rivieren…
)
Nossob Rest Camp
Further north, Nossob Rest camp is fairly basic, with seven types of self-catering chalets – although most visitor camp here. It also has communal cooking facilities and a small shop, and its central location provides one of the best spot to enjoy the parks untouched wilderness. (
Read more about Nossob…
)
Mata Mata Rest Camp
Set in Kgalagadi's southwest, Mata Mata Rest Camp is quite simple, but a great place for adventurous small families. Its self-catering chalets are ideally situated to explore the whole of the park, including the fantastic wildlife and spectacular wilderness. (
Read more about Mata Mata…
)
Wilderness camps in the Kgalagadi Transfrontier Park
More recently, six 'wilderness camps' have been built in scenic locations deep in the park. Small, remote and unfenced, these are very different in character to the restcamps; they feel more isolated and closer to the wildlife. Most take eight people when full. All require you to bring your own water, fuel and food – though cooking utensils, crockery and cutlery are provided – and all the accommodation is en-suite. For safety, each has a single armed game scout in residence.
Grootkolk Wilderness Camp
In the northwest of the park, near the Namibian border, Grootkolk Wilderness Camp is one of our favourites. It has four simple tents with verandas, overlooking a floodlit waterhole in the dunes, which is frequently visited by animals quenching their thirst. (
Read more about Grootkolk Camp…
)
Urikaruus Wilderness Camp
In the eastern part of Kgalagadi Transfrontier Park, Urikaruus' four self-catering cabins are built on stilts overlooking the dry river bed of the Auob. Each unit has a well-equipped kitchen and braai facilities on an outside deck. (
Read more about Urikaruus Camp…
)
Kielie Krankie Wilderness Camp
Situated on Southern Dune Road, 50km from Twee Rivieren, Kielie Krankie Wilderness Camp has four en-suite cabins with two single beds, built on top of dunes, with a waterhole below – stunning views over the red Kalahari sands inclusive! (
Read more about Kielie Krankie Wilderness Camp…
)
Bitterpan Wilderness Camp
Bitterpan Wilderness Camp has four tents, elevated on stilts above Kalahari's red sand dunes, overlooking a large pan. There's also a waterhole and a 6m look-out tower, offering stunning panoramic. Please note that Bitterpan is only accessible by 4WD! (
Read more about Bitterpan Camp…
)
Gharagab Wilderness Camp
In Kgalagadi's far north, a four hours' drive from Nossob, Gharagab Wilderness Camp has four log cabins with elevated views over the Kalahari dunes and thornveld savannah. As is Bitterpan Wilderness Camp, Gharagab is only accessible by 4WD! (
Read more about Gharagab Camp…
)
Kalahari Tented Camp
By contrast, on the western border of the park, the larger Kalahari Tented Camp has 15 large, comfortable en-suite tents, and even a swimming pool. It's a little more luxurious than the other wilderness camps, offering a typical safari experience. (
Read more about Kalahari Tented Camp…
)
!Xaus Lodge
Although part of the national park, !Xaus Lodge is run by San/Bushmen communities who originally lived on this land. Its 12 thatched chalets have private decks overlooking a large saltpan; meals, guided walks and game-drives are all included in your stay. (
Read more about !Xaus Lodge…
)
Places to stay near the Kgalagadi Transfrontier Park
Occasionally the camps inside the park are full, and you'll want to stay nearby – or perhaps you're arriving late in the day, after the park gate has shut. For these times, there are two convenient hotels within reach of the park:
Molopo Kalahari Lodge
60km outside of Kgalagadi Transfrontier Park, Molopo Lodge has 36 rooms, and proves to be a very useful base when the camps inside the park are fully booked. Set between red dunes are different accommodation options, including camping facilities, a bar, a restaurant and a lounge. (
Read more about Molopo Lodge…
)
Protea Hotel Upington
Located in the gateway town to Kgalagadi Transfrontier Park, on the banks of Orange River, the Protea Upington has 58 comfortable rooms with air-conditioning and satellite TV. Four restaurants are within walking distance. (
Read more about the Protea Hotel Upington…
)
Including Kgalagadi Transfrontier Park in your trip
If you take your game-viewing safaris fairly seriously, then a Kgalagadi safari can be a real gem, well worth spending at least three or four nights here. However, don't try to just 'drop in' here for a few nights, as you need to spend time in the Kgalagadi on safari to get the best out of the park.
Access is easiest by flying from Cape Town or Johannesburg to Upington, where we can arrange for you to collect a hire car. Alternatively you can visit as part of a fly-drive trip between Cape Town and Windhoek. Now that the border post between Namibia and South Africa at Mata Mata is open, it's also possible to drive a great circular route beginning in Windhoek, and including Sossusvlei and the Kgalagadi.
Driving times within the Kgalagadi
Our trips feature the western side of the Kgalagadi Transfrontier Park, where the roads are all gravel, yet easily accessible with a 2WD. (The Eastern side of the park has a few 4WD-only tracks which are for small expeditions only – and we don't offer trips there.)
You'll drive slowly to maximise your chances of seeing game. At such a moderate pace, with the occasional pause to observe the wildlife, your timings might be approximately:
Twee Rivieren to Nossob - - - - - 3 hours 30 mins
Twee Rivieren to Mata-Mata - - - 3 hours
Twee Rivieren to Grootkolk - - - - 6 hours
Nossob to Bitterpan - - - - - - - - - 2 hours 30 mins
Bitterpan to Mata-Mata - - - - - - - 2 hours
Driving to and from Namibia
The border crossing between South Africa and Namibia at Mata Mata is now open!
Tourists from Namibia can use Mata Mata as a day or overnight visitor access point without having to check in with boarder officials at Twee Rivieren, as long as you return to Namibia that way. If you leave the park to go into South Africa or Botswana, then you have to go through passport control at Twee Rivieren. This is the only passport control on the South African side.
Likewise if you are going to exit South Africa via Mata Mata, you need to get your passport stamped at Twee Rivieren. Please ask us for the latest information.