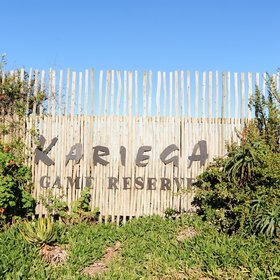 The privately owned Kariega Game Reserve is located in South Africa…
Latest Kariega Game Reserve safari reviews
Kariega Game Reserve
27-Jan to 12-Feb 14
Good

Kariega Game Reserve
The malaria-free Kariega Private Game Reserve is located 141 km, about a 90-minutes' drive, east of Port Elizabeth – making it a viable add-on to a trip along the Garden Route. Drained by the Kariega and the Bushmans rivers, this reserve covers about 90km² and has five different ecosystems, which are home to a variety of plants, game and birdlife. When not out on safari, you might like to go on river cruises, for a picnic on the nearby beaches of Kenton-on-Sea or fishing.
As Kariega Game Reserve's wildlife is actively managed, the reserve is subdivided into two sections:
The smaller Eastern side contains the Main Lodge and Ukhozi Lodge. There are no lion or elephant present here – and very few buffalo – and so guests can generally walk around the camps fairly freely, without lots of predators around. However, there are plenty of herbivores and smaller wildlife.
The majority of the much larger Western side is one continuous area which has resident elephant and lion in it. This is where the Homestead and the River Lodge are situated – and game densities here are significantly lower than on the eastern side.
Fauna and flora in Kariega Game Reserve
Kariega Reserve's highest densities of general game seem to occur around Main Camp and its entrance gate, where we saw lots of wildebeest, ostrich, impala, a flock of guinea fowls and many blesbok when we last stayed here in May 2013. On a drive between Main Lodge and River Lodge we saw a couple of warthog, kudu and, from a medium distance, one or two nyala on a hilltop. We also came across the tracks of three separate, male adult lions, one of which seemed to be breaking away from Kariega's habituated pride of ten lion.
Moreover, Kariega Game Reserve is today home to buffalo and about 30 elephants – which is double as many as in 2009! Rhino and leopard are resident too, but more rarely seen.
Kariega covers a total of about 90km² of African bush and former farmland including five different eco-systems: valley bushveld, savannah grasslands, fynbos, riverine forest and acacia woodland. This varied environment is the reason for Kariega's rich bird life, and bird-watching can be especially rewarding along the Bushmans and Kariega River.
History of Kariega Reserve
Until 1989, what is today Kariega Game Reserve was split into about 20 premises owned by different farmers. Then, the history of this reserve began with an area of only 6.6km² owned by a local family. There, they built the first 20 log chalets, which were to become Main and Ukhozi Lodge. In 1999 they merged their land with the territory of another resident family, and the two of them continued to expand the reserve over the following decade. Still run by members of these families, Kariega Game Reserve comprises an area of about 90km² today.
Where to stay in Kariega Game Reserve
There are four separate lodges in Kariega Game Reserve: