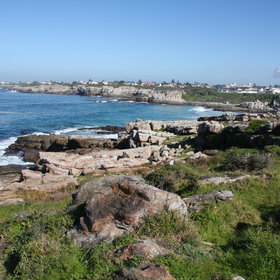 Hermanus is just a few hours' drive from Cape Town or the Wine Region...
Latest Hermanus trip reviews
The Marine, Hermanus
14-Oct to 5-Nov 19
Excellent

Ocean Eleven review
22-Jun to 14-Jul 19
Excellent

Good brief stay at Harbour House Hotel
22-Nov to 5-Dec 17
Good

Lovely stay at Ocean Eleven
10-Nov to 26-Nov 17
Good

Wonderful position
12-Oct to 25-Oct 17
Good

Hermanus
A few hours' drive from Cape Town or the Wine Region, on the coast, Hermanus is one of the world's prime whale-watching spots. There's nothing between here and the Antarctic, from where whales migrate between about May and December (though the prime viewing months are August to November). They come to sheltered bays to mate, calve and rear their young, and can be easily seen from cliff-top walks around the area.
Activities available locally include sea-kayaking, canoeing on nearby lagoons, shark cage diving, and horse-riding. However, we'd recommend that you visit Hermanus for its wild and beautiful coastline, land-based whale-watching, and the fynbos flora found here.
Hotels and guest houses around Hermanus
Hermanus has a good choice of comfortable accommodation options, from friendly bed-and-breakfasts to luxurious lodges. Below, we've gathered our favourites for you:
Auberge Burgundy
In the historic heart of Hermanus, beside the old harbour, the charming Provençal-style Auberge Burgundy has 18 smart, comfortable bedrooms. Some are arranged around the lodge's rooftop swimming pool, whilst all the rooms are flooded by fresh, salty sea smells at all times! (
Read more about Auberge Burgundy…
)
Birkenhead House
On the outskirts of Hermanus, Birkenhead House is a special place: elegant and sophisticated. It's perched on cliffs above a small beach on Walker Bay, with great views. Birkenhead has a Mediterranean feel, 11 beautifully designed rooms, and impressive levels of friendly service. (Please call us for details about Birkenhead House…)
Grootbos Private Nature Reserve
Grootbos Private Nature Reserve is more than a place to stay; it's a destination in its own right – a real gem lying just 40 minutes east of Hermanus. It has two luxurious lodges, Forest Lodge and Garden Lodge, with 27 exquisitely designed suites. Stay here to learn about the local marine life and unique fynbos ecosystem! (
Read more about Grootbos Private Nature Reserve…
)
Ocean Eleven
Ocean Eleven stands on the edge of Hermanus, beside the cliff path, overlooking the ocean. It's a high-quality guest house with 10 lovely, airy rooms – all with teak floors, high ceilings and smart, contemporary bathrooms. Outside, a pool and loungers overlook Walker Bay. (
Read more about Ocean Eleven…
)
The Marine
Set high on the cliffs above the ocean, the Marine – a
Relais & Châteaux
property – is a classic hotel with 43 rooms, a swimming pool, two restaurants and a small spa. The whales are within sight from the veranda, yet it's almost in the centre of Hermanus. (
Read more about the Marine…
)