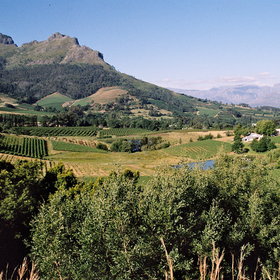 The Winelands around Stellenbosch, Paarl and Franschhoek...
Latest Winelands trip reviews
Le Quartier Francais
26-Jan to 15-Feb 20
Excellent

Lovely hotel in the heart of Franschhoek
11-Jan to 25-Jan 20
Excellent

Relaxing few days at La Petite Ferme
4-Jan to 19-Jan 20
Excellent

a good central base
27-Oct to 20-Nov 19
Good

The Last Word Franschhoek review
14-Oct to 5-Nov 19
Excellent

Winelands
The Cape's main wine-producing region spreads around the small towns of Stellenbosch, Paarl and Franschhoek. There are other grape-growing areas in South Africa, but none so old and few so beautiful.
Although the wine ranks amongst the world's best, you don't need to be a connoisseur to drop in for a casual tasting. Welcoming cellar-masters may be exceptions in Europe, but here they are still the rule. Pamper yourself – spend a day touring the vineyards; have lunch on one of the estates; or arrange to have a picnic made up for you, to eat beside one of the area's streams or lakes.
Hotels and guest houses in Stellenbosch
Stellenbosch is one of South Africa's oldest towns, an important cultural centre with many art galleries, museums showing national and international art collections, and the country's oldest music school. Places to stay here include:
D'Ouwe Werf
In the heart of Stellenbosch, D'Ouwe Werf is set on one of South Africa's oldest and best-preserved streets, and said to be one of the country's most historic inns. It has a very solid feel, with 32 rooms, six separate apartments, lovely gardens, and cobbled courtyard leading to one of the Cape's best restaurants. (
Read more about D'Ouwe Werf…
)
Lanzerac Hotel
Lanzerac Hotel is based around a 300-year old wine estate, and one of our favourite hotels in the area. It has 48 individually decorated en-suite guest rooms, each with a private balcony overlooking the vineyard or the hotels manicured gardens, and its huge wine selection is a must for wine aficionados! (
Read more about Lanzerac Hotel…
)
Hotels and guest houses in Paarl
The picturesque town of Paarl stands a simple 40-minute drive from Cape Town. It's said to be South Africa's third-oldest town, rich of history, with beautiful natural surroundings.
Hotels and guest houses in Franschhoek
In the heart of the Cape's Winelands, amidst towering mountains lies Franschhoek – a small town, mainly influenced by the Huguenots, who settled here more than 300 years ago. It's a place of fine cuisine, first-class wines, and warm hospitality, including:
Le Quartier Français
For those seeking a quiet, exclusive spot amidst verdant vineyards, consider the top-end Le Quartier Francais in Franschhoek. Luxurious rooms and open log fires invite you to relax and unwind, whilst the town itself boasts art galleries, restaurants and coffee shops. (
Read more about Le Quartier Français…
)
The Last Word Franschhoek
Very close by, in the heart of Franschhoek, The Last Word Franschhoek occupies a small boutique hotel, and has six rooms, all different and dotted with antiques. Helpful owners and an open breakfast kitchen make this friendly guest house one of our favourites! (
Read more about The Last Word Franschhoek…
)
Franschhoek Country House & Villas
Set on the outskirts of Franschhoek Village, this luxurious place has 14 charming en-suite rooms, as well as recently added Villa suites. Its restaurant is well-known, ranking amongst the country's top restaurants, and luxury guest services include pampering spa treatments. (Please call us for details about Franschhoek Country House…)