Little Karoo
Often known as the Klein Karoo, this is a generally dry area: the surrounding mountains take much of the air's moisture, leaving little for the low-lying Little Karoo.
Northeast of the verdant coastal strip that we know as South Africa's Garden Route, over the forested slopes of the Outeniqua Mountains, lies the Little Karoo. It's one of the more diverse regions in the Western Cape, with gigantic cliffs, desert-like landscapes, crystal clear streams and fertile vineyards. Bounded by the Langeberg Mountains to the southwest, and separated from the much more extensive Great Karoo by the Swartberg Mountains to the north.

The mountains which bound the Little Karoo do limit road access here, as well as creating some quite dramatic passes.

Perhaps the popular route here leads from the vineyards around Robertson via to R60 onto the R62. This cuts through the Langeberg Mountains to reach Montagu. This same road then runs east through the Little Karoo, passing through Barrydale, Ladysmith, Calitzdorp until it reaches Oudtshoorn – which in many ways feels like the main town of this small region. From there roads head north across the Swartberg Mountains to the great Karoo, and south to George and the Garden Route.

This R62 route is often used as a more scenic and interesting route from Cape Town to the Garden Route, avoiding the busy N2 highway.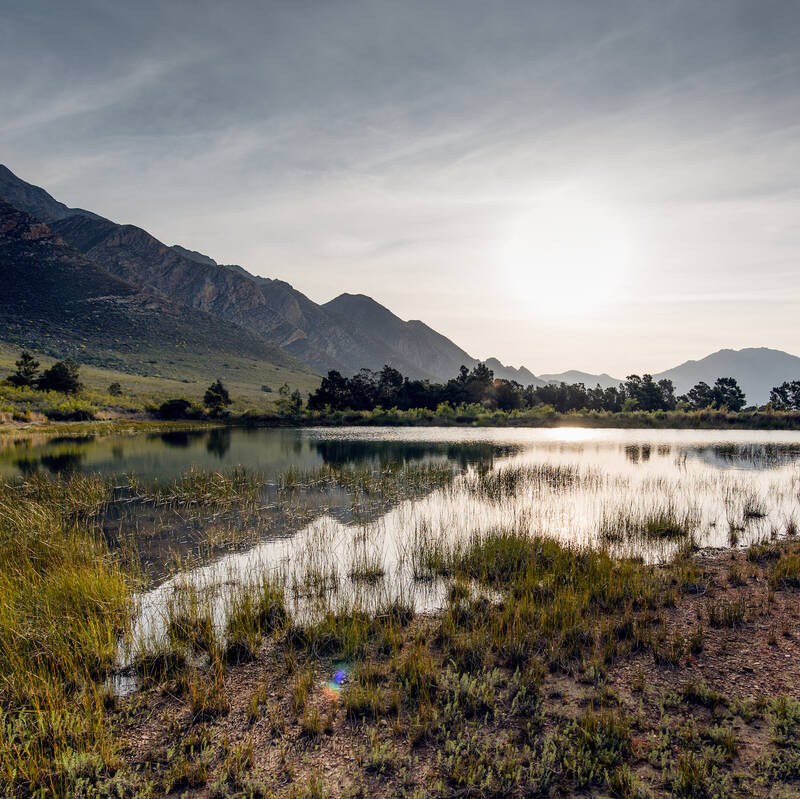 Trips visiting Little Karoo
Just ideas, we'll always tailor-make a trip for you
---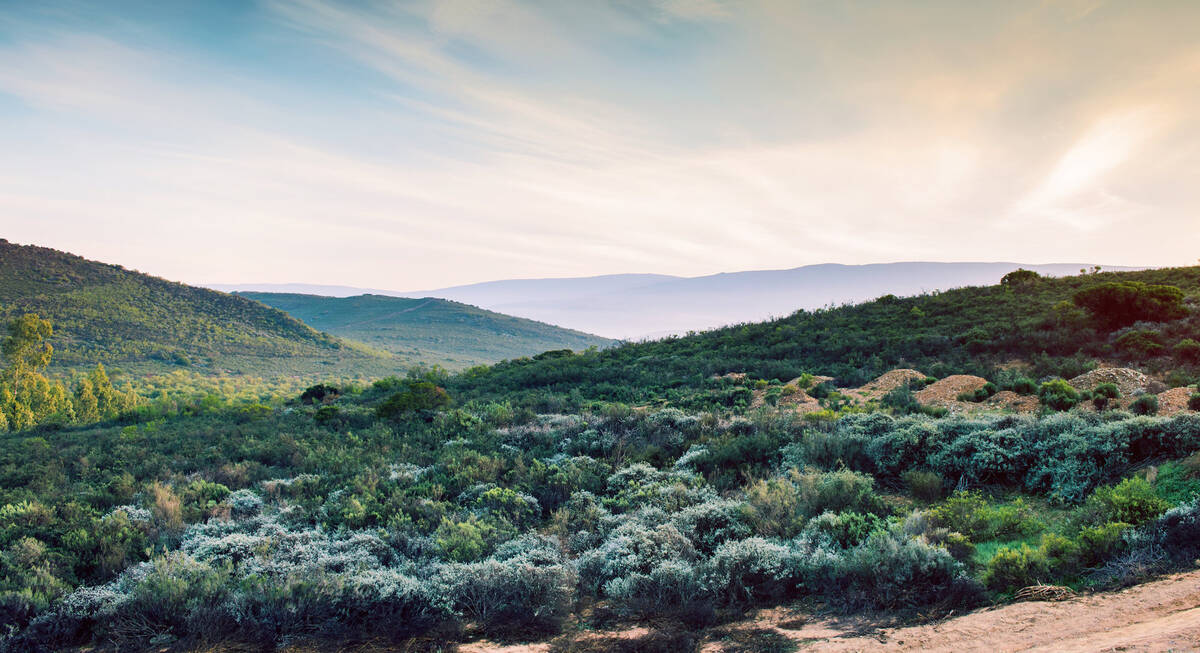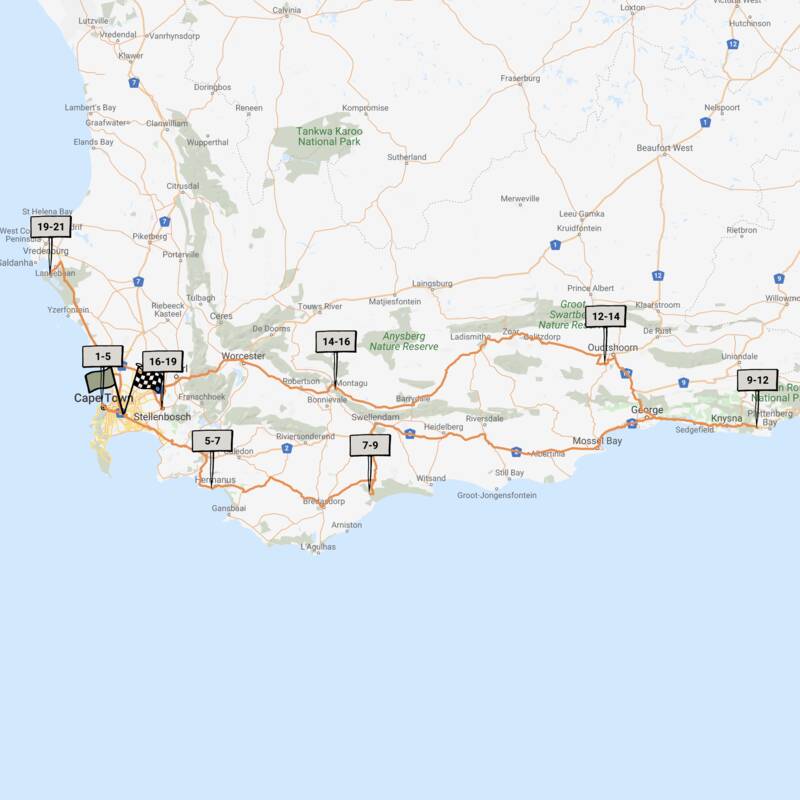 Cape Genet Self-drive Safari
20 days • 8 locations • 1 country
CAPE TOWN AIRPORT TO CAPE TOWN AIRPORT
Enjoy fine-dining in Cape Town, whale-watching in Hermanus, and a range of walking and water-based activities throughout De Hoop's Nature Reserve, the Klein Karoo and Plettenberg. This relaxed self-driven safari concludes with stays in The Winelands and Namaqualand.
Visiting Cape Town, Hermanus and 5 other areas
US$2,850 - US$3,760 per person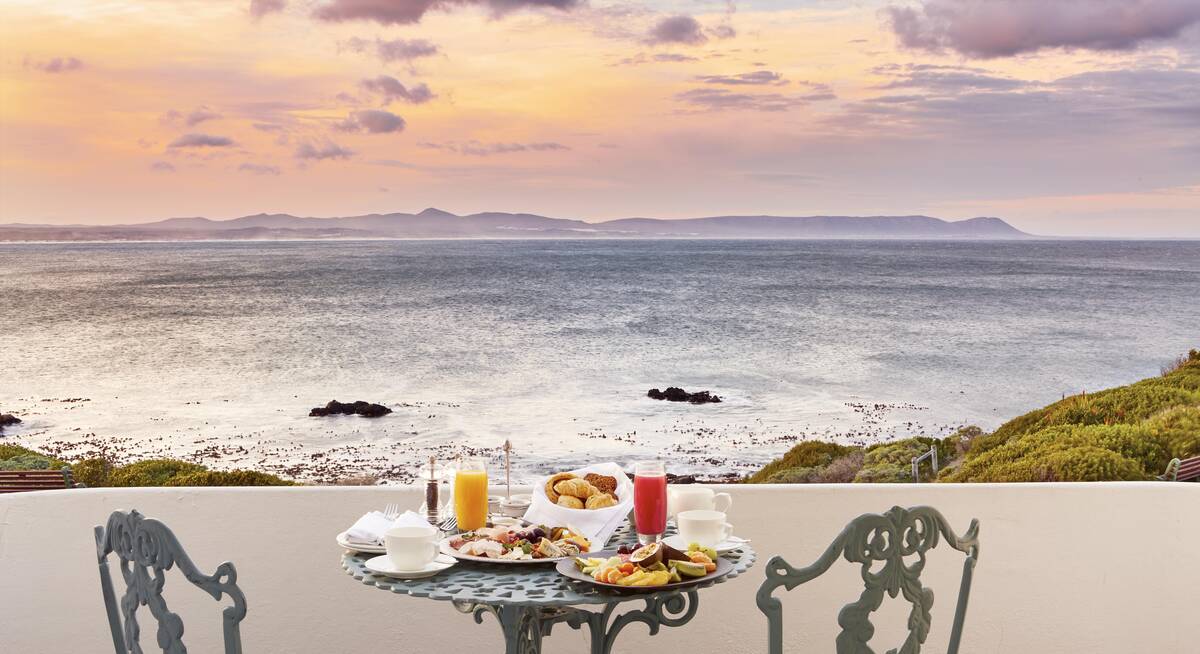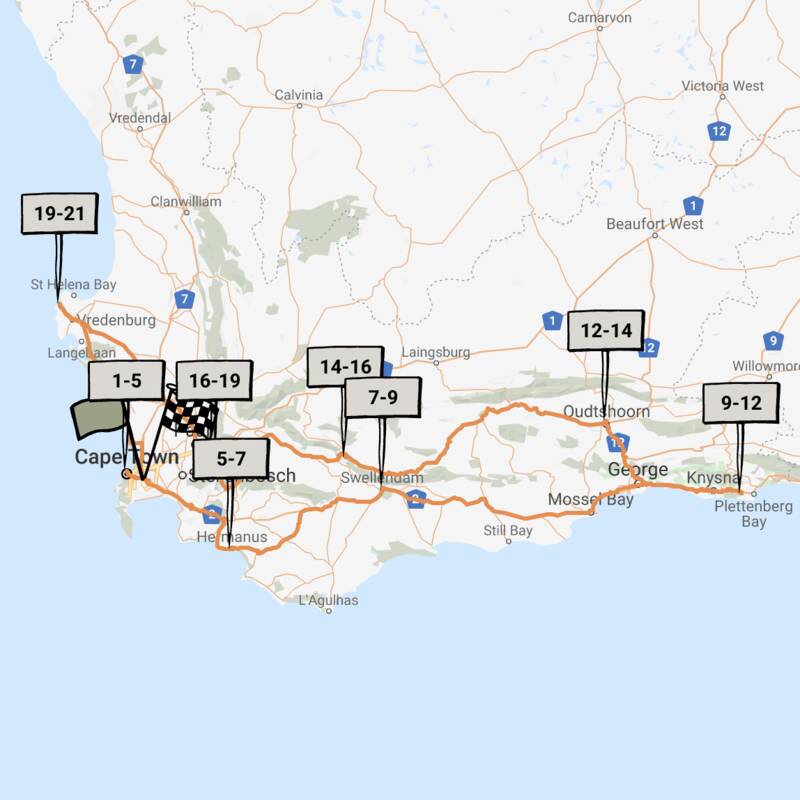 Cape Grysbok Self-drive Safari
20 days • 8 locations • 1 country
CAPE TOWN AIRPORT TO CAPE TOWN AIRPORT
Explore Cape Town, Hermanus, Franschhoek and Namaqualand, amongst other memorable destinations, during this leisurely self-driven safari. Fine dining, varied activities and impressively comfortable lodges, estates and country houses await.
Visiting Cape Town, Hermanus and 5 other areas
US$3,760 - US$6,230 per person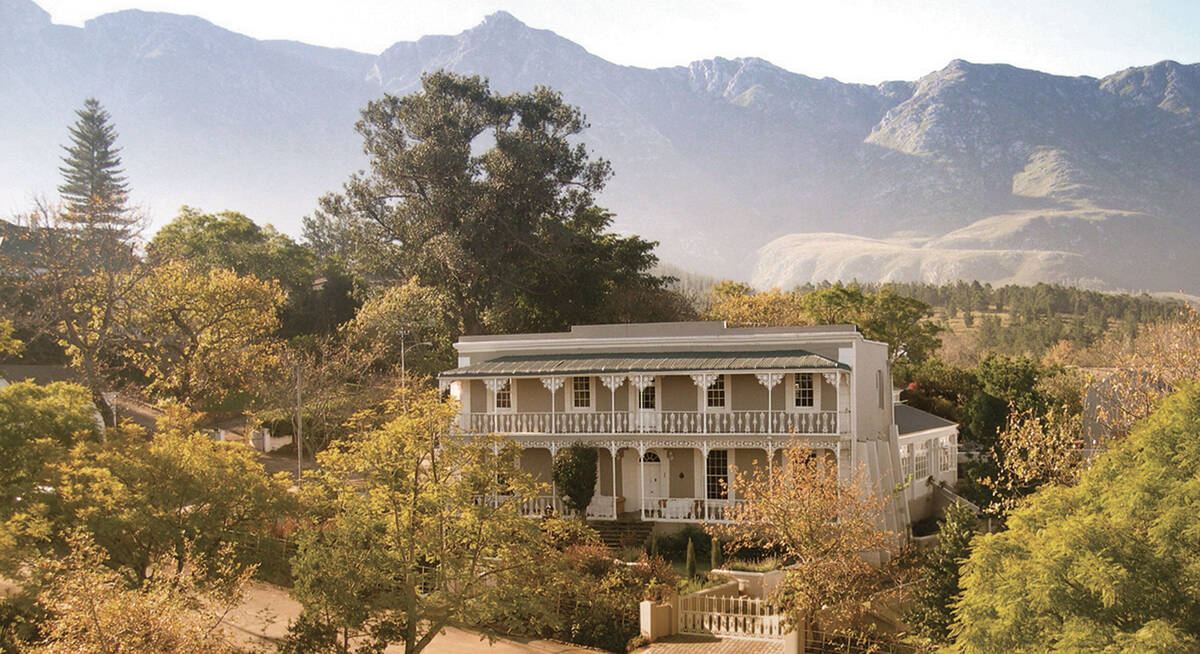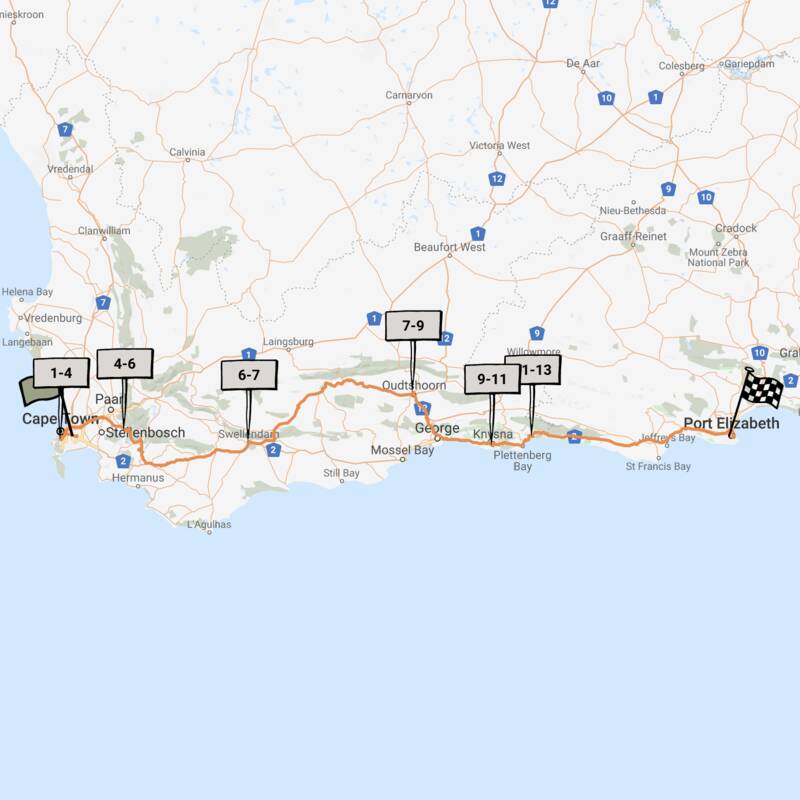 Waterbuck self-drive
12 days • 6 locations • 1 country
CAPE TOWN AIRPORT TO PORT ELIZABETH AIRPORT
A classic Cape and Garden Route self-drive taken at a leisurely pace and staying in charming boutique hotels. Great food and wine paired with spectacular scenery and an exciting array of activities.
Visiting Cape Town, Winelands and 4 other areas
US$2,330 - US$2,900 per person

Map of Little Karoo
Choices for where to stay in Little Karoo
---
Most recent reviews of our trips to Little Karoo
Click below to browse all 23 reviews from Little Karoo. All from our travellers; all are in full & unedited.
---
When to go to Little Karoo
Our month by month guide: What it's like to visit Little Karoo in South Africa
---
Jan
Feb
Mar
Apr
May
Jun
Jul
Aug
Sep
Oct
Nov
Dec
January is considered one of the best months to travel. In Cape Town the weather is hot and generally dry. The Garden Route is also excellent at this time of the year but has a more temperate climate, with slightly lower temperatures and rain can fall at any time of the year. In the Kgalagadi temperatures often top 40°C and short, sharp thunderstorms are also fairly frequent. Wildlife tends to disperse, although birding is excellent.

As this is the high season in the Cape there are numerous events, festivals and outdoor activities to attract visitors. Accommodation books up quickly and it may be necessary to book at least a year in advance. Reservations will often be needed for restaurants and visitor attractions too.

Hot, largely dry days with clear skies – except on Garden Route
Wildlife disperses in the Kalahari but birding excellent
Events, festivals and outdoor activities staged for the high season
The high season in the Cape, accommodation can cost up to 50% more
Pre-booking of activities & attractions is essential
Our view
Fantastic: the very best time to visit
In February conditions are largely the same as in January, although temperatures can be slightly higher, especially in the interior. The wind in Cape Town starts to ease off. Although the Garden Route can experience some rain, the days are pleasantly warm and largely dry.

The Kgalagadi remains very hot, but the birding is still excellent. Wildlife viewing can be tricky especially if there has been some rain, as the resulting long grass can obscure the animals.

For visitors it's still the high season, but with the local school holidays over and residents back at work, it is less busy than December and January. Accommodation costs remain high and it's still advisable to pre-book certain activities and restaurants.

Hot, largely dry days with little cloud
Wind starts easing in Cape Town
Slightly less busy than December & January
Accommodation costs remain high, activities still best pre-booked
Our view
Fantastic: the very best time to visit
March is still a very good time to visit. Conditions remain dry and very warm in Cape Town, although temperatures start dropping off towards the end of the month. The wind has usually died right down.

The Kalahari remains very hot and in years of good rains vegetation is at its most lush – making wildlife viewing tricky.

Typically, the crowds dwindle, but it can get very busy if Easter falls in March. It is also worth bearing in mind that during major events in March, including the Cape Town Cycle Tour, Cape Epic Mountain Bike Tour, The Cape Town Carnival and the International Jazz Festival, accommodation can get very full.

Attractions remain busy but booking is less essential.

Temperatures start falling towards the end of the month
Cape Town hosts a number of world class sport and cultural events
Wildlife in the Kgalagadi disperses, game viewing more challenging
Crowds diminish as the high season comes to an end
Accommodation can get busy during major events
Our view
Fantastic: the very best time to visit
April is South Africa's "shoulder" season and is often the most pleasant. Not too hot, not too cold, some rain but not masses. In Cape Town and along the Garden Route days are usually sunny, warm, windless and largely dry, although in Cape Town the chance of rain increases from the end of the month.

In the Kgalagadi the rainy season is typically over and migratory birds are starting to make their journey back up North. Vegetation remains lush but wildlife viewing starts picking up towards the end of the month.

The region is still relatively busy (especially of its still Easter) but it gets quieter towards the end of the month thus availability improves. Accommodation rates start to decrease, and it becomes less important to book restaurants and attractions in advance.

Temperatures still warm and very pleasant, with little wind.
Rain starts easing in the Kalahari and migratory birds start to depart
Less busy, especially towards the end of the month - busy over Easter
Accommodation frees up and prices start to come down
Our view
A very good time to visit
May marks the start of the dry season in the Kgalagadi. Days are warm and dry with almost zero rainfall. Night-time/early-morning temperatures can drop towards 0°C. Wildlife viewing is at its peak as animals concentrate around the few remaining water sources.

Days can still be warm and sunny in Cape Town and on the Garden Route, but the weather becomes a lot more variable. May heralds the start of the rainy season in Cape Town and the winelands. Night-time temperatures rarely drop below 10 degrees in the coastal areas.

With far fewer tourists, accommodation prices are at their lowest. There is rarely any need to pre-book activities, but reservations are still advisable at some of the top restaurants.

Higher chance of rain in Cape Town & the Winelands
Day time temperatures drop significantly
Wildlife viewing peaks in the Kgalagadi
Low season so rarely busy & very few crowds
Low season rates at the hotels & lodges
Our view
A good time to visit, with pros & cons
Winter is now in full swing. Maximum temperatures in Cape Town rarely reach 20°C and the rainy season is well under way. Outdoor activities therefore become limited, but a number of high-quality indoor events are organised.

The Garden Route has, in general milder weather and less rain than Cape Town.

June sees the arrival of the first whales which migrate to the South African coastline to give birth.

In the Kgalagadi, daytime temperatures are warm but nights and early mornings are bitterly cold. Wildlife viewing is excellent as animals are drawn to the few remaining permanent water points.

Overall tourist numbers are at their lowest, as are the costs of flights and accommodation.

Cold & wet weather in Cape Town, Kgalagadi warm days but cold at night
One of the best months for wildlife viewing in the Kgalagadi
Whales start arriving to have their calves
Low visitor numbers & no crowds
Accommodation & flight prices remain low
Our view
A good time to visit, with pros & cons
The winter weather continues with very cold nights and early mornings in the Kgalagadi and virtually no rainfall. Vegetation here is really thinning out now and water even more scarce – so wildlife is easy to spot.

Despite the winter and local school holidays, Cape Town remains a great place to visit. On a wet and cold day, the Two Oceans Aquarium, Zeitz Mocca (art museum) and the Cape Town Comedy Club all make for great days out, as does a trip to the wine country or the annual Oyster Festival at Knysna.

By mid-July most of the whales have arrived to give birth. Hermanus is the best place to see them.

At the height of the low season, so accommodation and flight prices remain low.
Generally cold & wet in the Cape, but good quality indoor events
Very good wildlife viewing in the Kgalagadi
Oyster festival in Knysna
Local school holidays can make places a little busier than usual
Accommodation and flight prices remain low
Our view
A good time to visit, with pros & cons
While August experiences mostly wintry weather it does mark the very beginning of spring with temperatures starting to rise. Visitors are drawn to the West Coast and Namaqualand to see the wildflowers, which start blooming in late August and can be seen until mid-September. Whales are still in abundance now too.

The Kgalagadi is now very dry and wildlife vieiwng is still good. Temperatures start climbing towards the end of the month.

Despite the weather , visitor numbers can be high as the northern hemisphere schools close for their summer holidays. It may be a good idea to book certain attractions and restaurants in advance.

Simlarly, although accommodation prices are still low, flight prices can be a little higher than in previous months.

Temperatures start rising – but still potential for cold & wet weather
Wildflowers on the West Coast & in Namaqualand
Good wildlife viewing in the Kgalagadi
Whales continue to attract visitors
Can get busy due to northern hemisphere school summer holidays
Our view
A good time to visit, with pros & cons
South Africa in September
Good wildlife viewing in the Kgalagadi continues and daytime temperatures increase quite dramatically. Mornings and evenings are still on the chilly side, but not as cold as they are in June, July and August.

The 1st of September is officially the start of spring in Cape Town. Days become warmer but not quite warm enough to enjoy the city's beautiful beaches. Venues all over Cape Town play host to various artists during the Cape Town Fringe Festival.
Rainy days are fewer, but night times can still get chilly. Many hotels are still charging low season rates making September great value for money.

Elsewhere, Hermanus hosts the popular annual Whale Festival, and in the West of the Cape, wildflowers continue to bloom until the middle of the month.

The start of spring; temperatures start rising
Whale festival in Hermanus
Cape Town Fringe Ferstival attracts a wide range of artists
Wildflowers blooming well until the middle of the month
Good wildlife viewing continues in the Kgalagadi
Our view
A very good time to visit
The weather starts warming up nicely, Cape Town experiences pleasant days, with much less rain, nights can still be quite cool, but not cold. Some days are now warm enough to enjoy the beach. This is one of the best months to visit the Cape Region.

October is one of the hottest months in the Kalahari. Water remains very scarce, so the wildlife viewing is still very good. Towards the end of the month the odd spectacular thunderstorm is possible with much lightning and thunder. Migratory birds start to arrive, and resident species gear up for the breeding season.

The whales are still present with Hermanus and False Bay the best places to see them.

Days start warming up; fewer rainy days in Cape Town
Very hot in the Kalahari – thunderstorms season starts
Migratory birds start arriving & resident birds start breeding
Whale watching still excellent in Hermanus and False Bay areas
Start of the high season, getting busy and accommodation prices rise
Our view
A very good time to visit
By November Cape Town is experiencing summer conditions with hot, clear days and warm, pleasant evenings. It's a great month to enjoy the beaches before the peak holiday season in December. There are no real downsides to visiting in November and you may even get a few accommodation specials before prices go up for the festive season. Kirstenbosch Botanical Gardens begins their summer outdoor concerts with local and international artists performing.

The Kgalagadi remains hot but thunderstorms are a bit more regular. With the rains, water sources become more plentiful and wildlife disperses but this is when herbivores such as Springbok start lambing. Photography improves as conditions become less hazy.

This is the last month for regular whale sightings – they tend to migrate back down south by early December.

Summer now in full swing, with temperatures often reaching 30°C
Rainy days scarce; evenings warm & very pleasant
Antelope start lambing in the Kgalagadi; wildlife generally dispersed
Last month for regular whale sightings
Good time to visit Cape Town before the peak holiday season
Our view
Fantastic: the very best time to visit
December is usually Cape Town's hottest month when temperatures frequently breach 30°C. You can expect hot and cloudless days, and almost no rain but December does see the occasional very windy day.

The Kalahari is still hot, but temperatures are not quite as high as previous months. With the rainfall the bush transforms into various shades of green. Wildlife disperses as water become more widely available.

The Garden Route enjoys warm to hot days with rain at any time but usually not over an extended period.

Mid to late December becomes incredibly busy with concerts, festivals and various outdoor activities in Cape Town. Hotel prices rise, tourist attractions and beaches are crowded and most popular sites and restaurants need to be booked in advance.

Long, hot sunny days
Kgalagadi bursts into life as rainy season kicks in
Wildlife viewing a bit trickier as wildlife disperses
Cape Town buzzing with concerts, events, festivals etc
Peak season: attractions get very busy & accommodation costs rise
Our view
Fantastic: the very best time to visit
South Africa fact file
Useful information and advice to help you prepare for a trip including Little Karoo.
---

THE PALMS in MICHAMVI PENINSULA
Other areas in South Africa
---