Zebra in Africa
The zebra is a quintessential African animal: the horse in stripy pyjamas at the end of every child's A–Z. There are three species, of which the plains zebra is much the most common.
---

Quick facts about Zebra
| | | | |
| --- | --- | --- | --- |
| Scientific name: | Equus quagga | Habitat: | Woodland and savannah |
| IUCN status: | Near Threatened | Adult weight: | 155–322kg |
The plains zebra occurs in six regional races, each with its own stripe pattern. All are distinct from the two other zebra species: the larger Grevy's zebra (Equus grevyi) of northern Kenya, and smaller mountain zebra (Equus equus) of southwest Africa.

Plains zebras are highly sociable: dominant stallions preside over harems of females and young, which may coalesce into much larger herds. especially during migration, and often associate with wildebeest and other grazers. Zebra crop grass using flexible lips and powerful incisors, and open up grassland habitat for other species.

Their pattern has long puzzled scientists: it may function as camouflage, as an insect deterrent or to dazzle pursuing predators such as lions; perhaps all three.
---
500,000
Population (IUCN, 2016)
10–12km
Max distance from water
10–15cm
Min. height at which grass cropped
3 years
Age female first gives birth
Africa's top camps for seeing zebras
Based on 3277 reports by our travellers since May 2018, the camps below have the best chances of sighting zebras. Simply follow the key below.
---
Where to see zebras in Africa
Plains zebras occur in most major conservation areas across eastern and southern Africa. In some places, they gather in large seasonal migrations. Lively and noisy, their social dynamics can be enthralling.
---
Top tips for viewing zebra
Zebras are a common sight in most major reserves across eastern and southern Africa. The greatest gatherings are seen in Serengeti-Mara (Kenya/Tanzania) and Makgadikgadi Pans (Botswana), during seasonal migrations. While such open grasslands allow spectacular viewing, you will also find good numbers in other habitats, from the woodlands of Kruger, Hwange, Selous and Luangwa to the thorn bush of Etosha and wetlands of the Okavango.

Waterholes, which zebra visit daily, offer an opportunity to observe social behaviour, with a dominant stallion shepherding his harem, and rival males biting and kicking in spirited skirmishes. In zebra country, look out for the distinctive horse-shoe tracks and kidney-shaped droppings, and listen for the hiccupping laughter of the herds, which carries through the night during migration season.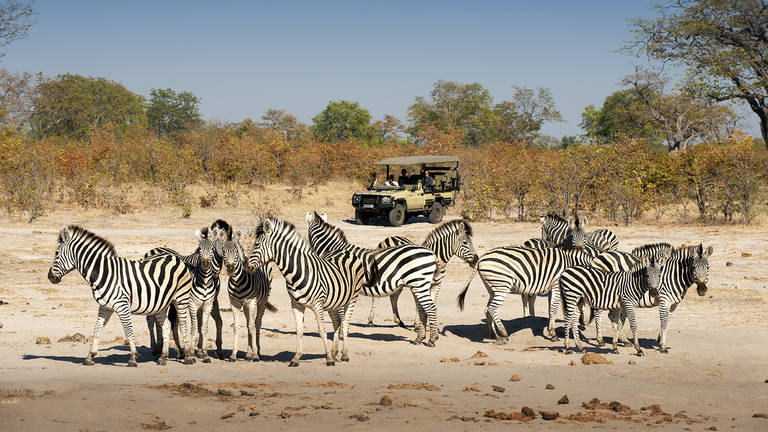 Holiday ideas to see zebras
Based on our travellers experiences, these are the holidays which will give you the best chances of good zebra sightings
---
Our top destinations for zebras
Click below for detailed information about zebras in these countries, including our latest sightings data from the camps and lodges there.
---