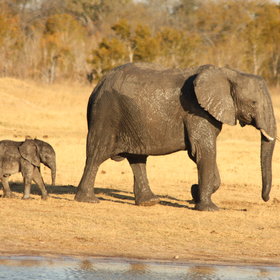 Hwange is an excellent big game area, well-known for its very healthy elephant population
Video of Hwange National Park


Get an impression of Hwange National Park and the importance of water there!
Latest Hwange National Park safari reviews
Can It Be Better than Somalisa Acacia?
28-Nov to 11-Dec 19
Excellent

A superb camp
27-Oct to 20-Nov 19
Excellent

Remote Wild and Bewitching
30-Oct to 3-Nov 19
Excellent

Incredible camp
24-Sep to 6-Oct 19
Excellent

Out in the bush experience at Hwange Bush Cam
18-Sep to 1-Oct 19
Excellent

Hwange National Park
Bordering Botswana, Hwange National Park is Zimbabwe's largest game park with an area of 14,600km². Its sheer size means that its scenery, vegetation and game vary hugely, ranging from the semi desert scrub on the edge of the Kalahari in the south, to forests, granite hills and valleys of mopane woodlands in the north.
The national park is home to over 100 mammal species, including lion, leopard and rhino, and is known for its large population of elephant. This game park is very accessible and all the safari camps here offer day and night game drives and most also offer walking safaris. The highest numbers of animals are spotted in the dry season (August to October) when the wildlife congregates around the shrunken water holes.
Where to stay in Hwange National Park
Currently the camps that we feature in Hwange are relatively spread out, visitor numbers in the park are low and guests usually have a high degree of privacy for their game-viewing. When it comes to staying in Hwange the options include:
Makalolo Plains Camp
The Linkwasha Wilderness area is typical of Hwange's Kalahari environment, with huge expanses of bush, a scattering of open plains, palm trees and large herds of animals. Makalolo Plains Camp is a peaceful and comfortable safari camp with 10 tented rooms with en-suite bathrooms and a cosy communal area with a plunge pool. Built on a raised deck overlooking a floodplain it has excellent wildlife-spotting opportunities. Makalolo Plains offers game drives (both day and night), walking safaris and hides from which to get a closer view of the passing game. (
Read more about Makololo Plains Camp…
)
Little Makalolo Camp
Among the teak trees overlooking a watering hole, is the smaller Little Makalolo Camp. This has just six tented rooms, constructed like Makalolo Plains with en-suite bathrooms and indoor and outdoor showers. The main area of the camp has a plunge pool and an open fire for fireside evening chats. Like its larger sibling, Little Makalolo has solar powered lights and solar-heated hot water to minimise it environmental impact. (
Read more about Little Makalolo Camp…
)
The Hide
East of this, The Hide remains a great camp with excellent guides. Situated beside a waterhole, the camp consists of comfortable furnished tents, each with an en-suite bathroom and a veranda for private game-viewing from the comfort of your own room. The Hide has a pool and two underground hides for close-up wildlife watching, and also offers both day and night game drives. (
Read more about The Hide…
)
Somalisa Camp
Sheltered by a canopy of acacia trees, Somalisa is an elegant bush camp full of African charm with six beautifully furnished canvas tents. These are solar powered, in keeping with the camp's emphasis on creating a low negative environmental impact. Each tent has a king-sized bed, and an en suite shower and toilet. There is a pool overlooking the pan where you can view wildlife. Guided game drives and walking safaris are possible. (
Read more about Somalisa Camp…
)
Davisons Camp
New for 2009, Davison's Camp looks out over a watering hole in the Linkwasha Concession. Sheltered by false mopane trees, this tented camp has 9 twin bed tents and an open campfire for those evening fireside tales. Each room has a private veranda overlooking the waterhole, and day and night game drives are available. (
Read more about Davisons Camp…
)