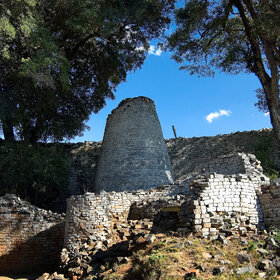 Great Zimbabwe
At the time of independence in 1980, Zimbabwe took its name from the ancient complex of
Great Zimbabwe
, Africa's second largest stone built archaeological site after the pyramids, as it was felt the ancient site represented evidence of a great civilisation before European colonisation.
Great Zimbabwe is located in the south-central Masvingo Province, and is though to have been constructed around 1100 AD, before being 'discovered' by the Portuguese in the early 1500s. Early European explorers believed the site to be linked to biblical figures such as Sheba and King Solomon, thinking that local populations could not have built such a complex site. In reality, it was the Sena people who first settled the area in the 8
th
Centaury and quickly established a hugely important trading, religious and political centre, constructing the majority of the complex between the 11
th
and 15
th
Centauries. A long succession of rulers, each with a wide-reaching influence, contributed to a thriving city, believed to have housed up to 20,000 people at its height.
The monument consists of three main areas:
The Hill Complex, which has fantastic (and strategically valuable) views over the surrounding region. Parts of this complex are thought to have been the residence of early rulers here.


The Valley Complex, which has unfortunately been plundered over the years, and today is one of the less impressive areas. However, as the location for both the royal treasury and the queen's residence it can be an interesting area to visit with a good guide.


The Great Enclosure is one of the most stunning areas, with vast walls concealing inner passageways, ruined buildings, and the iconic conical tower.
Great Zimbabwe has been a
UNESCO World Heritage Site
since 1986, and has been well cared for since. Unfortunately due to the country's recent political troubles and Great Zimbabwe's distance from the main safari areas, the site is currently little visited.
Interest is starting to increase in the area again though, particularly with travellers keen to experience the cultural and historical side of Zimbabwe, away from the normal wildlife focus of the national parks. There remains a smattering of comfortable guest houses close to the site, which are most easily reached by road from either Harare or Bulawayo.
When visiting the site guests can hire a guide at the entrance for US$3-5, and it's worth doing in order to be shown the best route around and the main sites, even if their knowledge of the site can be rather limited. For the best experience though you should consider hiring Paul Hubbard as your private guide for a trip to Great Zimbabwe. Not only is he one of Zimbabwe's top safari guides, but he is also an Associate Researcher in Archaeology at the Natural History Museum in Bulawyo, and an incredibly knowledgeable individual on Great Zimbabwe, and Zimbabwe's history and culture in general.