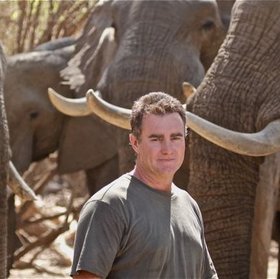 Nick Murray
Zimbabwe safari guides
Zimbabwe's safari guides are amongst the best safari guides in Africa. Not least because that they have to proceed a four-year certification process; this is one of the most difficult guide license procedures anywhere in Africa.
Firstly they have to pass the
Learner's theory examination
where their knowledge of the environment, the ecology, vegetation, geography, birds and wildlife, first aid, firearms and ballistics, as well as environmental and tourism laws are tested.
After that, the learner safari guide has to spend minimum of two years working under the tutorship of a safari guide with a Full License. Through this, learner guides will gain extensive experience of working in the bush and guiding clients through the National Parks (including: walking safaris, game drives and usually hunting safaris).
Finally the learner guide has to pass an extensive and reputedly very tough week-long practical examination to ensure his/her guiding, knowledge and firearm skills in order to earn his/her
Professional Safari Guide License
.
Through such intensive training, Zimbabwe's safari guides learn to lead guests safely through the bush, even approaching wildlife more closely than most other guides would. Have a look through some of the crème de la crème of Zimbabwe safari guides, below – then contact us if you'd like us to include time with one of them in your next safari.
Nick Murray
Nick Murray was born in 1967, went to high school in Zimbabwe and got his BSc in wildlife management and zoology at the University of Natal. He had an interest in wildlife since his early years but his guiding career really started in1988, when he became a learner safari guide in
Fothergill Island
,
Matusadona National Park
and achieved his Learner Guide license two years later. 1991 Nick obtained the Professional Guide License and became the manager of
Cawston Block
, a private game reserve in Zimbabwe. During the next three years he gained experience in wildlife management, ostrich farming, cattle ranching, fencing and building. In addition he got his dangerous drugs license in 1992 and renews the license every five years. He used it for game capture and translocations of the wildlife. Nowadays it is necessary for the wild dog research program and to help treated animals (when they are treated by a snare or another human interfence).
Between 1995-1998 he worked for various camps in Kariba-Matusadona,
Hwange National Park
,
Mana Pools National Parks
,
Chizarira
and
Gonarezhou
as a freelance safari guide.
In 2002 he married Desiree, who is also a licensed professional safari guide (and canoe guide) in Zimbabwe; in fact she was the best candidate on the proficiency exam for professional guides in 1997, being the first woman to ever received the award. Together with Desiree, he has spent a lot of time canoeing Zambezi River since 1997 and Nick earned his Canoe Guides License just one year later. Nick had already guided in many of the wildlife areas and national Parks in Zimbabwe and has additional experience in Tanzania, Namibia, Mozambique, South Africa Zambia and Botswana.
Nowadays Nick and Desiree run safaris mostly in
Mana Pools National Parks
from their main base at
Vundu Camp
. These include running Little Vundu and Ruwesi Canoe Trails; extended safaris which set up fly-camps in the more offbeat corners of
Mana Pools
, like Chitake Springs; and safari extensions to
Matusadona National Park
, which focus on tracking black rhino.
Furthermore Nick is studying the wild-dogs in
Mana Pools
, in cooperation with the
Painted Dog Conservation group
, to get his Masters Degree.
Together as a guiding team, with his wife, they create extraordinary safari experiences, as one of the
Expert Africa
team members learned when Nick guided him to crawl remarkably close to a pack of wild dogs.
Families with children respond particularly well to Nick and Desiree's experience with their own family, as they have two young children themselves. Desiree usually helps to run the safari business from town, but comes into camp with the children for most school holidays.
Paul Hubbard
Paul Hubbard was born in 1983 and raised at a farm not far from Bulawayo, Zimbabwe. His main interest had always been archeology in which he has earned degrees from the
University of Zimbabwe
and
University College
, London and qualified for the Zimbabwe
Professional Tour Guide License
.
Although archeology has led him all over Zimbabwe, it is the
Matobo Hills
and the
Matabele State
, which have aroused his greatest interest. Paul is passionate about exploring the culture and history of Zimbabwe and especially the people, former capitals, battlefields and rock arts of the
Matabele
. Together with Rob Burrett he co-authored
"Madzimbahwe of the Southwest: A guide to Khami, Dhlo Dhlo and Naletale"
and
"The Matopos: a short history"
, as well as
"Zimbabwe: a Simple History"
with Mark Igoe which are his latest published books. Paul also writes press articles, reviews and journal articles about his work.
Paul has been made an Associate Researcher in Archaeology at the Natural History Museum in
Bulawayo
, where he continues both his own research and assists with mentoring the next generation of archaeologists and heritage managers in Zimbabwe.
Paul travels around Zimbabwe, lecturing and giving personal tours to guests, but he prefers to stay close to the wilderness.
Amalinda Camp
is one of those places where he spends most of his time and also guides tourists through the area.
Tourists who have been guided by Paul call him
"a mine of information and knowledge"
on Zimbabwe's history and culture and this is what strives for: to make Zimbabwe's past accessible for other people.
Dave Carson
Dave Carson was born 1971 in Harare, Zimbabwe, but he grew up in
Bulawayo
.
After he finished High school at Capricon High in South Africa, he went to a farm in Matebeleland (near
Hwange National Park
) to gain some work experience. Dave's work at the farm was short-lived, but he was fortunate that Ron White (of the White family who owned the 'Wild Horizons' group of camps) took him on to help build
Jijima Camp
, which was in the forest reserve beside
Hwange National Park
. When building the camp was finished, Dave was offered a position as a learner guide; he took this chance like a shot. In the coming years, he worked first as a safari guide for two of Wild Horizons' camps,
Jijima
and
Imbabala Camp
.
In 1995 he finally earned is full Professional Guiding License, and swiftly started company on his own, offering mobile camping. It was called
Kazuma Trails
– after a small but very special park,
Kazuma Pan National Park
, which lies beside the Botswana border – south of Victoria Falls and north of Hwange. However such mobile companies take a long time to grow and in its early years Dave continued to so lots of freelance safari guiding, mainly in
Matusadona
,
Chizarira
and
Hwange National Park
. During this period he worked with a wide variety of camps and operations including
Vundu Camp
,
Ivan Carter Safaris
and
The Hide Safari Lodge
.
One of his projects during this time was an expedition, paddling from the source of Zambezi River, in north-west Zambia, to the Indian Ocean in 1998.
Since 2002 he has focused more on his mobile safari operation – and as visitor numbers to Zimbabwe dipped substantially, this led him to organize and guide many safari trips through Botswana. In 2003 he got married and nowadays he still runs his own mobile operation,
Kazuma Trails
; he has recently become involved helping to build and run a new camp in
Hwange
,
Camp Hwange
– in the Shumba Pans area. When not guiding, Dave lives in Victoria Falls, and is closely involved with various projects to build roads, pump water or help protect Zimbabwe's national parks in other ways.
Spike Williamson
Spike Williamson became a professional safari guide in Zimbabwe in 1988, but his passion for African wildlife had its origin further in the past. Born and raised in
Hwange National Park, Zimbabwe
, he grew up with his father, Basil Williamson, who was an ecologist. Thanks to this, and the travels that he did during his school holidays with his brothers, he had extensive experience of the bush and its wildlife when he was young. Birds were always a particular interest for him.
Spike got his first guiding job in
Hwange Safari Lodge
after he left school, and this is where he started to learn how to guide professionally. A few years later (1988) he became one of the youngest men to qualify for a Zimbabwean Professional Guide's license.
Since then, Spike has had many roles in the safari industry. Initially he guided for various tented safari camps through Zimbabwe and became the manager of
Water Wilderness Camp
. After that, he managed a private safari area in the south-east of Zimbabwe – and soon became of one the elite examiners for the board which awards Zimbabwe's professional guide licenses.
When numbers of travellers to Zimbabwe dropped dramatically, Spike moved on to lead walking safaris in East-Africa. There Tanzania really caught his imagination, and soon he had a role to direct the building and renovation of
Beho Beho
. He went on to manage the camp for five years, laying down the standard for what is one of Africa's best safari camps today.
Since then, Spike Williamson has continued to guide various private safaris across Africa, and he combines this with building camps in Ethiopia and Northern Kenya for Ardan Risk & Support Services.
Spikes is personable, humorous and very calm in the tightest of spots; one guides who learned under Spike spoke of him as having amazing resilience and endurance in the bush. He has a great interest in falconry, is an excellent birder and seems to have always retained a reverence towards nature and a real fascination with it.