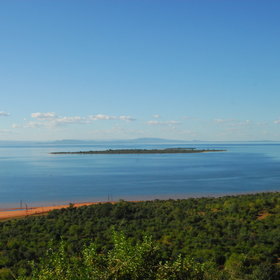 Matusadona is well known not just for its great game viewing but also its spectacular scenery
Latest Matusadona National Park safari reviews
Chang's Safari Camp review
8-Sep to 20-Sep 18
Excellent

Luxury matusadona
2-Sep to 16-Sep 17
Excellent

A real home from home experience.
30-Oct to 11-Nov 15
Excellent

Disappointing Camp but great birding
22-Sep to 3-Oct 15
Good

A Great Safari Camp
6-Sep to 20-Sep 15
Good

Matusadona National Park
In the late 1950s, the Kariba Dam flooded much of the middle Zambezi Valley, creating one of the world's greatest man-made lakes:
Lake Kariba
. The valley's prolific game was concentrated on its islands and southern shore, where
Matusadona National Park
was created. Around this shoreline are some excellent safari lodges, offering walks and drives, as well as boat and canoe trips to explore the lake's inlets and creeks. The lake is a superb place to watch the sunset, with the Matusadona Mountains in the background making for an excellent photo opportunity.
There is good game around Lake Kariba and Matusadona National Park ranging from herds of elephants through to crocodiles. The park also boasts the big five - buffalo frequent the area which along with a healthy population of antelope bring cats and other predatory animals to the region too. Black rhino, one of Africa's rarer animals, can be spotted here and there are opportunities to track them along with their more widespread, but no less impressive relative, the white rhino. The bird life is exceptional due largely to the diverse habitation which supports, amongst many species, a very healthy fish-eagle population.
Where to stay at Kariba and Matusadona
Although there are a few hotels in the town of Kariba the main attraction here has always been the game in Matusadona National Park, and so our favourite camps are all on the lakeshore:
Spurwing Island
Spurwing Island is an old favourite here, perched on what was once a hilltop. It now offers good guiding, tasty food and 20 simple en-suite rooms (some tents, others chalets) – plus a swimming pool and a large bar and dining area. It is reasonably priced, a good base for exploring Kariba, offers superb game viewing opportunities and is an excellent choice for a peaceful escape. (
Read more about Spurwing Island Lodge here…
)
Musango Safari Camp
Overlooking Matusadona, the smaller Musango is a super lodge run by its owner, Steve Edwards, who is a guide of great repute. Musango has a super reputation and a keen following amongst visitors for its excellent wildlife experience; as a side-interest, there are some interesting archaeological sites nearby. Musango offers boating, canoeing, game drives and walks in the national park, which is a good area for tracking black rhino on foot. (
Read more about Musango Safari Camp here…
)
Bumi Hills Safari Lodge
What was formerly known as the Bumi Hills Hotel up until 2009 is now known as Bumi Hills Safari Lodge. It is now privately owned and has been completely refurbished – with a lovely bar, a snooker room and a spa, plus 20 air-conditioned rooms including 10 suites with balconies over the lake. Activities include walking safaris and game-viewing by boat and vehicle. (
Read more about Bumi Hills Safari Lodge here…
)