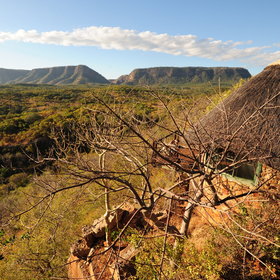 Chizarira National Park is known as one of the most scenic regions in Zimbabwe
Chizarira National Park
Covering just under 2,000km² of wild bush, Chizarira is Zimbabwe's third largest national park and arguably its most remote wilderness area. The name Chizarira comes from the Batonka word
Chijalila
, which means 'great barrier'. The barrier to which they referred is the imposing Zambezi Escarpment of which Chizarira's mountains and hills form a portion.
The terrain here is rugged, deeply incised by gorges and ravines between jagged mountains. But between these, in the valleys and the odd open plain, you'll find lush vegetation fed by clear natural springs. This always made Chizarira National Park a great place to come and spend some time appreciating the tranquility of the African bush.
Unfortunately this quiet tranquility has also placed Chizarira at an increased risk from poaching in recent years. The relatively small numbers of visitors to Chizarira and lack of lodges and safari operators here made it easy to exploit and it suffered as a result, particularly during the economic strife that engulfed Zimbabwe in the early 2000's.
Chizarira National Park has never been about seeing huge herds of animals but it did always provide what felt like a pristine wilderness experience. From our own experience and from information we've received from our associates on the ground, we're very sad to report that this is not currently the case. It's still an excellent place to spot leopard – which thrive in this kind of rocky, broken landscape – but once strong populations of antelope, elephant and buffalo have been significantly depleted.
Chizarira was always a park for visitors who took both walking and safaris seriously, and the best way to explore Chizarira is still by using a combination of 4WD game drives and, in the more rugged areas, walking safaris. In terms of accommodation there was only ever one lodge option here,
Chizarira Wilderness Lodge
, which was situated just outside of the national park. This has now sadly fallen into a state of disrepair.
We're hopeful that as tourism continues to experience a renaissance in Zimbabwe, Chizarira will receive the investment boost it needs. There is still enormous potential for this area to return to its former place amongst the best wilderness regions in Zimbabwe. For that reason we will continue to monitor the situation in Chizarira and we will keep this page updated accordingly.
Important Note
We'd encourage anyone who has a particular interest in this park to still give us a ring to discuss the options. We would be happy to chat about the logistics of reaching and leaving the park, and the albeit limited options of what to do once there. A stay in Chizarira will only suit the more hardy and adventurous travellers, and we may not be able to help directly, but the possibilities are worth at least exploring and we'd be happy to help.