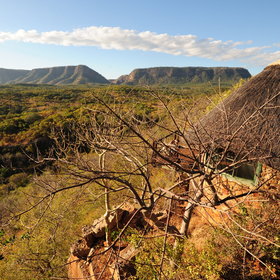 Chizarira National Park is known as one of the most scenic regions in Zimbabwe
Chizarira National Park
Covering about 2,000km² of wild bush, Chizarira National Park is arguably Zimbabwe's most remote game reserve. Its name comes from the Batonka word
Chijalila
, which means barrier – and this reflects the remoteness of the area, and the difficulty that the local people had in traversing it.
Chizarira's mountains and hills form part of the southern edge of the great Zambezi escarpment. Its terrain is rugged, deeply incised by gorges and ravines between the jagged mountains. But between these, in the valleys and the odd open plain, you'll find lush vegetation fed by clear natural springs. It's a park for visitors who take both walking and safaris seriously, and the best way to explore Chizarira is using a combination of 4WD game drives and, in the more rugged areas, walking safaris.
At times when you're not looking at animals, Chizarira National Park is a great place to appreciate the tranquility of the African bush; to explore on foot with a top professional guide, and to feel that you're the first person to ever walk on this patch of ground.
Chizarira's isolation means that there are relatively few visitors, giving a very wild and exclusive feel to this national park. It's excellent country for leopard – which thrive in this kind of rocky, broken landscape – and has good populations of antelope from kudu and klipspringers to impala and even roan, plus elephant and buffalo. However, this park has never been about seeing huge herds of animals; it's a captivating area offering a genuine wilderness experience – and around 70% of Zimbabwe's many bird species.
There is only one safari lodge here:
Chizarira Wilderness Lodge
Also known as Chizarira Lodge, this remote safari lodge has eight large, stone chalets built on a spectacular spur of rock, overlooking the Zambezi Valley far below. (
Read more about Chizarira Wilderness Lodge…
)