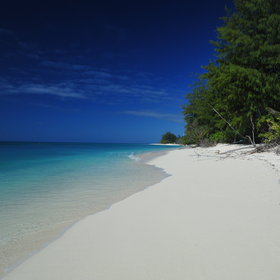 Justifiably, Seychelles is famous for its spectacular beaches.
Seychelles
Lying about 1,500km east of mainland Africa, Seychelles, officially the Republic of Seychelles, is an idyllic archipelago nation and the perfect beach holiday destination. Its 155 picturesque islands are set in the heart of the sparkling blue Indian Ocean, with Zanzibar to the west, Mauritius and Réunion to the south, and the Maldives to the northeast.
The islands of the Seychelles are stunning, and well known as a blissfully isolated honeymoon haven with luxurious hideaways and excellent diving. However, the small, owner-run, inexpensive guest houses and beach retreats on the Seychelles are also great for families with small children. Our holidays in the Seychelles can be a rejuvenating antithesis to city life, enabling the islands to live up to their hype as magical, dream holiday destinations!
Holidays in the Seychelles
Seychelles stands as a great destination on its own, or as an excellent place to combine with a safari on mainland Africa. As
Expert Africa
started offering Seychelles holidays in 2008, we've selected some of the most beautiful islands for our travellers (click for a
map of the Seychelles
).
Mahé Island
Mahe is the largest island of the Seychelles archipelago, and home to about 80.000 people and the quaint capital city Victoria. Its mountainous interior is largely covered with dense cloud forest, whilst the coastline has beautiful, white powdered beaches, lovely coves and great beach retreats. Mahe also has a vibrant art scene: many artists have settled in the Seychelles over the years, inspired by the islands' tropical looks; most of them live on Mahe and gladly welcome visitors at their art galleries. (Read more about
Mahe Island
, and about our
holidays to Mahe Island
.)
Praslin Island
Some 45 minutes by fast catamaran ferry from Mahe lies Praslin, the second largest of the Seychelles islands. This laid-back place has a lot in store for you: from stunning palm-fringed beaches, to the restaurants and shops at Côte D'Or, and the world's smallest UNESCO World Heritage Site, Vallée de Mai – Praslin can easily keep you busy for a few days! Accommodation options include lovely little guest houses, as well as really luxurious hotels. (Read more about
Praslin Island
, and about our
holidays to Praslin Island
.)
La Digue Island
La Digue is hard to beat when it comes to a laid-back beachside holiday. Its traditional Creole community enjoys a particularly unhurried way of life, using colourful oxcarts as means of transport, and the island's small guest houses are very friendly. Here, activities revolve around simple pleasures, including bicycle excursions, or beachcombing at one of the Seychelles' most striking beaches – Anse Source d'Argent. (Read more about
La Digue Island
, and our
holidays to La Digue Island
.)
Bird Island
60 miles from Mahe, this small tropical paradise is the northernmost island of the Seychelles archipelago, and home to an unbelievable number of birds. They are all over the place, guaranteeing an extraordinary wildlife experience year round! Whilst enjoying the company of fairy terns and lesser noddies, you'll stay at the family-friendly Bird Island Lodge, with easy access to beautiful beaches. (Read more about
Bird Island
and
Bird Island Lodge
, and see examples of our
holidays to Bird Island
.)
Denis Island
Set on the edge of the Seychelles Bank, Denis Island is the perfect getaway for those seeking sunshine, stunning beaches, tropical waters and privacy. Its interior is crowded with takamaka, coconut palms and casuarinas trees which hide spacious, comfortable cottages, whilst the surrounding sea is sparkling blue and busting with all kinds of colourful fish. (Read more about
Denis Island
and
Denis Island Lodge
, and also see examples of our
holidays to Denis Island
.)
Desroches Island
Desroches is the most distant of all Seychelles islands featured in our programme. It lies 230km west of Mahe, and is part of a group of atolls called the Amirante Islands. Its interior is beautifully lush, 14km of white sandy beach invite you to relax and unwind, and the island's smart, colonial-style resort stands for exclusivity and isolation at the same time – it's perfect for a romantic honeymoon! (Read more about
Desroches Island
and
Desroches Island Resort
, and also see examples of our
holidays to Desroches Island
.)
Frégate Island
Just four degrees south of the Equator, this startling private island stands out for its natural beauty; the topographical mix of granite peaks, lush banyan tree forest and seven dazzling beaches is amazing – as is the sight of rare Seychelles magpie robin! The 16 very luxurious, colonial-style bungalows on Fregate all have spectacular ocean views, and first-class service is taken very seriously. (Read more about
Fregate Island
and about
Fregate Island Villas
, or see our examples of costed
holidays to Fregate Island
.)
North Island
Larger than Monte Carlo, and holding the same stylish appeal, North Island is the ultimate Seychelles holiday destination; it is simply sensational! Since opening in 2003, the media, design-conscious celebrities and affluent travellers from all over the globe, have vied to holiday here in one of its 11 hand-crafted guest villas. And yet, in spite of its success, it remains a blissfully understated affair: sanctuary, not stardom, sets the tone. (Read more about
North Island
and about the
North Island Villas
, and see costed examples of our
holidays to North Island
.)