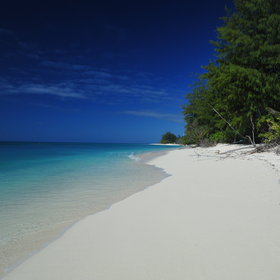 Justifiably, Seychelles is famous for its spectacular beaches.
Flights to the Seychelles
We organise flights to and from the UK and Seychelles for most of our travellers. However, if you'd like to book with air-miles, and prefer to arrange your own flights, then feel free to do so. If you book the Seychelles flights yourself, we will gladly make the ground arrangements for you.
Below we've given precise times for flights. These are correct at time of writing, but are not updated frequently – so some will have changed by the time you read this. Please use these times and frequencies as a rough guide only.
Starting from London
The easiest and most direct way to reach the Seychelles from London is to fly to Seychelles International Airport on
Mahé Island
with
Air Seychelles
. These flights depart London Heathrow every Friday and Sunday evening (typically Fridays at 6:25pm, Sundays at 6:20pm), arriving on Mahé the following morning (Saturdays 10:00am, Mondays 9:50am).
To make connections between Mahé and the smaller private islands,
Air Seychelles
operates a good service of regular, scheduled flights in small planes, which usually link well with international flights from London. Looking at the internal links in more detail:
Flights to Praslin Island
There are more than 20 daily flights available between Mahé and Praslin islands. However, Mahé and Praslin are also connected by modern catamaran
Cat Cocos ferries
– which take about 45 minutes.
How to get to La Digue Island
Praslin and La Digue islands are also linked by ferries, which take about 30 minutes. These leave both islands frequently, so you usually don't have to wait long until your ferry departs. (
Read more about ferries in the Seychelles…
)
Flights to Bird Island
Domestic flights depart Mahé at 14:15pm every day, arriving on Bird Island around 14:50pm. On your way back, they leave Bird Island at 3:00pm, and arrive on Mahé at 3:35pm.
Flights to Denis Island
Domestic flights to Denis Island operate daily, except for Wednesdays. On Mondays, Tuesdays, Fridays, Saturdays and Sundays, they depart Mahé at 11:45am, and arrive on Denis at 12:15pm. Going back, flights leave Denis at 12:30pm, and arrive on Mahé at 1:00pm. On Thursdays, flights depart Mahé at 11:00am, and arrive on Denis at 11:30am, whilst they return between 11:45am and 12:15pm.
Flights to Desroches Island
Desroches is also served daily, except for Tuesday and Thursday. On Monday and Saturday, flights leave Mahé at 12:30pm and arrive at Desroches around 1:00pm, whilst they return between 1:30pm and 2:00pm. Wednesday, Friday and Sunday flights depart Mahé at 9:30am and arrive at Desroches around 10:00am; they return to Mahé between 10:30am and 11:00am.
Flights to Frégate Island
Flights to Fregate are generally organised as charters and very flexible. It's possible to not only fly from Mahé, but from any of the inner islands (and in fact many hotels) directly to Frégate Island by light aircraft, or alternatively by helicopter.
Flights to North Island
North Island is served by private helicopter flights, which take about 15 to 20 minutes.
As an alternative to the direct London – Mahé flights, mentioned at the start of this section, there's a number of flight suppliers operating different routes, including
Kenya Airways
, between Mahé and Nairobi – ideal if you want to add a beach holiday in the Seychelles to a safari in Africa.
---
Starting from the USA
Flying from the USA you have two options for your flight arrangements:
1) You arrange
your flights
USA -> London
and
London -> USA
.
Expert Africa arranges
for you the
London -> Seychelles
and
Seychelles -> London
flights.
This makes sense as we have excellent rates on the flights to Africa – and it also allows us to make use of low add-on rates for your flights within Africa, which can be linked to your international ticket. However, you need to have enough turn-around time between planes in London.
2) You arrange
your flights
USA -> Seychelles
and
Seychelles -> USA
, and inform us of the flight carriers and times.
Expert Africa organises
your travels in the Seychelles, including car hire, boat transfers, or any smaller flights within the Seychelles.
This makes sense if you are flying on a shorter route from the USA – e.g. on the
Emirates
service linking Los Angeles with the Seychelles, via Dubai. If you choose to arrange your intercontinental flights yourself, then we prefer you to also book the connecting flights at the same time, with the same people who you buy your intercontinental flight tickets with (eg: links between Jo'burg or Lusaka and the Seychelles).
This way there's no risk of one flight being delayed or cancelled, and you being left with two flights which do not connect.
Flights to the rest of Africa
For more information on flights, please see our webpage on
International flights to Africa
.
Click on the links below to read specific information about flights to each of our other African destinations:
►
Flights to Botswana
►
Flights to Malawi
►
Flights to Mozambique
►
Flights to Namibia
►
Flights to Rwanda
►
Flights to South Africa
►
Flights to Tanzania
►
Flights to Zambia
►
Flights to Zanzibar
►
Flights to Zimbabwe