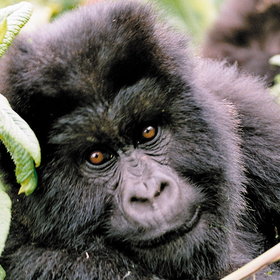 Take a look into the eyes of Rwanda.
Flights to Rwanda
Most of our travellers book their flights to Rwanda with us. If you would rather arrange your own flights, or plan to book with air-miles, then feel free to do so. If you arrange your flights to Rwanda, we will gladly make the ground arrangements for you.
Starting from London
The easiest way for most to reach Rwanda is to fly from London Heathrow to Nairobi, in Kenya, and then connect through to Kigali, in Rwanda.
Kenya Airways
has an overnight flight to Nairobi which departs London Heathrow every evening, arriving in Nairobi typically around 06:30 in the morning. This then connects directly to an onward
Kenya Airways
flight to Kigali generally arriving there at about 10:30.
Another alternative is to fly from London to Nairobi and then connect through to Kigali.
British Airways
daytime flights to Nairobi depart London Heathrow every morning, arriving in Nairobi typically around 20:55 in the evening.
After an overnight stop in Nairobi (often we'll recommend
Macushla House
), you can make connections with a
Kenya Airways
flight to Kigali the following morning. These usually depart at 7:45am, arriving in Kigali around 8:10am. There are also often later flights: one departing at 12:30pm, the other one leaving late in the evening, around 22:15pm.
In mid 2017,
Rwandair
introduced a direct flight from London Gatwick to Kigali - though the flight does stop down in Brussels, you do not need to disembark. This flight currently flies three days per week.
On arrival at the airport in Kigali, you'll be met by your guide, who will stay with you for the whole duration of your trip. From Kigali, all of our lodges are reached by road transport, including those in Volcanoes National Park, on the shore of Lake Kivu, and in Nyungwe Forest.
Alternatively, if you're coming from a safari holiday in Namibia or Botswana, you can fly from Jo'burg to Nairobi with
South African Airways
, and then connect through to Kigali with
Kenya Airways
– after an overnight stop in Nairobi. Rwandair have direct flights from Lusaka in Zambia, and Harare in Zimbabwe, through to Kigali.
---
Starting from the USA
Starting from the United States of America, you have two main options for travelling to Rwanda:
1) You arrange
your return flights
USA -> London
and
London -> USA
.
Expert Africa arranges
for you the
London -> Rwanda
and
Rwanda -> London
flights and transfers.
We can also utilise low add-on rates for internal flights within the African continent, linked to your international flight ticket. However, make sure you have enough time to connect to your flight to Africa in London.
2) You organise
your flights
USA -> Rwanda
and
Rwanda -> USA
, e.g. via London, and tell us about your flight times and carriers.
Expert Africa arranges
your travels in Rwanda for you, including any road transfers.
This makes sense if you are flying direct from the USA – for example on the service linking Atlanta and Jo'burg. If you choose to arrange your own intercontinental flights via South Africa, then it's best if you also book any connecting flights at the same time, using the same people who organise your intercontinental flight for you (eg: links between Johannesburg and Nairobi, or between Nairobi and Kigali).
This way you minimise the risk of one flight being cancelled or delayed, and you being left with two non-connecting flights.
Flights to the rest of Africa
For more information on flights, please see our webpage on
International flights to Africa
.
Click on the links below to read specific information about flights to each of our other African destinations:
►
Flights to Botswana
►
Flights to Malawi
►
Flights to Mozambique
►
Flights to Namibia
►
Flights to Seychelles
►
Flights to South Africa
►
Flights to Tanzania
►
Flights to Zambia
►
Flights to Zanzibar
►
Flights to Zimbabwe