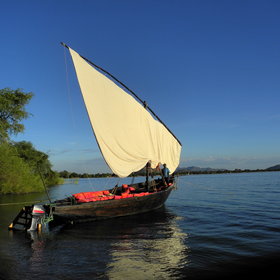 Malawi is dominated by its spectacular lake...
Flights to Malawi
We have great flight rates for flights to Malawi, and we arrange these for most of our travellers. However, if you would rather book your own flights, perhaps using air-miles, then please do so. We are happy to make your arrangements in Malawi if you take responsibility for your flights to get there.
Starting from London
Starting from London Heathrow Airport, the easiest and most direct way to Malawi is via Johannesburg, in South Africa. Daily flights are operated by
South African Airways
and
British Airways
, leaving London in the evening, and arriving in Jo'burg the following morning.
There, connections with
South African Airways
and
Air Malawi
link through to Lilongwe – with
SAA
flights usually operating every day around 11:40am;
Air Malawi
flights operate every day except for Tuesday and Sunday, and leave Jo'burg at 12:25pm. We recommend that our travellers use the
SAA
flights.
From Lilongwe, many of our lodges can be reached by road transfer, including
Heuglins Guest House
in Lilongwe;
Mua Mission
between Lilongwe and the lakeshore;
Mzuzu Hotel
in Mzuzu; any lodges in Nyika National Park;
Mvuu Camp
and
Mvuu Lodge
in Liwonde National Park; as well as
Ku Chawe Inn
near Zomba Plateau.
From Lilongwe,
Ryalls Hotel
in Blantyre can usually be reached by either a road transfer or a domestic flight; typically,
Air Malawi
flies twice on most days, except for Sundays.
Depending on where you are in Malawi, some lodges on the lakeshore are easily accessible by boat transfer;
Yacht Mufasa
, which is run by the owners of
Danforth Lodge
, is accommodation and transfer at the same time.
This can be used to access the lodges on the southern lakeshore (eg:
Pumulani
,
Club Makokola
or
Livingstonia Beach
) to
Chintheche Inn
or
Makuzi Beach
on Lake Malawi's western side.
Domwe Island
,
Mumbo Island
are set on small islands in Lake Malawi, and therefore only accessible by boat transfer.
Kaya Mawa
stands on the larger Likoma Island, which is normally reached by a light aircraft flight from Lilongwe
If Malawi isn't your first destination in Africa, and you want to add a few nights' beachside holiday to your safari,
Air Malawi
also provides flights from Dar es Salaam in Tanzania to Lilongwe (on Monday, Wednesday and Friday), from Harare in Zimbabwe to Lilongwe (on Monday, Thursday and Saturday), and from Lusaka in Zambia to Lilongwe (on Wednesday, Friday and Sunday).
Note that because of frequent changes of schedules and flight cancellations, we cannot take any responsibility for the time-keeping of
Air Malawi
, or any consequences of missed, delayed or cancelled departures.
---
Starting from North America
Flying from North America, your have to make decisions about your flights. Roughly speaking, you have two options for flight arrangements:
1) You arrange
return flights
USA -> London
and
London -> USA
by yourself.
Expert Africa arranges
your
London -> Malawi
and
Malawi -> London
flights for you.
This works well because we have great rates for the flights to Africa, and we can also use relatively inexpensive add-on rates within Africa for internal flights - which we can link to your international ticket. However, you do need to ensure that you have more than enough time to connect comfortably between planes in London.
2) You arrange
your own flights
USA -> Malawi
and
Malawi -> USA
, using any route that suits you, and then advise us of the flight times and carriers.
Expert Africa
will then organise your time in Malawi for you, including smaller flights, and boat or road transfers within Malawi.
This is a good idea if you want to fly direct from the USA/Canada – e.g. on the flights which link Atlanta with Jo'burg. If you choose to book your own intercontinental flights to/from South Africa, then we strongly suggest that you also book any connecting flights that you need within Africa at the same time – using the same company that is arranging your intercontinental flight tickets. This ensures that there is no danger of one flight changing, and you being left with a 'connection' which no longer connects.
Flights to the rest of Africa
For more information on flights, please see our webpage on
International flights to Africa
.
Click on the links below to read specific information about flights to each of our other African destinations:
►
Flights to Botswana
►
Flights to Mozambique
►
Flights to Namibia
►
Flights to Rwanda
►
Flights to Seychelles
►
Flights to South Africa
►
Flights to Tanzania
►
Flights to Zambia
►
Flights to Zanzibar
►
Flights to Zimbabwe