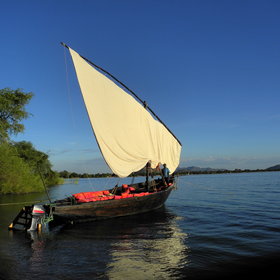 Malawi is dominated by its spectacular lake...
Flights to Malawi
We have great flight rates for flights to Malawi, and we arrange these for most of our travellers. However, if you would rather book your own flights, perhaps using air-miles, then please do so. We are happy to make your arrangements in Malawi if you take responsibility for your flights to get there.
Starting from London
Starting from London Heathrow Airport, the easiest and most direct way to Malawi is via Johannesburg, in South Africa. Daily flights are operated by
South African Airways
and
British Airways
, leaving London in the evening, and arriving in Jo'burg the following morning.
There, connections with
South African Airways
link through to Lilongwe daily and three times a week to Blantyre – both with
SAA
Other airlines operating to Malawi are
Kenya Airways
via Nairobi and
Ethiopian Airways
via Addis Ababa.