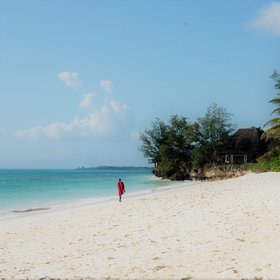 Blinding colour and stunning beaches are Zanzibar's hallmarks.
Flights to Zanzibar
We help organise the flights to Zanzibar for many of our travellers, and are sometimes able to access preferential rates. However, if you choose to arrange your own flights (e.g. booking with airline bonus schemes) to the Zanzibar archipelago, that's also fine. If that is your choice, we are still happy make all your ground arrangements in Zanzibar itself.
Starting from London
Although there are currently no direct flights between London and Zanzibar or Dar es Salaam, there are several options via other international airports.
A few airlines fly in to Zanzibar itself, avoiding the need to transfer in Dar es Salaam. Qatar Airways can work particularly well here. You can depart London Heathrow in the evening, change flights in Doha, and fly in to Zanzibar with an arrival time of around 14.20. If you are hoping to avoid light aircraft flights, this could be a good choice.
Qatar Airways also flies to Dar es Salaam and Kilimanjaro, which makes it very easy to combine time on Zanzibar with a Tanzania safari. You can fly in to Tanzania and depart from Zanzibar on the same return ticket.
Another option would be to fly with Kenya Airways, with a transfer at Nairobi. You would then depart London Heathrow in the afternoon and arrive in Zanzibar at around 10.00 the following morning.
Alternatively you could choose to fly in to Dar es Salaam, then transfer by light aircraft to Zanzibar. You would be met at the international airport and transferred to the domestic airport, where you would then hop onto a light aircraft for the 20-minute flight to Zanzibar Stone Town Airport. Flights between Dar and Zanzibar operate daily and are very frequent, typically every hour or two. The first flight leaves Dar around 07.30 in the morning; the last flight at 18.00 in the evening.
It is also possible to fly to Zanzibar from a number of other places in Tanzania, including Arusha, Manyara, Ruaha, the Serengeti, the Selous, Pemba and Mafia Island; daily flights operate for all these routes. Most of these flights will require a change in Dar, but quick connections mean that they are ideal if you want to add a Zanzibar beach holiday to your safari in Tanzania.
Although not quite as frequent as the flights from Dar es Salaam, there are around five flights a day from Nairobi to Zanzibar Stone Town, with the first departing at 07.30 and the last just before midnight.
From Stone Town, most lodges can be reached by road transfer, although Chumbe Island Lodge and Mnemba Island Lodge demand further boat transport.
---
Starting from the USA
From the United States of America, you have two different options for your flight arrangements:
1) You organise
your flights
USA -> London
and
London -> USA
for yourself.
Expert Africa arranges
the
London -> your Zanzibar lodge
and
your Zanzibar lodge -> London
flights and transfers for you.
We have access to preferential rates on flights between the UK and Africa, which allows us to utilise low add-on tariffs for internal flights within Africa – linked to your international flight ticket from the USA. However, you need to be sure that you have more than enough connecting time between planes at London Heathrow Airport; we recommend a minimum of two hours.
2) You arrange
your own flights
USA -> Tanzania
and
Tanzania -> USA
, either via the UK or on another route, and inform us of the flight times, and of your flight carriers.
Expert Africa organises
your travels in Tanzania for you, including any smaller flights, as well as road and boat transfers within the Zanzibar Archipelago.
If you choose this second option, then we strongly suggest that you book all connecting flights at the same time. It's best to do this with the same company from whom you bought your intercontinental flight tickets. This way, should one of your 'connecting' flights be delayed or cancelled, the airlines involved will take responsibility for getting you to your destination as soon as possible.
Flights to the rest of Africa
For more information on flights, please see our webpage on
International flights to Africa
.
Click on the links below to read specific information about flights to each of our other African destinations:
►
Flights to Botswana
►
Flights to Malawi
►
Flights to Mozambique
►
Flights to Namibia
►
Flights to Rwanda
►
Flights to Seychelles
►
Flights to South Africa
►
Flights to Tanzania
►
Flights to Zambia
►
Flights to Zimbabwe