Wildlife in Tanzania
Hogging the limelight are Tanzania's northern parks, which attract the most visitors. In the south, the parks have excellent wildlife but far fewer safari-goers, while the remote west lures adventurers in search of chimps and plains megafauna.
---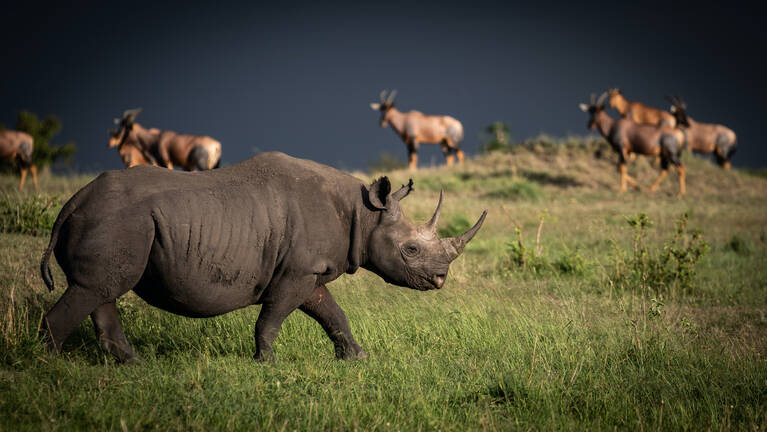 Tanzania is one of the most biodiverse countries on earth, covering more than 945,000km2, and home to 300 types of mammal, 400 varieties of reptiles and amphibians and 1,100 species of birds.

This breadth of species reflects Tanzania's diversity of habitats: huge herds of elephants frequent Tarangire's swamps, wild dogs roam the vast bushlands of the Selous, and big cats dominate the open plains of the Serengeti. In the tropical forests on the steep shores of Lake Tanganyika, chimpanzee troops are increasingly habituated to visitors (this is the best place in Africa to observe their social structure), while shallow soda lakes in the Rift Valley host millions of nesting flamingos.

This diversity extends beyond into the ocean – to shallow coral gardens where you can snorkel with turtles, ocean drop-offs for scuba enthusiasts and plankton-rich bays where whale sharks gather.

Tanzania's breathtaking contrasts mark it out: you really can watch lions on a hunt in the morning and be floating over coral reefs in the afternoon.
Great wildlife safaris to Tanzania
Here are some of our ideas for great holidays focussed on wildlife in Tanzania.
---
Tanzania's top camps for wildlife safaris
Click on the dots on the map to show the sightings from that lodges or camps for the species selected. It's based on 3299 reports by 389 groups of our our travellers since May 2018.
---