Hippo in Tanzania
Large pods of hippos are an impressive sight on most Tanzanian safaris. The country provides the opportunity to watch them from a vehicle or from a boat.
---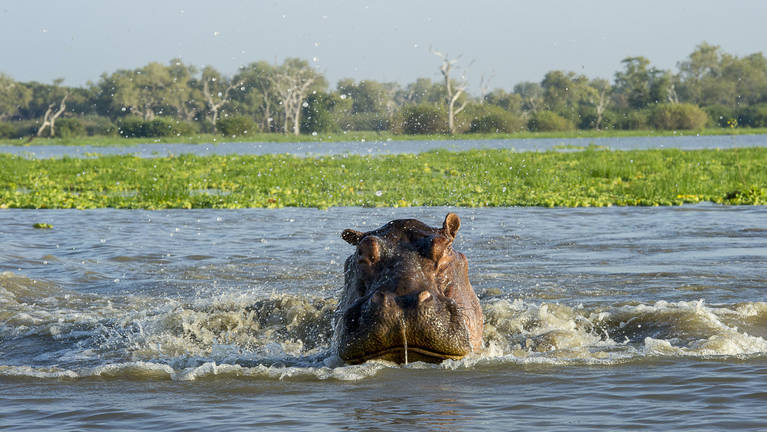 Quick facts about Hippo
| | | | |
| --- | --- | --- | --- |
| Scientific name: | Hippopotamus amphibius | Habitat: | Freshwater rivers & wetlands |
| IUCN status: | Vulnerable | Adult weight: | 1,300–2,600kg |
While many zoologists consider there is little genetic variation across the species, Tanzania's hippo has been described as an East African subspecies (Hippopotamus amphibius kiboko, its subspecific name kiboko being Swahili for hippo) with slightly wider nostrils and a more hollowed forehead than the western and southern subspecies.

Hippos are found throughout Tanzania's rivers and wetlands, from Lake Victoria to the swamps of Tarangire, Ngorongoro's crater lake and the lakes and waterholes of Lake Manyara and Katavi national parks.

Probably the best hippopotamus sightings are to be had by targeting the Mara River in the northern Serengeti or the wide Rufiji River which meanders through the Selous Game Reserve.
16 hours
DAILY HOURS IN WATER
5 minutes
TIME BREATH CAN BE HELD
Tanzania's top camps for seeing hippos
Based on 351 reports since Jun 2018, the camps below have the best chance of seeing hippos. Simply follow the key below.
---
Where to see hippos in Tanzania
Hippos are widespread throughout Tanzania and most travellers are likely to see them during a safari. For the best sightings, head to the Mara or Rufiji River.
---
Top tips for viewing hippos in Tanzania
One of the best places to watch hippos in Tanzania is the Selous Game Reserve, where large pods lurk in the lakes, channels and broad meanders of the Rufiji River. All the camps in the Selous offer boat trips, allowing for close-up viewing. If you stay at a camp on the banks of the Rufiji, such as Sand Rivers or Selous Impala Camp, you'll see and hear hippos from your tent.

Alternatively, visit the Mara River in the northern Serengeti, where hippo pods snort and argue in the shallows, oblivious to the enormous crocodiles.

The less frequently visited Katavi National Park can also be very good for hippos, where pods of several hundred sometimes congregate in tiny waterholes during the dry season.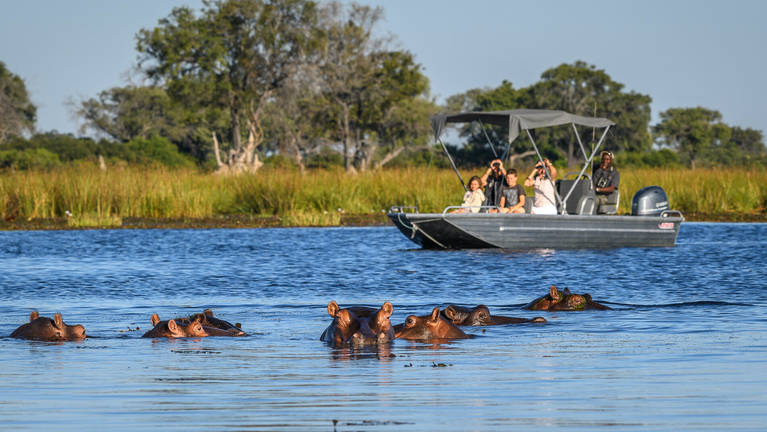 Holiday ideas to see hippos in Tanzania
These trip ideas include places that will give you a chance of seeing hippos in Tanzania
---
Our top destinations for hippos
Read tips for spotting hippos in these countries and the best camps and lodges for sightings
---