Map of Namibia's holiday & safari areas
See Namibia in different ways, with different styles of maps.
---
Our map of Namibia
This a sketch map of Namibia – showing its key road arteries, national parks, towns, and areas of interest for visitors.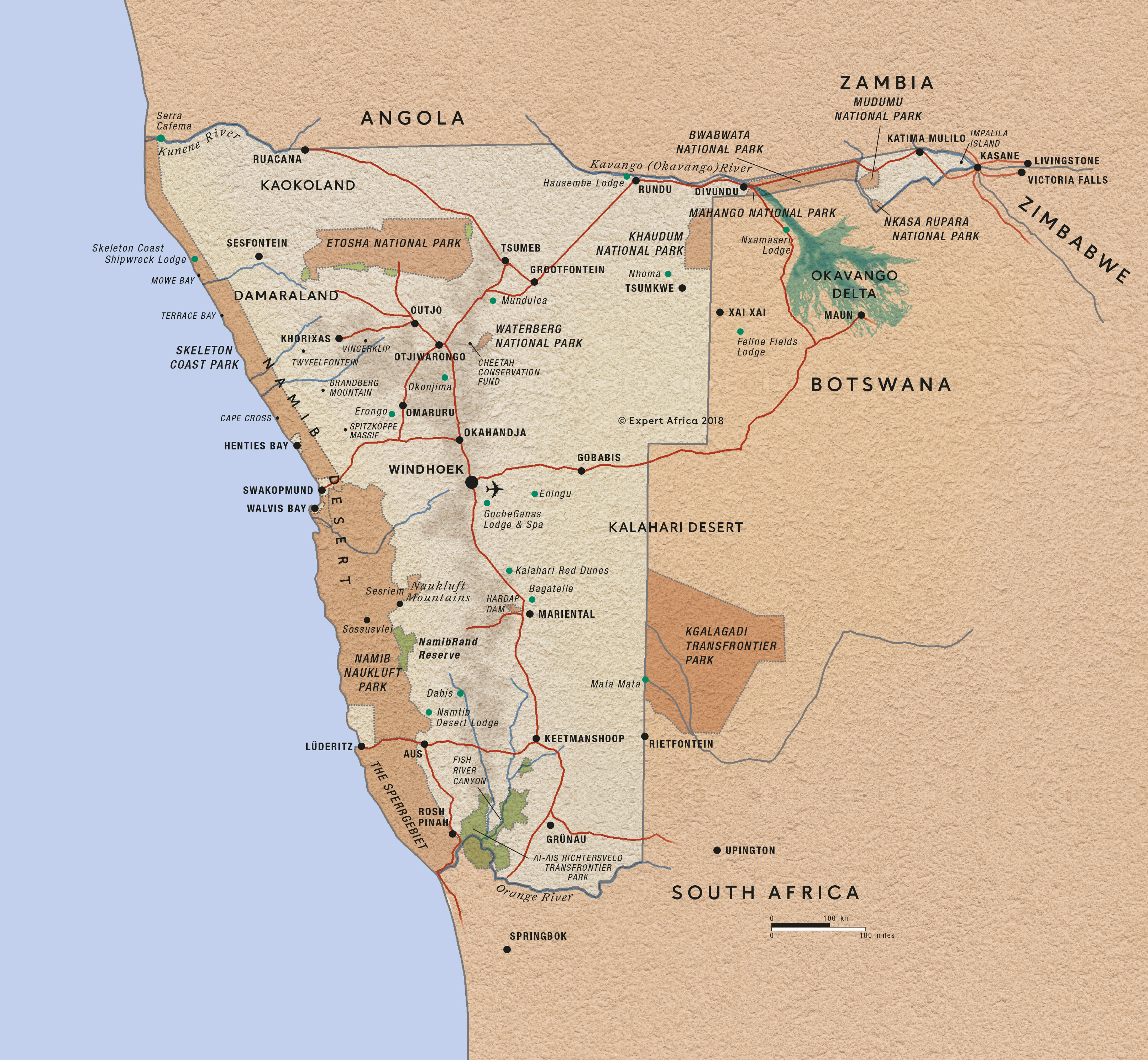 Google map of Namibia
Explore Namibia's huge diversity with this Google map; click the 'satellite' button (top-left of the map) to get topographical view showing the sands of the deserts clearly. See our Reference map here.
Things to see on this Namibia map

Namibia is a vast country – and its low rainfall means that much of its geology is amazingly visible. Zoom into the areas and then the lodges on our maps for some really amazing views of what the country is really like!

At this scale – note the apricot-orange in the south-west of the country: it's the Namib Desert. Then double-click a few times on them to zoom in closer – and see the amazing patterns of the dunes themselves. Move to the north-east of this dune area, and see the inroads that the Tsondab and Tsauchab have made into the dunes. Look at the sharp, curved northern edge of the desert – where the Kuiseb River halts the march of the dunes northwards.

Double-click anywhere near the 'Etosha National Park' marker to see a little closer, and immediately spot the huge saltpan at the heart of Etosha.

Click onto any of the markers, and follow the links in the bubbles, for maps of these areas with precise locations for the various safari camps and lodges.
Our top trips in Namibia
Here are 24 great Namibia trips to inspire you.
---
Namibia fact file
Useful information to help you prepare for your trip in Namibia
---